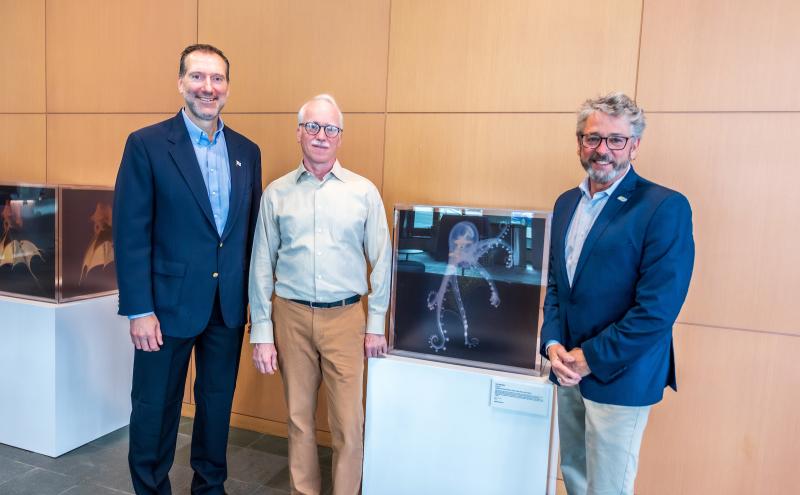 Schmidt Ocean Institute featured at closing event with new footage of three new hydrothermal vent fields and deep-sea inspired art. 
April 26, 2023
The Port of Seattle and Schmidt Ocean Institute (SOI) hosted an event this week announcing the discovery of three new hydrothermal vents from SOI's inaugural expedition aboard Falkor (too), and celebrated SOI's Artist-at-Sea program, which has been exhibited at the Port of Seattle since October 2022 and will close at the end of this month.
The event speaks to the rising awareness of deep-sea diversity and its importance for the planet. The Port of Seattle welcomed art from the exhibit to share in the growing awareness of one ocean and the value of conservation and science in protecting and preserving it. 
"The Port of Seattle was proud to host a seminar for the Schmidt Ocean Institute to share results from its most recent ocean expedition and the Artist-at-Sea Program with a broad cross section of the marine, maritime, and artistic communities," said Port of Seattle Commissioner Fred Felleman. "By elevating public awareness of SOI's innovative undertakings, the Port hopes to inspire future generations to look to the sea for marine and maritime career opportunities." 
Schmidt Ocean Institute launched its newly refitted 110-meter global-class research vessel last month for use by scientists worldwide to dramatically advance marine science and push the frontiers of deep-sea expedition. Dr. David Butterfield from the University of Washington lead the inaugural science expedition and presented the hydrothermal vent fields that were newly discovered during the trip. 
Attendees at the seminar viewed an 18-minute video which summarized the Falkor (too's) findings during its inaugural voyage. Key results included the discovery of three new hydrothermal vent fields in the middle of the Atlantic region of the ocean. Exotic deep-sea marine life often congregate in these sections of the sea, which can be home to previously undiscovered aquatic species.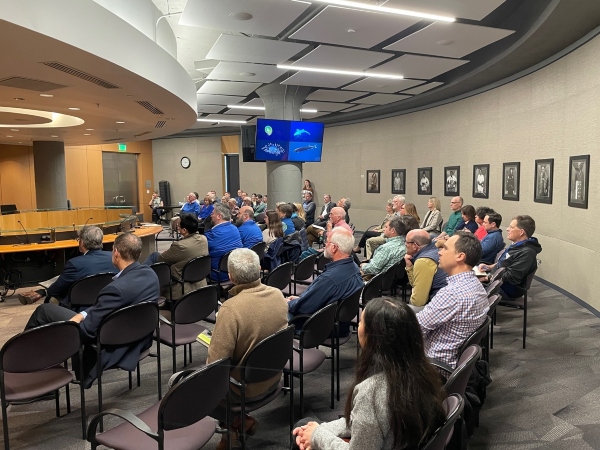 Scientists are still learning about how these ecosystems function and the role they play for cycling carbon on our planet. "Management plans for regulating ocean mining require accurate scientific data on the presence of animal communities and an understanding of how sites are colonized," said Chief Scientist, Dr. David Butterfield, Principal Research Scientist with the Cooperative Institute for Climate, Ocean, and Ecosystem Studies at the University of Washington and Group Leader for the Earth Ocean Interactions Program at NOAA Pacific Marine Environmental Lab in Seattle.   
The artist exhibit, which has been up since October, includes 20 pieces by artists whose work was inspired by their time on science expeditions aboard Schmidt Ocean Institute's research vessel. Remote artist Taiji Teraskai, contributed three new pieces to the event that comment on the potential disappearance of deep-sea species. The goal of the Artist-at-Sea program is to create a better understanding of complex ocean issues. 
"Schmidt Ocean Institute is uniquely positioned to provide collaborations between artists and some of the world's leading marine scientists, using its research vessel, Falkor (too), as a platform of connection and interdisciplinary reach", said Dr. Carlie Wiener, Schmidt Ocean Institute's Director of Communications. 
Schmidt Ocean Institute expeditions offer a range of unique technology-based ocean research that lends to artistic exploration. To date, 42 international artists have participated in the program. 
About the Organizations
Schmidt Ocean Institute was established in 2009 by Eric and Wendy Schmidt to advance oceanographic research through the development of innovative technologies, open sharing of information, and broad communication about ocean health. It operates Falkor (too), the only year-round philanthropic research vessel in the world that is made available to the international science community at no cost. Learn more about the Schmidt Ocean Institute.
Founded in 1911 by a vote of the people as a special purpose government, the Port of Seattle's mission is to promote economic opportunities and quality of life in the region by advancing trade, travel, commerce, and job creation in an equitable, accountable, and environmentally responsible manner. Learn more about the Port of Seattle.
The University of Washington has been a hub for learning, innovation, problem solving and community building. Driven by a mission to serve the greater good, our students, faculty and staff tackle today's most pressing challenges with courage and creativity, making a difference across Washington state — and around the world. Learn more about the University of Washington.
Contacts
Schmidt Ocean Institute | Carlie Wiener
(808) 628-8666 cwiener@schmidtocean.org
Port of Seattle | Peter McGraw
(206) 787-3446 mcgraw.p@portseattle.org
Top photo caption:
Left: Schmidt Ocean Institute Senior Director of Operations Eric King
Center: University of Washington Principal Research Scientist Dr. David Butterfield
Right: Port of Seattle Commissioner Fred Felleman