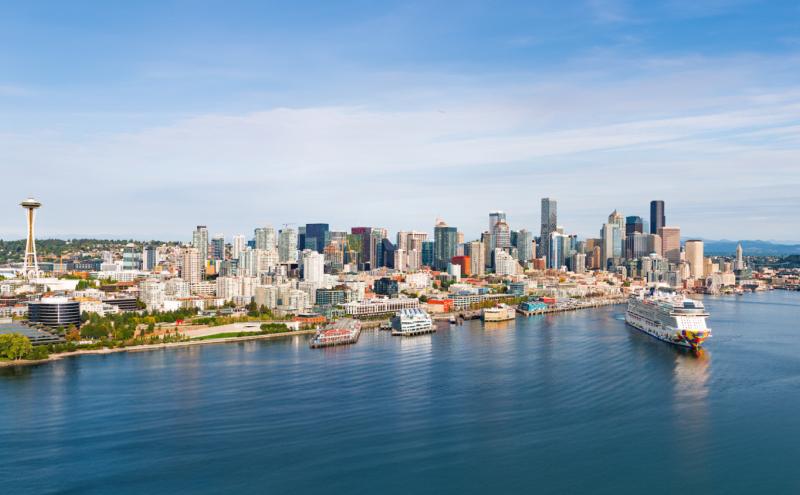 November 9, 2023
The Port of Seattle concluded the 2023 cruise season on Monday, October 30 with the departure of Norwegian Cruise Line's Norwegian Sun from Bell Street Pier Cruise Terminal at Pier 66. This year's cruise season hosted 291 cruises with a record 1,778,193 revenue passengers. Passengers are counted both embarking and disembarking, meaning over 907,572 individual passengers visited over a six-month season that began April 15 of this year.
Cruise ships provide a much-needed economic stimulus for area businesses, especially those in downtown Seattle. It is estimated that each homeported cruise ship at berth brings $4 million in economic impact to the region, with a total of nearly $900 million in economic impact over the course of a cruise season. Most cruise passengers stay a couple of days in Seattle before or after their Alaska cruise. Over 20 percent of cruise passengers check their bags early to the airport so they can spend the day enjoying the Seattle area before boarding their flights home.
With the increase in cruise ship calls, the Port continues to experience an increase in the use of shore power to reduce emissions, allowing vessels to run on electricity while at berth. For Seattle, the practice started in 2004, as one of the first ports to provide shore power plug-in capability for two vessels at once and the first homeport to offer shore power. More than one-third of cruise ships utilized shore power at Smith Cove Cruise Terminal, setting a record number of plug-ins for a Seattle cruise season. The Port is currently at work to make its third cruise berth at Pier 66 capable of supplying electrical power during the 2024 cruise season.
"Cruise ships carried a record number of passengers to and from Seattle this year and a record number of ships lowered their emissions by plugging in to clean, shore side electricity at berth," said Port of Seattle Executive Director Steve Metruck. "We look forward to 2030, when we have a goal for every homeport cruise ship calling Seattle to plug in."
"The 2023 cruise season is something for Seattle to celebrate. We welcomed hundreds of thousands of people off the ships and into our shops, restaurants, hotels, and attractions, providing critical support to nearly 61,000 of our neighbors who work in hospitality, and contributing greatly to the more than $10 billion economic impact of tourism in our region," said Tammy Blount-Canavan, President and CEO of Visit Seattle.
"The Port of Seattle continues to work collaboratively with the cruise industry, Alaska, and British Columbia ports to establish a 'Green Corridor' that would provide a plan for how to reduce greenhouse gas emissions and bring zero-emission ships to the cruise route from Seattle to Alaska," said Stephanie Jones Stebbins, Managing Director of Maritime at the Port of Seattle. "We are looking forward to further work on our environmental goals as we turn to 2024, providing leadership and vision for an improved way of doing business, industry wide, across the globe."
The Port expects an even stronger return for the local economy via the cruise industry. Next year the Port anticipates hosting 277 cruise homeport calls, with continued high occupancy and very strong passenger volumes. The Port also continues its legacy of sustainability leadership, working collaboratively with cruise lines and with other local governments to develop policies and practices that protect the environment.
Contact:
Peter McGraw | Port of Seattle Senior Media Officer
(206) 787-3446 | mcgraw.p@portseattle.org