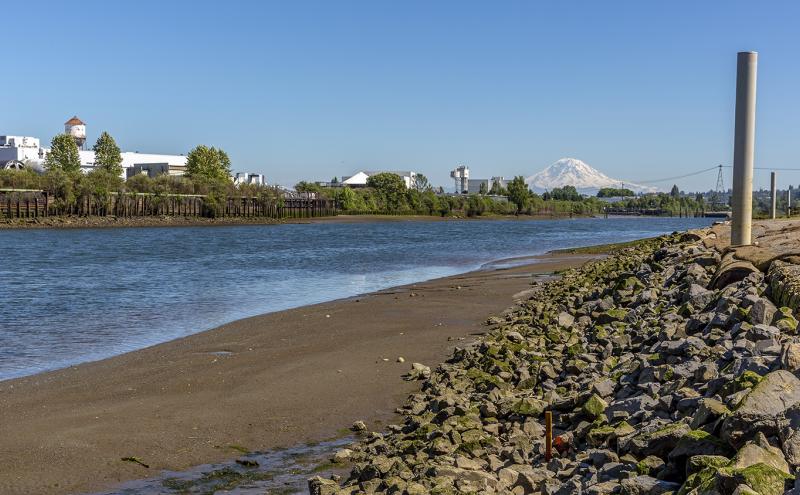 Design focus turns to middle third of super fund site
June 8, 2021
The Port of Seattle Commission voted to authorize further clean-up action on the middle third of the Lower Duwamish Waterway Superfund site located from river mile 1.6 to 3.0.  The Port will continue the cleanup with its partners—the City of Seattle, King County, and The Boeing Company—known as the Lower Duwamish Working Group, or LDWG.
The work, which will be done under the Environmental Protection Agency (EPA)'s oversight, will include determining which cleanup approaches will apply in different portions of the middle third and preparing the necessary design documents for implementing those measures
"The Port of Seattle puts the health of Duwamish Valley communities first by going beyond cleanup obligations to restore habitat and improve public access to the Duwamish River," said Peter Steinbrueck, Port of Seattle Commissioner.  "Meeting these Lower Duwamish Waterway Superfund obligations is a critical component of our strategic focus on social equity by moving the cleanup forward for a site located on the shores of two environmental justice communities, South Park and Georgetown." 
"Addressing unacceptable levels of environmental risk caused by the presence of contaminants in Duwamish River sediments is not only the goal of numerous state and federal laws; it reflects our commitment to environmental justice and care for Seattle's only river," said Paulina Lopez, Executive Director of the Duwamish River Cleanup Coalition. "We look forward to continuing working together for a river for all - making sure impacted communities are at the center of every decision "
The work on the middle third of the river is expected to cost a total of $16 to $20 million, which will be shared amongst potentially responsible parties. The EPA has divided the Duwamish River Waterway into thirds for purposes of designing and implementing the cleanup. LDWG is currently more than halfway through design of the cleanup of the upper third (south of river mile 3.0). 
Contact
Contact: Peter McGraw | Maritime Media Officer
(206) 787-3446 | mcgraw.p@portseattle.org