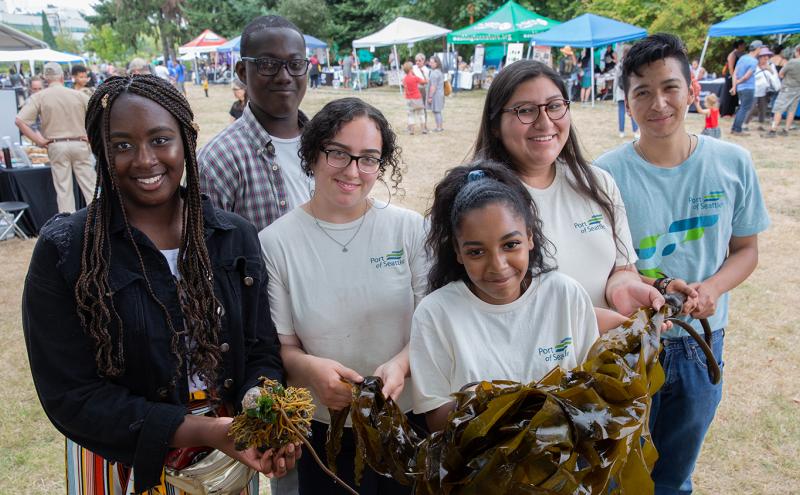 December 10, 2019
The Port of Seattle Commission approved its long-term commitment to equity and outreach efforts in the Duwamish Valley through today's adoption of the Duwamish Valley Community Benefits Commitment. Resolution 3767, the first of its kind at the Port of Seattle, harnesses the Port's economic development mission to promote community partnerships, healthy environments and communities, and economic prosperity. The new policy makes permanent a pilot program from earlier this year.
"The Port of Seattle is excited to continue working with the Duwamish Valley community in providing greater opportunities to near-Port neighborhoods that are disproportionately impacted by environmental justice issues," said Port of Seattle Commission President Stephanie Bowman. "We've seen great results so far, and we look forward to engaging more community groups to continue this innovative and impactful work."
"The communities of the Duwamish Valley have always been rich with talent and continue to add economically and to the rich cultural tapestry of the region. This resolution is reflective of an important step the Duwamish Valley community and the Port of Seattle is making so that all who live, work, and invest in the valley can thrive," said Bunthay Cheam, Port Community Action Team representative and lifelong South Park community member. "It serves as a model of how institutions and communities can build together. We thank the Port of Seattle for recognizing the need for the Duwamish Valley Community Benefits Commitment and for investing in its neighbors that have been here all along."
Port of Seattle staff and community members embarked on a collaborative effort to co-write the policy. Since August, Port Community Action Team members, representing South Park and Georgetown, conducted over four months of outreach to community stakeholders in the form of one-on-one meetings, group presentations, and meetings with community organizations to ensure community feedback was incorporated into the policy.
Over 300 community stakeholders and 27 community-based organizations were informed or consulted about the Duwamish Valley Community Benefits Commitment. To further goals of a healthy and sustainable community, the Port Community Action Team focused its outreach based on the principles of equity, anti-displacement, and empowerment.
This effort is a culmination of a three-year collaboration between the Port and Duwamish Valley community as part of an EPA Ports Initiative Environmental Justice Project. In fall 2016, the Port, community members, and the health equity non-profit, Just Health Action, jointly applied for an EPA technical assistance grant to begin this process with a primary focus on environmental issues in the Duwamish Valley. The partnership was one of only three in the nation selected to receive the technical assistance grant.
Over the course of the pilot, Port staff and community members identified the challenges facing the community were not only environmental impacts, but that the community experiences a lack of access to benefits that the Port provides, such as career pathways and other workforce development opportunities.
Media Contact
Peter McGraw | Maritime Media Officer
(206) 787-3446 | mcgraw.p@portseattle.org