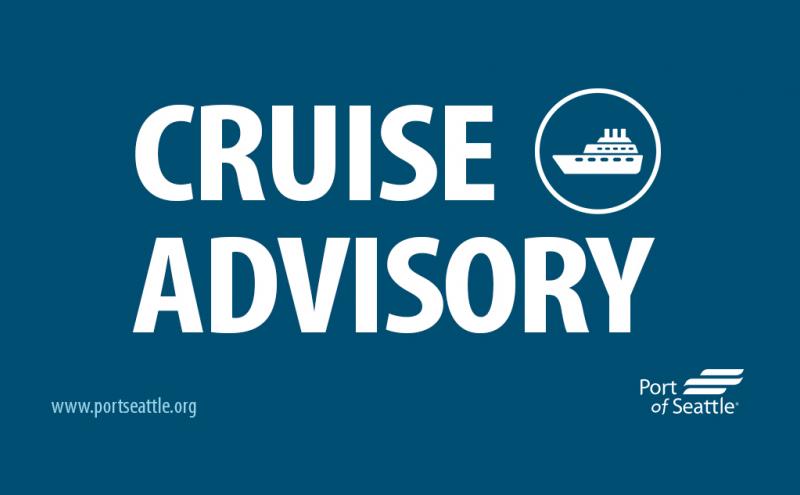 March 24, 2020
Maintaining the health, safety, and wellbeing of our community is the Port of Seattle's top priority. The Port now expects the launch of the cruise season will be delayed until the resolution of the public health emergency.
"We know that social distancing is our only real weapon against the COVID 19 virus. "At a time when Governor Inslee has ordered all Washingtonians to 'Stay Home, Stay Healthy,' we must consider public health and safety above all else," said Port of Seattle Commission President Peter Steinbrueck.  "The eventual return of our cruise season is something we fully expect as an important contribution to living wage jobs, local small businesses, and our region's economic recovery.  We also recognize the critical role Seattle cruise plays in supporting the Alaska economy for over 20 years."
Seattle cruise is integral for local suppliers that provide homeport vessels with goods and supplies, with travelling guests spending time in the region before or after their cruise.  Each homeport sailing creates approximately $4 million in regional business activity, with a full cruise season generating nearly $900 million statewide and supporting 5,500 jobs.
"The loss and impact of these sailings will ripple through the tourism industry and our regional economy—however, we understand the Port of Seattle's hard but necessary decision," said Tom Norwalk, Visit Seattle President and CEO. "We appreciate the Port's commitment to re-evaluate the 2020 cruise season as the situation evolves, and Visit Seattle will help lead the economic recovery and work in tandem with the Port of Seattle."
The start of Seattle's cruise season will depend on the status of the public health emergency and the advice of local, state and federal public health officials. The CDC has issued a nonessential travel warning and a temporary no sail order for cruise ships, and the State and King County have imposed a number of strict limitations to limit the spread of COVID-19.
In conjunction with public health officials and our cruise line partners, the Port will regularly reevaluate this situation as the nature of this crisis evolves. Once the public health emergency ends and it is deemed safe, we believe that the launch of cruise in Seattle will provide critical economic relief to many struggling businesses in our region and beyond. Even when cruise season resumes, the Port will be working with public health officials, cruise lines and others to ensure that strong protective measures are in place to prevent future health issues on cruises that would impact travelers and local residents, such as pre-screening before boarding and stronger quarantine measures for on-board illness. 
For those travelers with plans to cruise during this impacted period, please contact your cruise line regarding your itinerary.
Contact
Peter McGraw | Maritime Media Relations
(206) 787-3446 | mcgraw.p@portseattle.org