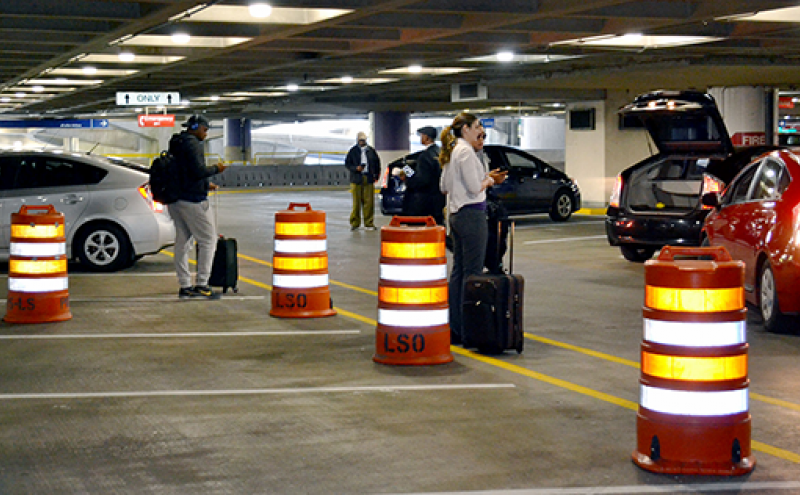 App based ride hailing service begins pilot program today
March 31, 2016
(SEATTLE) – The Port of Seattle today unveiled a first-of-its-kind method to monitor the environmental performance of app-based rideshare services and offer more choices for travelers to get to and from the airport. Starting today vehicles from transportation network companies (TNCs) may now pick up and drop off passengers at Seattle-Tacoma International Airport. And each of those rideshare companies has committed to meeting the Port's high environmental standards.
"Travelers have told us that they want these choices," said Port of Seattle Commission President John Creighton. "We heard them and developed a groundbreaking approach to measure carbon emissions that's first in the world. It's good for the traveling public and good for the environment."
Port staff developed an innovative way to measure carbon emissions and leverage technology to reduce greenhouse gases. Rideshare providers are required to meet the equivalent of the green fleet standards for taxis, and a one-year pilot program allows them to demonstrate this by using ride pooling and deadhead reduction to keep cars off the road and reduce emissions. Deadheading is when a vehicle drives somewhere without a passenger.
"It was a tough negotiation that took more than a year of discussion," said Port of Seattle Commissioner Courtney Gregoire. "But we had to level the playing field with transportation providers who already meet our high standards for fuel efficiency."
The Port's Environmental Key Performance Indicator, or e-KPI, aims to fairly measure carbon emissions generated from a typical passenger trip. It's based on how fuel efficient the vehicle is and the frequency of ride pooling and deadheading. It was the way to make it equitable with the ground transportation providers at the airport whose vehicles already meet a 45 miles-per-gallon fuel efficiency requirement and deadheading standards set by the Port.
It's a strategy that clean-air advocates support.
"The Port's performance-based approach to measuring carbon emissions helps to provide incentive for ground transportation providers, like rideshare services and taxis, to save fuel and safeguard our planet," said Andrew Green, Assistant Director, Puget Sound Clean Air Agency.
App-based rideshare providers must sign agreements with the Port to ensure they meet the equivalent standard using the formula. They will provide data about the vehicles and the number of trips to and from the airport so the Port can determine the average fuel efficiency, plus ride pooling and deadheading rates.
"The Port of Seattle knows that taxis and rideshare isn't good enough if those vehicles themselves aren't clean and efficient, said Vlad Gutman, Washington Director of Climate Solutions. "Maintaining high standards for vehicles that use public facilities like the airport can meaningfully drive efficiency, and we're excited that the port is pursuing such a thoughtful approach to the problem of transportation emissions."
The TNCs welcome the ability to serve their customers and keep cars off the road.
"We applaud the Port staff and Commissioners for bringing ridesharing to the airport, and we are thrilled that Lyft rides are now available for Sea-Tac travelers," said Bakari Brock, Lyft's Senior Director of Business Operations. "In Seattle, and across the country, people have already welcomed Lyft as their affordable, convenient transportation solution. Thanks to this agreement, the hundreds of thousands who pass through Sea-Tac every day can rely on Lyft for safe rides to and from the airport."
"We're proud to work with Sea-Tac Airport to offer more choice and cheaper rides for passengers as we work toward less congestion on our roadways. uberPOOL makes it easy and affordable for people going in the same direction to share the trip. It's carpooling at the push of a button," said Brooke Steger, Uber's Seattle General Manager.
"Our partnership with Sea-Tac Airport will help us to expand Wingz operations into the Pacific Northwest," said Mary Krick, Chief Administrative Officer, Wingz. "Wingz has become the peer-to-peer airport transportation company of choice for tens of thousands of travelers due to our pre-booked, flat-rate rides and personal service. We now look forward to delivering that same level of service here at Sea-Tac, providing the unique and personal ground transportation experience that Wingz riders have come to expect."
More Details on Environmental Programs at Sea-Tac
This initiative is part of a larger strategy to reduce carbon emissions around the airport. The Port is working with Boeing and Alaska Airlines to develop a plan for infrastructure needed to power every flight that leaves Sea-Tac with aviation biofuel. The airport was the first in North America to receive Airport Carbon Accreditation certification for reducing emissions.
The Port also provides charging stations for electric ground-support vehicles at the airport and has installed a system for planes to avoid running their auxiliary power units when parked at any gate. In addition, the airport garage offers 48 electric vehicle parking spaces providing free electric vehicle charging for parking customers.
Sea-Tac Airport provides a wide-range of ground transportation options including on-demand taxies/limos, scheduled airporter services, shared ride vans, courtesy buses for area hotels, rental cars, and public transit including Link Light Rail.
About Seattle-Tacoma International Airport
Operated by the Port of Seattle, Seattle-Tacoma International Airport (SEA, KSEA) is ranked as the 13th busiest U.S. airport, serving nearly 42.3 million passengers and more than 332,000 metric tons of air cargo in 2015. With a regional economic impact of more than $16.3 billion in business revenue, Sea-Tac generates 171,796 jobs (109,924 direct jobs) representing over $2.8 billion in direct earnings and more than $565 million in state and local taxes. Twenty-four airlines serve 81 non-stop domestic and 24 international destinations.
The Port of Seattle is setting the course for the future with the Century Agenda. In 25 years, we will generate 100,000 new jobs and increase international trade and tourism, while protecting the environment with innovative sustainability initiatives. Learn more about how the region's economic engine will keep powering King County's economy for years to come!