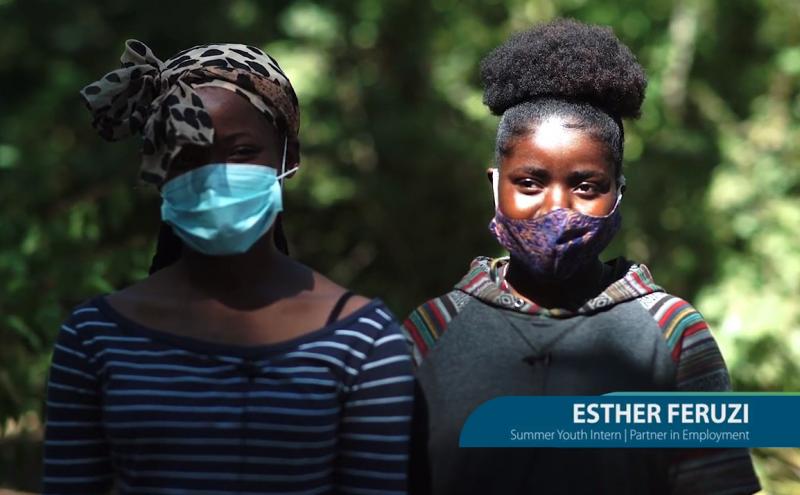 New workforce development report shows Port progress in helping lead an equitable recovery
May 11, 2021
Port of Seattle Commissioners today voted to invest up to $2 million to continue the Port's Opportunity Youth Initiative for a second year. The funding expands the highly successful program from its initial beginnings as a COVID-19 relief program to restore youth jobs and training badly hurt by the pandemic.
"The pandemic is disproportionally harder on youth, especially youth of color, because they're missing out on job training that should propel them into careers," said Port of Seattle Commissioner Stephanie Bowman, sponsor of the Opportunity Youth Initiative. "In 2020 we created an effective, emergency program to provide paid jobs for youth looking for experience in Port-related industries. As the effects of the pandemic wear on, these youth are facing another summer of unemployment. Expanding the program this year is key to the Port's equitable recovery strategy and focus on the great career opportunities in Port industries."
The Opportunity Youth Initiative directs resources to communities experiencing the highest rates of youth unemployment, including underserved communities in South King County.  In 2020, 93 percent of the Opportunity Youth Initiative youth identified as BIPOC.
The Port will work with local nonprofits Partner in Employment, Seattle Goodwill, Seattle Parks Foundation, and Urban League of Metropolitan Seattle to provide these youth employment opportunities.
"We're thrilled to partner with the Port, providing must-needed opportunities to BIPOC youth ages 16-24,  to receive internship and career connected learning in the sectors of Aviation, STEM, Environmental and Sustainability, and Maritime," said Daryl Campbell, CEO of Seattle Goodwill. "This is exactly in line with Seattle Goodwill's belief in the potential of individuals to make positive changes in their lives, and that education and training empower people to make those changes."
These community-based organizations facilitate the Port's efforts to recruit, hire, and manage youth interns and trainees to learn skills that can translate into jobs in Port related industries including aviation, maritime, construction trades, and green jobs. Anticipated projects for 2021 include:
Internships within maritime, aviation, construction trades, and green jobs industries.
Park forest and salmon habitat restoration.
Link to apprenticeships or pre-apprentice construction training programs, through hands-on work of building tiny cottages for unsheltered residents.
Professional development designed to help youth identify and set career goals in Port industries.
The 2020 program received high marks from its participants:
90% reported learning new skills to help them be successful in finding a job.
81% said they gained an understanding of their future career and/or educational goals and how to reach them.
87% said they felt more knowledgeable about job opportunities in port-related industries.
The Opportunity Youth Initiative complements the Port's nationally recognized summer internship program, which has employed more than 500 youth in the last four years, including 80 youth in the summer of 2020.
Success in 2020 Workforce Development Efforts
Also at their May 11 meeting, Commissioners heard a presentation analyzing the results of the Port's 2020 workforce development program.
The Port's workforce development partners—including employment and training service providers, community colleges, and community-based organizations—responded to COVID by moving services online (e.g., information sessions, job search assistance, classes, and internships); connecting people to benefits such as unemployment and health insurance; and helping address basic needs through food, housing, and transportation assistance.
Even during these challenging times, participants continued to move along career pathways in port-related sectors.
Jerome Cadelina worked as a ramp agent at SEA Airport in 2019 when he entered the aviation maintenance technician (AMT) career pathway program, which is a partnership of the Port, Port Jobs, and South Seattle College. Today, Cadelina advanced his career to become an aircraft support mechanic while completing South Seattle College's aviation maintenance technology program.
The Port's workforce development investments in 2020 included $1.5 million for Opportunity Youth, and $1.9 million in the port sectors of aviation, maritime, green jobs, construction trades, and strategic partnerships. Investments included contracts with service providers such as Port Jobs, the pre-apprenticeship organization ANEW, the Urban League of Metropolitan Seattle, and the Maritime Youth Collaboration.
The report found that participants placed in Port jobs:
Earned an hourly wage of $16.40 in aviation (janitorial/cleaning, food service, ramp/airfield, airport customer service, and warehouse/freight)
Earned an hourly wage of $24.50 plus in construction (apprentice ironworkers, laborers, pipefitters, bricklayers, and cement masons in the construction sector)
Ninety-two (92) employers hired participants or provided youth internships. Types of businesses included airport concessionaires, ground handling companies, airlines, construction contractors, boat repair shops, recreational boating rental providers, and other maritime employers (e.g., cargo ship operator, marine terminal operator, and marine science and engineering firm).
In 2020, the Port's workforce development investments resulted in:
870 job placements,
210 training completions
105 youth participating in experiential learning (events and internships)
Retention services and supports for over 100 participants in Port-funded workforce development programs who were placed in jobs in 2019.
Contact
Peter McGraw | Port of Seattle Media Officer
(206) 7897-3446 | mcgraw.p@portseattle.org