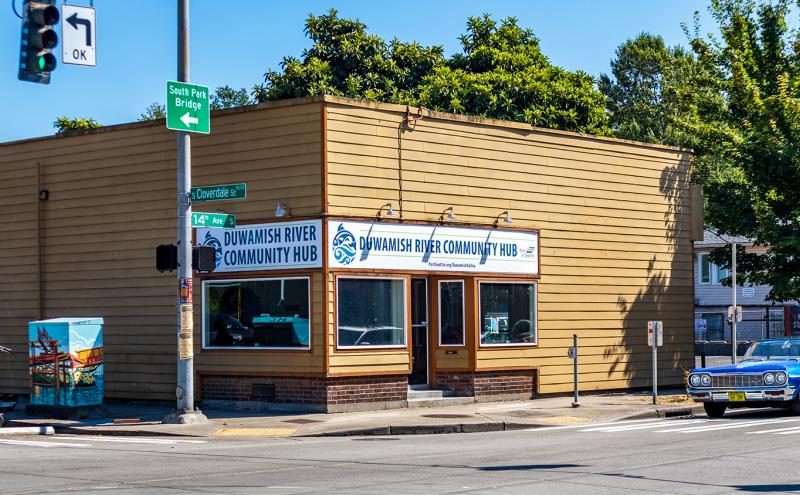 The space will serve to promote community partnerships, healthy environments, and economic development
August 6, 2021
The Port of Seattle will be opening its newly leased Duwamish River Community Hub located in South Park as part of its Community Benefits Commitment established in the Duwamish Valley Community Equity Program.
"The Port of Seattle, in partnership with the Port Community Actions Team (PCAT), is excited to be using this new space to increase career pathways and workforce development opportunities for the communities that need them most," said Ryan Calkins, Port of Seattle Commissioner.
In conjunction with the Community Hub opening, the Port will be sponsoring a Construction Trades Outreach Fair and walking tours of the Duwamish River People's Park (DRPP) Habitat Restoration and Shoreline Access (formerly Terminal 117). The opening will coincide with the annual Duwamish River Festival hosted by the Duwamish Valley Cleanup Coalition taking place nearby at the South Park Plaza.
The Community Hub will support the activities of the Duwamish Valley PCAT, the Port's Workforce and Economic Development programs, the Port's Green Jobs Initiative, and ongoing port operations at DRPP, in addition to serving as the Port's field office during park construction.
WHEN: Saturday, August 7, 2021
11:00 am – 12 noon – Hub opening and reception
12 noon – 5:00 pm – Construction Trades outreach (in Hub parking lot)
12 noon – 5:00 pm – DRPP walking tours (from Hub parking lot)
12 noon – 5:00 pm – Duwamish River Festival (South Park Plaza)
WHERE: Duwamish River Community Hub, 8600 14th Ave S, Seattle, WA 98108
PCAT members and the newly hired Hub Building Coordinator will also be on hand to engage with the community. As at all Port of Seattle facilities, visitors and participants are required to wear a mask while indoors.
The Port of Seattle recognizes that some near-Port communities, such as Georgetown and South Park, experience a higher proportion of environmental impacts and lack equitable access to the Port's benefits to the region. That is why the Port of Seattle Commission approved its long-term commitment to equity and outreach efforts in the Duwamish Valley through its adoption of the Duwamish Valley Community Benefits Commitment in 2019. Resolution 3767, the first of its kind at the Port of Seattle, harnesses the Port's economic development mission to promote community partnerships, healthy environments and communities, and economic prosperity. The new policy made permanent a pilot program that started in 2017.
About PCAT
The Duwamish Valley PCAT is a group of neighbors from Georgetown and South Park who are collaborating with the Port of Seattle to remedy their historical and current disproportionate, cumulative impacts to the environment and its people.
Contact
Peter McGraw | Media Officer
(206) 787-3446 | mcgraw.p@portseattle.org