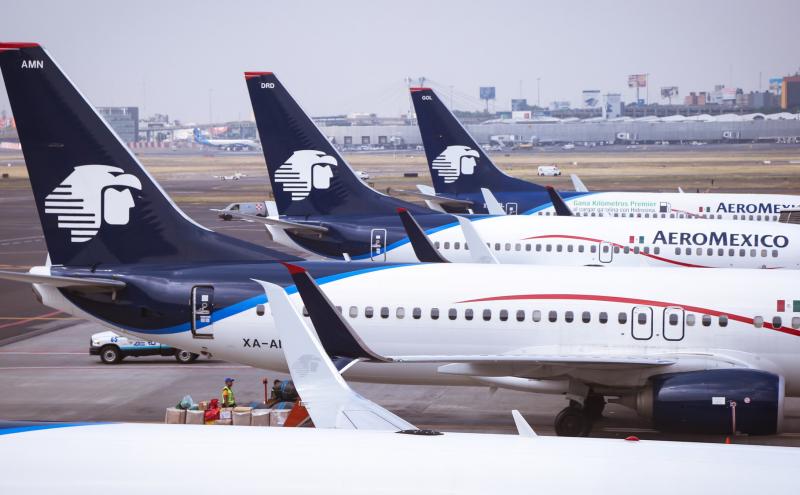 Nonstop service between Seattle and Mexico City boosts economic opportunity for ne of Washington's largest export markets
November 1, 2017
When Aeromexico Flight 494 from Mexico City arrives at Seattle-Tacoma International Airport tonight, it will mark the beginning of daily nonstop service between Seattle and North America's largest city.
Mexico is one of the largest international customers for the State of Washington, with more than $1.9 billion in Washington exports and $1.3 billion in Mexican goods coming to Washington in 2016.
"Seattle was the largest North American market without nonstop service to Mexico City," said Port of Seattle Commissioner Stephanie Bowman. "This service means the doors will be open to business and vacation travelers from both countries. Mexico City is an important gateway to Mexico and Latin America, and Sea-Tac provides numerous regional connections to cities throughout the Pacific Northwest."
Aeromexico is the sixth new international carrier to inaugurate service at Sea-Tac in the last 18 months. Mexico City becomes the airport's 25th nonstop international destination.
Seattle is one of the fastest-growing major airports in North America, and is a hub for Aeromexico's partner Delta Air Lines. Aeromexico serves more than 80 cities on three continents, including 44 destinations in Mexico, 19 in the United States, 15 in Latin America, four in Canada, four in Europe, and three in Asia. The route will fly Boeing 737-800 aircraft with 160 passenger capacity on the route.
"Through this route, we are the only airlines offering direct service to Mexico City from Seattle, connecting customers to over 90 destinations at our main hub in Latin America," said Anko van der Werff, Chief Revenue Officer at Aeromexico.
"I'm pleased to welcome Aeromexico direct flights to Sea-Tac. This is a tangible example of connectivity and competitiveness that was discussed on my trade mission to Mexico earlier this year. We will continue to ensure broadly held prosperity in Washington state and Mexico, encourage trade and tourism with this new transportation link between us," said Washington Governor Jay Inslee.
Noting the business ties between Washington State and Mexico, Roberto Dondisch, Mexico's Consul General in Seattle, said there will be benefits for businesses on both sides of the border. "Having a direct flight between one of the most important tech hubs in the world right now, which is Seattle, and one of the most innovating cities in the world, which is Mexico City, will simply allow us to strengthen those dimensions to allow business people to travel more, be more directly engaged in getting businesses from Mexico and from Washington state and Seattle on a stronger footing, and to find new opportunities to grow trade and to grow investments," he said.
Scheduled Flight Information
| | | | |
| --- | --- | --- | --- |
| Flight | Departure | Arrival | Duration |
| AM 494 | MEX 15:00 | SEA 20:05 | 6:00 |
| AM 495 | SEA 22:00 | MEX 04:25 | 5:25 |
The Port of Seattle is poised to welcome more international travelers with a new International Arrivals Facility scheduled to open in late 2019. The facility will double passenger capacity, reduce connection times and increase gates capable of serving international wide body airplanes from 12 to 20.
About Delta / Aeromexico
The Delta Air Lines and Aeromexico joint cooperation agreement (JCA), creates an expanded transborder route network enhancing competition between the United States and Mexico. With up to 1,000 weekly transborder flights, the airlines have added new destinations providing convenient schedules benefiting the customers of both companies, while deepening the relationship they have shared for more than 17 years as founders of the SkyTeam global airline alliance.
Delta provides service in the United States through its connecting hubs in Atlanta, Detroit, Los Angeles, Minneapolis-St. Paul, New York-JFK, Salt Lake City and Seattle; and Aeromexico offers greater access to Mexico through its hubs in Mexico City, Monterrey and Guadalajara.
The airlines are enhancing the customer experience through increased connectivity, by investing in airport facilities, boarding gates, VIP lounges and frequent flyer benefits through SkyMiles and Club Premier accruals. For more information on Delta Air Lines or Aeromexico visit: www.delta-aeromexico.com