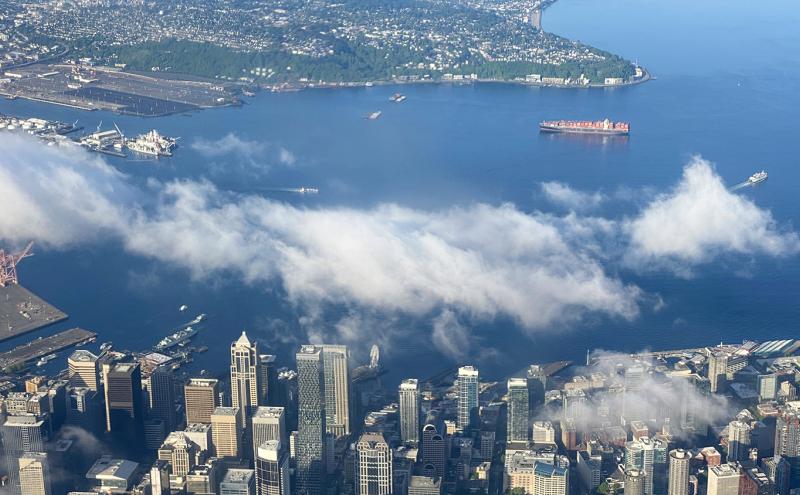 September 22, 2022
Industry stakeholders, issue advocates, and members of the public interested in Port of Seattle operations and programs can learn more about the Port's proposed 2023 Budget and Five-Year Capital Plan at public meetings and forums starting this month.
The Port of Seattle Commission will hear briefings on the Port operating division budgets during public meetings held on September 27 and October 11. Members of the public may attend in person, watch online, or watch a recording. Materials post to the Commission meeting webpage the Thursday prior to the meeting.
Port leaders will host two additional public open houses on the 2023 Budget and Five-Year Capital Plan prior to Executive Director Steve Metruck introducing his proposal on October 20.
The 2023 Budget and Five-Year Capital Plan public open house for the Maritime and EDD Divisions will be held online on October 12 at 4:00 p.m. The Aviation Division public open house will take place online on October 13 at 4:00 p.m. Members of the public may participate online or watch a recording on the Port's 2023 budget webpage.
The Port is one of the largest economic drivers in Washington state. Hundreds of private employers operate at Port facilities, making seaport and airport facilities some of the largest job sites in King County. The Port of Seattle has set a goal to be the greenest and most energy efficient Port in North America. The budget and five-year capital plan reflect the Port's strategy to promote economic opportunities and quality of life in the region by advancing trade, travel, commerce, and job creation in an equitable, accountable, and environmentally responsible manner.
2023 Budget and Five-Year Capital Plan Milestones
Sept. 27: Central Services and Port-wide Budget Overview Commission briefing
Oct. 11: Operating Divisions Commission Budget Study Session
Oct. 12: Maritime and EDD Divisions budget public open house
Oct. 13: Aviation Division budget public open house
Oct. 20: 2023 Preliminary Budget Document available to the public
Nov. 8: Introduction of preliminary 2023 Budget and public hearing
Nov. 29: Adoption of 2023 Budget
Contact 
Kathy Roeder | Port of Seattle | Communications Director
(206) 787-4882 | roeder.k@portseattle.org