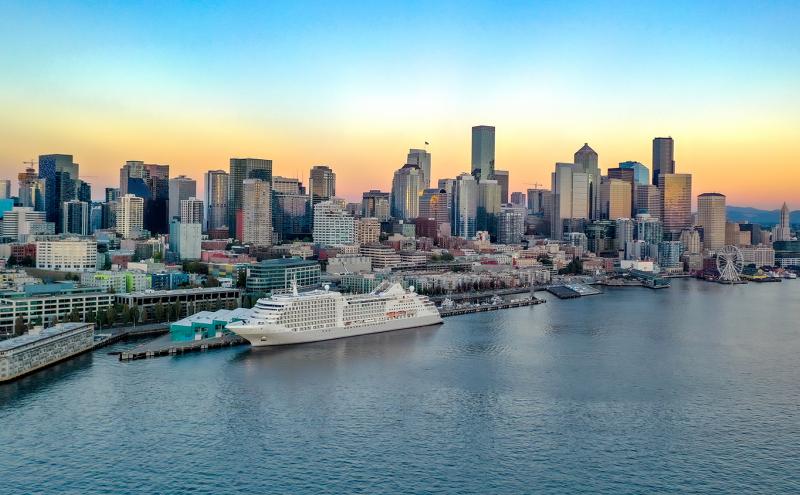 The Port's Maritime Division and Economic Development Department will be PSE's largest RNG customer
February 6, 2023
Puget Sound Energy (PSE) announced that the Port of Seattle's Maritime Division and Economic Development Department have agreed to purchase more than 240,000 therms of renewable natural gas which will result in a reduction of carbon emissions of about 1,291 metric tons each year they participate in the program.
The Port of Seattle Maritime Division and Economic Development Department will use the renewable natural gas at all its facilities currently using natural gas, including the top 3 currently using the most natural gas; Pier 66, Terminal 91 and its maintenance facilities.
"PSE's Renewable Natural Gas program will immediately cut our own maritime division greenhouse gas emissions almost in half," said Port of Seattle Commissioner Ryan Calkins. "That reduction helps us meet goals while implementing longer term solutions to phase out fossil fuels."
Through a different agreement, the Port also purchases renewable natural gas made from landfill waste to heat the airport terminals and fuel transportation. The purchase of renewable natural gas for the airport helped reduce Scope 1 and 2 emissions from Port-owned and -controlled sources like building facilities and vehicle fleets by 50 percent a decade sooner than planned.
This agreement with the Port's Maritime Division and Economic Development Department is part of PSE's voluntary Renewable Natural Gas program (RNG), a key part of its proposed pathway to reduce carbon emissions to net zero by 2045. Through RNG, renters, homeowners and businesses can replace a portion of their conventional natural gas usage with lower carbon renewable natural gas.
"Our RNG program gives customers a way to reduce carbon emissions today, and meet sustainability goals on their own timeline," said Ken Johnson, PSE Vice President of External Affairs. "We're impressed by the Port of Seattle's commitment. This partnership is another way we are working together with our customers to help create a cleaner energy future for all."
PSE's voluntary RNG program also offers utility customers the option to replace a portion of their conventional natural gas use with renewable natural gas. For every block of RNG a customer purchases, they see a credit on their bill for an equivalent amount of conventional natural gas not used. Already, more than 5,000 PSE customers have enrolled in RNG since its launch in December of 2021.
Supply for renewable natural gas comes from a long-term contract with Klickitat Public Utility District. Methane from a Washington landfill is captured, processed into renewable natural gas, and added directly into PSE's natural gas system.
As part of PSE's aspirational Beyond Net Zero Carbon goal, PSE aims to reach net zero carbon emissions for natural gas used in customer homes and businesses by 2045, with an interim target of a 30 percent emissions reduction by 2030. Complementary energy systems—electricity and piped energy—are critical to ensuring customers have reliable, affordable and cleaner energy, especially at times of peak demand, such as a cold winter day. RNG is a key part of PSE's strategy to reduce carbon emissions, as is the development of cleaner fuels like hydrogen.
To learn more about RNG or to sign up, visit pse.com/rng. For more on PSE's work to support clean fuel development for electricity generation and in the pipeline delivery system, visit the Lower Carbon-Fuels website.
How RNG works
PSE gas customers can purchase up to three blocks of RNG for $5 per block. Each block is the equivalent of 2.732 therms of conventional natural gas use – or about 5 percent of the average residential customer's monthly gas use. Customers receive a small bill credit – approximately $1.25 per month – per block for the commodity cost of the conventional natural gas they're replacing.
What is renewable natural gas?
The decomposition of plant and animal material at waste landfills, water treatment plants, livestock farms and more produces methane that can be upgraded to pipeline quality and used as a replacement for conventional natural gas.
Contact
Peter McGraw | Port of Seattle Media Officer
(206) 787-3446 | mcgraw.p@portseattle.org
Andrew Padula | Puget Sound Energy
1-888-831-7250 | psenewsroom@pse.com