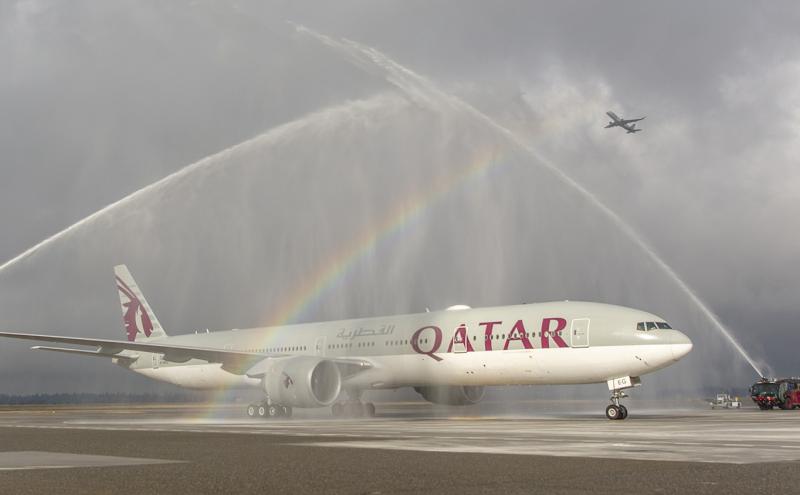 Service includes connections to Middle East, Africa, and India
January 29, 2021
The Port of Seattle welcomed the first new international carrier to begin service since the start of the pandemic with the inaugural flight of Qatar Airways arriving from Doha (DOH) today at Seattle-Tacoma International Airport. The four times a week service aboard Boeing 777-300 aircraft will provide more options for travelers to the Middle East, Africa, and India.
"Qatar Airways' decision to begin service to the Pacific Northwest is a testament to the airline's confidence in the strength of the region and the expectation to bounce back after the past year's struggles with the pandemic," said Port of Seattle Commission Peter Steinbrueck. "We look forward to this being one of the first steps back to recovery as we will soon welcome global travelers into the new International Arrivals Facility later this year."
Qatar is the first airline in the world to be named World's Best Airline five times by the Skytrax Airline Awards. It was also the first airline in the world to receive a 5-star COVID-19 Safety Rating from Skytrax, which complements SEA Airport's globally accredited FlyHealthy@SEA program, both emphasizing the importance of health and safety within the entire passenger experience.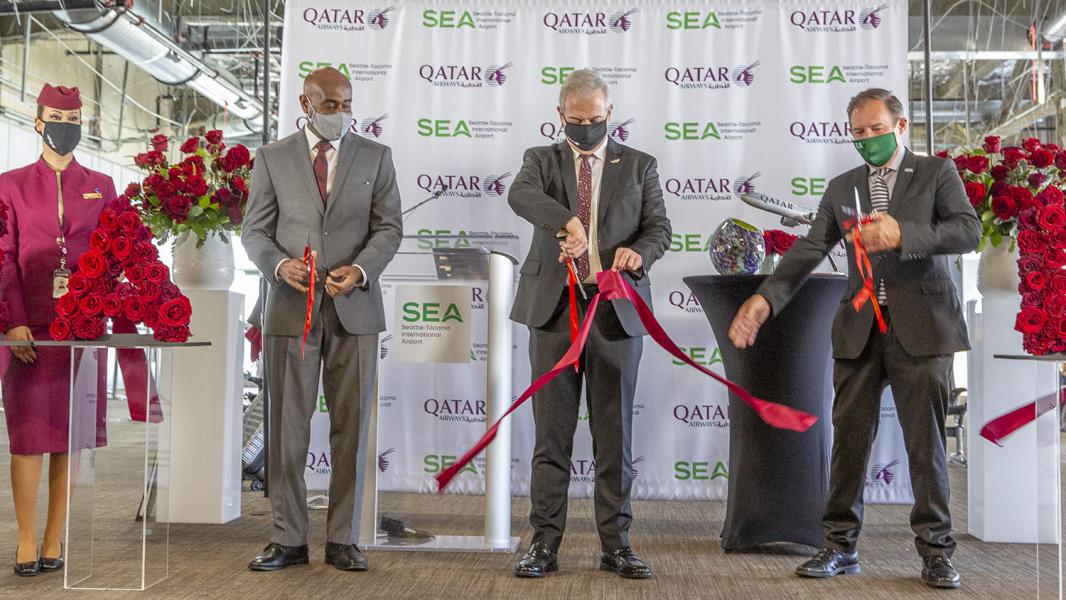 Qatar Airways Group Chief Executive, His Excellency Mr. Akbar Al Baker, said: "An international destination renowned for innovation, technology, and natural beauty, we are delighted to serve this increasingly important business and leisure market. And, as one of the top airports in the U.S., passengers will have an increased number of convenient connections when Alaska Airlines joins the oneworld alliance on March 31st – including to Alaska, Canada, and Hawaii."
With Alaska Airlines' upcoming entry into the oneworld alliance this year, Alaska Mileage Plan members will be able to earn and redeem frequent flier miles on Qatar's entire network. In addition, passengers throughout western North America will be able to connect in SEA on Alaska's network.
"Qatar Airways is a world-class airline that's known for its excellent product and service. We look forward to a terrific partnership with them," said Nat Pieper, SVP of Fleet, Finance and Alliances at Alaska Airlines. "In two months, we'll join Qatar as the 14th full member of the oneworld Alliance. Alaska will transform into a truly global airline, with our network connecting to more than 1,000 destinations around the world, especially from our home base in Seattle."
Prior to the pandemic, each new international service was estimated expected to inject $89 million into the Washington State economy each year. Moreover, international travelers tend to stay longer in our region and spend more money, making global travel one of the most powerful sources of economic activity.
The new International Arrivals Facility, the most complex capital development project in the history of the airport, will dramatically improve connection time, efficiency, and service to millions of annual international travelers. The facility will increase the number of gates capable of serving international wide-body airplanes from 12 to 20. 
Flight Details
Qatar Airways – to Doha (DOH). Find more in the Qatar Airways release.
| Route | Flight#  | Departure | Arrival |
| --- | --- | --- | --- |
| DOH to SEA | QR 719 | 8:00 a.m.     | 11:20 a.m. |
| SEA to DOH | QR 720 | 4:05 p.m. | 5:15 p.m. +1 |
With today's addition of Qatar, 21 of the 42 international services operating at SEA Airport pre-pandemic have returned to service. Qatar is the first new entrant carrier to begin service since the pandemic.
Contact
Perry Cooper | Media Officer SEA Airport
(206) 787-4923 | cooper.p@portseattle.org