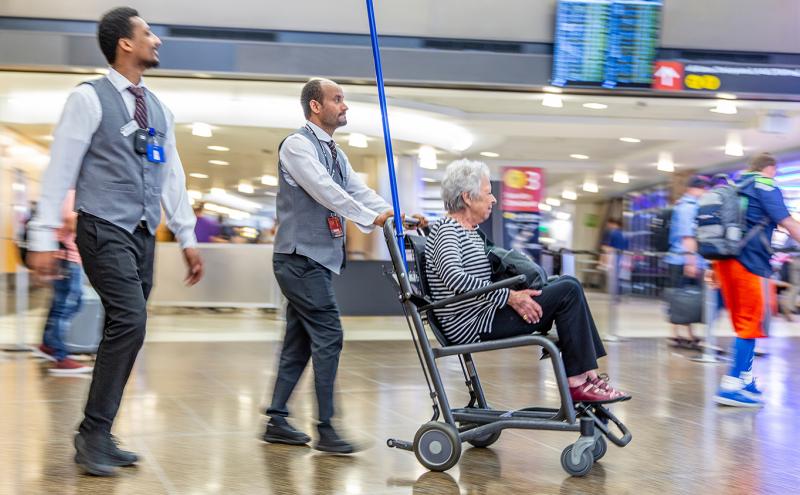 Becomes first airport in U.S. to launch program for travelers with hidden disabilities
October 23, 2019
Seattle-Tacoma International Airport (SEA) announced new services this week to make travel more accessible and less stressful for everyone. The expanded services, like a new pilot program to meet the needs of guests with hidden disabilities, make the airport more accessible and help improve the travel experience beyond the Americans with Disabilities Act (ADA) requirements.
"We are working to make Sea-Tac Airport the most accessible airport in the nation. We are making strides to help our passengers safely navigate a loud and crowded airport by improving signage and increasing options for travel to and from the airport," said Port of Seattle Commissioner Peter Steinbrueck. "All travelers should feel welcomed and that the airport meets their needs. New initiatives like the sunflower lanyards and improved design make travel more accessible and less stressful for everyone."
The improvements advance the airport's objective to make travel as easy, safe, and comfortable as possible.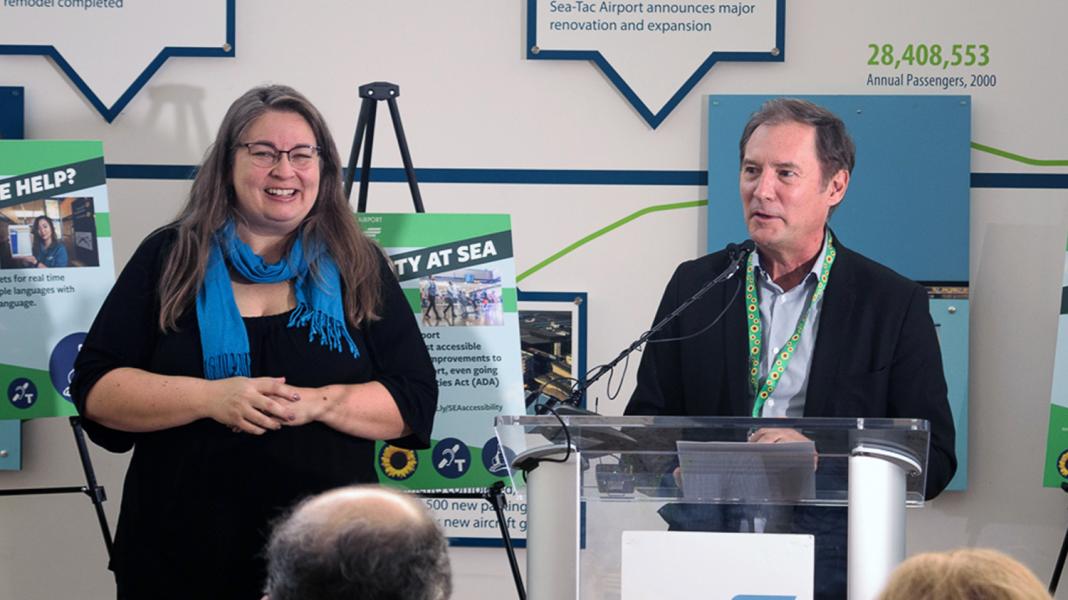 "There is something very special about what is happening in Seattle," said Open Doors Organization Executive Director Eric Lipp. "The Port of Seattle is raising the bar, not only for itself, but for airports in the U.S. and across the globe. From new curb cuts to sunflower lanyards that help people with hidden disabilities, Sea-Tac Airport is a leader and is to be applauded for holding itself to a higher standard by weaving access into its identity."
"It is thrilling that Sea-Tac Airport is improving its services for people with hearing loss," said Cheri Perazzoli, Director of Advocacy, Hearing Loss Association of America – Washington State (HLAA-WA) and Founder/Director of Let's Loop Seattle. "Traveling with a hearing loss can be stressful, disorienting, and even unsafe at times. Airports often have poor acoustics and lots of competing noises. HLAA-WA applauds the pioneering efforts of SEA to aid travelers with invisible disabilities such as hearing loss through its hearing loop and sunflower lanyard programs."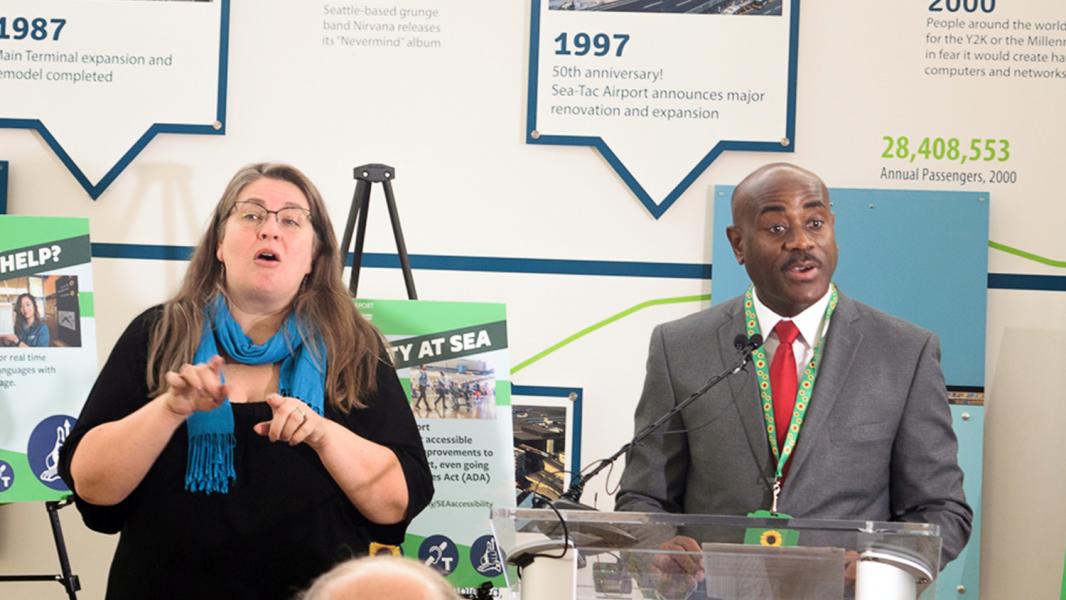 New services to make travel more accessible for everyone include:
Sunflower lanyards: On Monday, October 28 SEA will become the first airport in the U.S. to begin a pilot program to offer the sunflower lanyard to passengers with hidden disabilities such as autism, PTSD, or hearing loss. First pioneered at Gatwick International Airport in London, the sunflower lanyard communicates that passengers wearing it may need extra help while traveling. Program participation is voluntary.

 

Passengers may request free sunflower lanyards at a Port of Seattle customer service desk or speak to an airport Pathfinder in teal.
Auditory assistance: SEA is piloting a hearing loop project that improves the clarity of sound for passengers with T-coil hearing aids, cochlear implants and hearing instruments. This can be helpful in areas where there is background noise, such as a gate holdroom. Hearing loop induction systems are available at select locations at SEA, including Alaska Airlines, Delta Air Lines and jetBlue ticketing and service counters, gates and baggage claim. Passengers can request this service from airline customer service representatives.
Wheelchair accessible taxis: Taxi and flat rate vehicle services to and from the airport offer wheelchair accessible vans. SEA will soon expand the fleet to include five additional wheelchair accessible vehicles. Taxis drop off on the departures level, or a location most convenient for the passenger. Taxis depart from the third-floor parking garage. Passengers with limited mobility, or in a wheelchair, may request curbside pick-up on the arrivals level by Doors 10 and 22.
Curb appeal: The curbs along the upper and lower drives at SEA for departures and arrivals are being updated to meet current code requirements for accessibility, both by creating curb cuts or eliminating the curb altogether.
How may we help? SEA added to its airport customer experience and volunteer team to support passengers with different needs. Pathfinders in teal are equipped with tablets for real time translation services for multiple languages with a live person, including sign language.
Better accessibility wayfinding: Both in the terminal and digital navigation on the Sea-Tac Airport App, there are improvements for navigating the airport. For example, an interactive map on the Sea-Tac App provides turn by turn directions between two points, or high color contrast wayfinding signage helps with airport navigation for low vision travelers.
Better accessibility amenities: The airport installed more accessible dining tables and charging stations in the newly opened south end of the Central Terminal. SEA also installed an adult changing table in the family restroom as part of the modernization of North Satellite. Additional adult changing tables are included in future projects.
Highlights from 2018: Airport guests may also take advantage of the Meditation/Quiet Room at SEA, a pre-security amenity established in 2018 to provide a calm space for guests.  In 2018 SEA also launched its free Aira minutes program. The Port covers the cost for any travelers using the Aira service while on our free Wi-Fi network.  Aira connects people who are blind or low vision to certified live agents to navigate every step of the airport.
SEA what's next
The updated version of the Sea-Tac Airport App coming in early 2020 will have new accessibility wayfinding with the option to route for the "fastest route," including stairs and escalators, or the "most accessible route" featuring navigation via elevators.
Additional signage improvements with the development of Signage Masterplan and new standards.
Addition of text maps online to give a written narrative of routes through the airport to all concourses, including navigating the trains.
Learn more about accessibility at SEA.
Contact
Perry Cooper | Sea-Tac Airport
(206) 787-4923 | cooper.p@portseattle.org