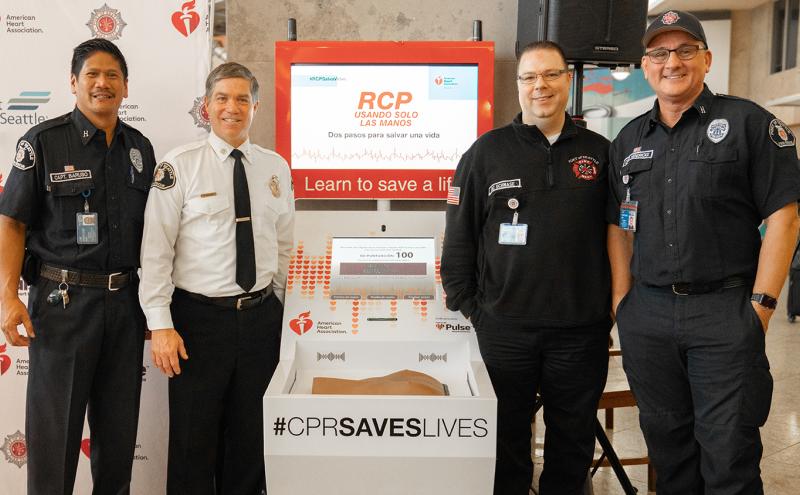 American Heart Association unveils Hands-Only CPR training kiosk at Seattle-Tacoma International Airport (SEA)  
November 14, 2019
The American Heart Association, the world's leading nonprofit organization focused on heart and brain health for all, has unveiled a Hands-Only CPR training kiosk at Seattle-Tacoma International Airport (SEA) in advance of the busy holiday travel season.
The Hands-Only CPR training kiosk, operated by the American Heart Association with the generous support of MultiCare Pulse Heart Institute, will train and test travelers on the lifesaving skill of Hands-Only CPR in about five minutes. The kiosk, located in the Central Terminal, includes a touch screen display with a video introduction and tutorial, followed by an interactive practice session and a 30-second test to measure efficacy. With the help of a practice manikin, or a rubber torso, the kiosk gives feedback about the depth and rate of compressions and proper hand placement – factors that influence the effectiveness of CPR. Kiosk users can select to do the training in English or Spanish and the experience is closed-captioned for accessibility.
"MultiCare Pulse Heart Institute is proud to support this important community resource," said Needham E Ward, MD, MultiCare Pulse Heart Institute, MultiCare Pulse Heart Institute. "Seventy percent of out-of-hospital cardiac arrests happen in homes. As many of us will be traveling to be with friends and family over the holiday season, this training will ensure we're prepared to respond if we encounter cardiac arrest. Chances are we could be saving the life of someone we love."
Every year, more than 350,000 cardiac arrests occur outside the hospital. CPR, especially if performed immediately, can double or even triple a cardiac arrest victim's chance of survival. The airport is the ideal location to offer this lifesaving training as many people are waiting for incoming or departing flights often have five minutes to spare.
At Sea-Tac Airport, the Port of Seattle Fire Department responded to over 2,800 emergency medical service calls in the first nine months of 2019. The Port Fire Department understands the value of training.
"It's vital that we encourage more people to learn this lifesaving skill, including the millions of travelers that visit SEA Airport each year," said Randy Krause, Port of Seattle Fire Chief. "The kiosk is a convenient way to learn and practice compressions and gain the confidence to be ready to act in an emergency."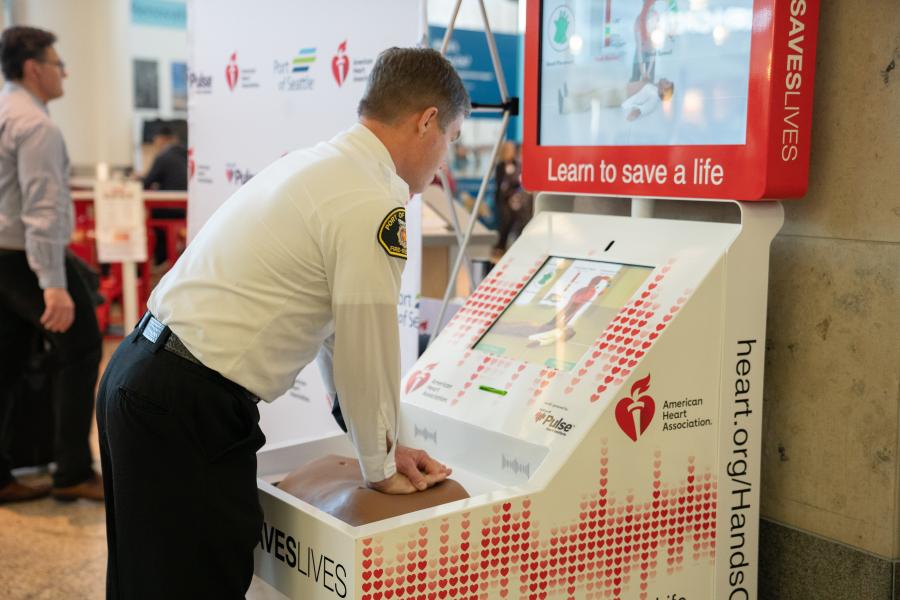 Duane Bratvold is proof of the lifesaving power of CPR. On May 2, 2012 Duane collapsed in his home right as his wife walked in the door. Duane's wife called 911 and emergency responders arrived within minutes and began CPR. Today Duane is back to work and enjoying more time with his wife, children, and grandchildren.
"I am here today because of CPR, it's a skill everyone should know," explains Bratvold. "Cardiac arrest can strike at any time and knowing how to respond is extremely important. After I was released from the hospital, my entire family learned to be lifesavers, including my 6-year-old grandson, Liam. He said he wanted to learn in case his grandpa ever needed CPR again."
Hands-Only CPR has two simple steps, performed in this order: when you see a teen or adult suddenly collapse, call 911. Then, push hard and fast in the center of the chest at a rate of 100 to 120 beats per minute until help arrives.
There are an additional 34 kiosks across the United States, 19 of which are located in U.S. airports. More than 115,000 people have been trained in the past year on the lifesaving skill of Hands-Only CPR across all kiosks.
For more information, visit heart.org/handsonlycpr.
About Seattle-Tacoma International Airport 
Operated by the Port of Seattle, Seattle-Tacoma International Airport (SEA) is ranked as the eighth most traveled U.S. airport, serving 49.8 million passengers and more than 432,315 metric tons of air cargo in 2018. With a regional economic impact of more than $22.5 billion in business revenue, Sea-Tac generates more than 151,400 jobs (87,300 direct jobs), representing over $3.6 billion in direct earnings and more than $442 million in state and local taxes. Thirty-two airlines serve 91 non-stop domestic and 28 international destinations.
About the American Heart Association
The American Heart Association is a relentless force for a world of longer, healthier lives. We are dedicated to ensuring equitable health in all communities. Through collaboration with numerous organizations, and powered by millions of volunteers, we fund innovative research, advocate for the public's health and share lifesaving resources. The Dallas-based organization has been a leading source of health information for nearly a century. Connect with us on heart.org/pugetsound, Facebook, Instagram, Twitter or by calling 206-336-7200
About MultiCare Pulse Heart Institute
MultiCare Pulse Heart Institute is the Pacific Northwest's destination for heart health, offering a comprehensive range of the most advanced cardiac, thoracic and vascular services available. With clinics and medical centers throughout our communities, Pulse provides access to some of the most sophisticated facilities and treatments available, from preventive care to emergency treatment for heart attack and ongoing care for heart disease. By partnering with our patients and other providers to address heart and vascular health as a component of total patient health, we improve lives through all phases of care. Connect with us at https://www.pulseheartinstitute.org/, 253-572-7320 (Puget Sound region) or 509-755-5500 (Inland Northwest region).
Media Inquiries
Francesca Minas | (206) 336-7234 | cell (206) 683-6226 | francesca.minas@heart.org
Valerie Koch | (206) 336-7224| (206) 915-4084 | valerie.koch@heart.org
Perry Cooper | Seattle-Tacoma International Airport | (206) 787-4923 | cooper.p@portseattle.org