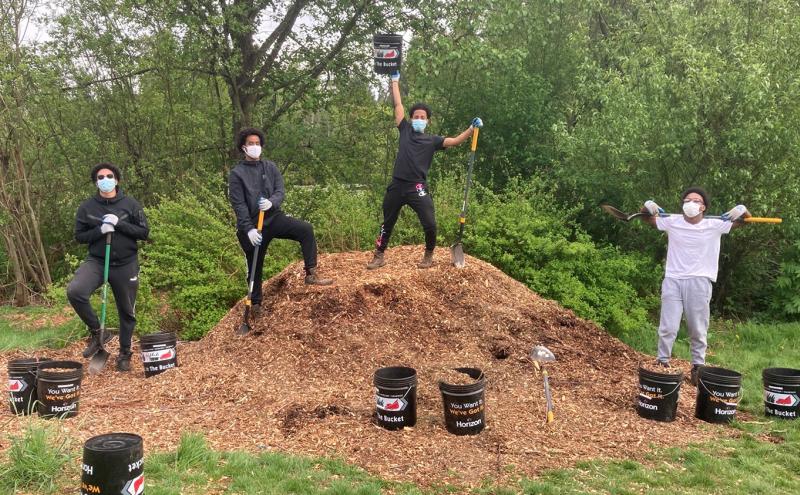 Matching grants available for short-term or multi-year environmental projects in near-airport communities
August 31, 2021
The following press release is available in Amharic, Arabic, Korean, Russian, Somali, Spanish, and Vietnamese:
በአማርኛ ያንብቡ

Af -Soomaali ku akhri
اقرأ باللغة العربية
aqra biallughat alearabia
Leer en español
한국어로 읽기
hangug-eolo ilg-gi
Đọc bằng tiếng Việt
Читать по русски
Chitat' po russki
 
 
 
 
 
 
Community-led groups can now apply for up to $20,000 in Port of Seattle funding to improve the local environment in near-airport communities. The second cycle of the South King County Fund Environmental Grants Program offers a total of up to $385,000 to increase access to green space and improve livability in the communities of Burien, Des Moines, Federal Way, Normandy Park, SeaTac, and Tukwila.
During the first round of funding, community leaders suggested that the Port could better support the community by offering multi-year funding commitments. Multi-year funding increases the impact of the Port's community investments and helps to support sustainable project planning and implementation. The Port embraced this feedback and now invites organizations to apply for one, two or three-year grants for up to $20,000 per year.
"Community-led projects are now a critical part of the Port's sustainability strategy to reduce emissions, reduce environmental impact, and improve quality of life for communities closest to operations," said Commissioner Peter Steinbrueck.  "The South King County Fund helps address longstanding environmental inequities, and puts community needs at the center of our strategy."
Meet community leaders and youth working on South King County Fund Environmental Projects.
Funding is available to support activities such as public space improvements, equipment or artwork installations, or neighborhood project or environmental stewardship projects in these South King County communities. Proposals must be submitted by October 15, 2021. Grants awarded will be up to $20,000 for one-year projects and up to $20,000 per year for multi-year projects up to three years.
Projects must take place on public property and demonstrate a 3:1 match, meaning every dollar awarded by the Port must be matched by three dollars from the grant recipient or project partners. The Port offers several ways to meet this match including volunteer time, attendees of public events, contact hours, lifetime environmental value of trees planted, carbon emissions reductions, in-kind contributions, contributions of project partners, and cash.
Submit your proposal by 1:00 p.m. on October 15, 2021.
More details and proposal materials are available on the South King County Fund project page.
South King County Fund
The Environmental Grants Program is a cycle of the South King County Fund, a $10 million fund established in 2019. The Port of Seattle established the South King County Fund to develop equity-based partnerships and provide resources and support to historically underserved near-airport communities, addressing noise mitigation, environmental health, and sustainability.
In response to the devastating impact of the COVID-19 crisis, the Port Commission added economic development as an additional focus to grant funding.
As communities recover from the health and economic impacts of COVID-19, the need for investment in South King County is stronger than ever, where residents have less access to parks and green space.
The program has revolutionized how the Port works with communities to improve access to funding opportunities. Since 2020, the Port has worked closely with a group of multicultural, multilingual liaisons to identify and remove barriers to participation by co-creating grant materials and training liaisons to conduct community outreach to promote the grant opportunity, improving community access to funding opportunities.
Prior environmental grant awardees include:
The Federal Way Korean American Association -- Constructing a Korean Garden in Federal Way's BPA trail to create a cultural space for community members
Bridging Cultural Gaps -- Supporting Black and East African immigrant families and youth to organize park clean up days and a recycling initiative in multiple East African languages
Puget Soundkeeper Alliance – Empowering youth leaders to support immigrant and refugee families as they do debris cleanups on kayak patrols, water quality monitoring, and microplastic education
Environmental Science Center – serving 1100 Highline School District students in Kindergarten through third grade with virtual beach habitat and stewardship classes live streamed and recorded at Seahurst Park
Learn more about Environmental Grant projects
Contact
Perry Cooper | SEA Airport
(206) 787-4923 | cooper.p@portseattle.org