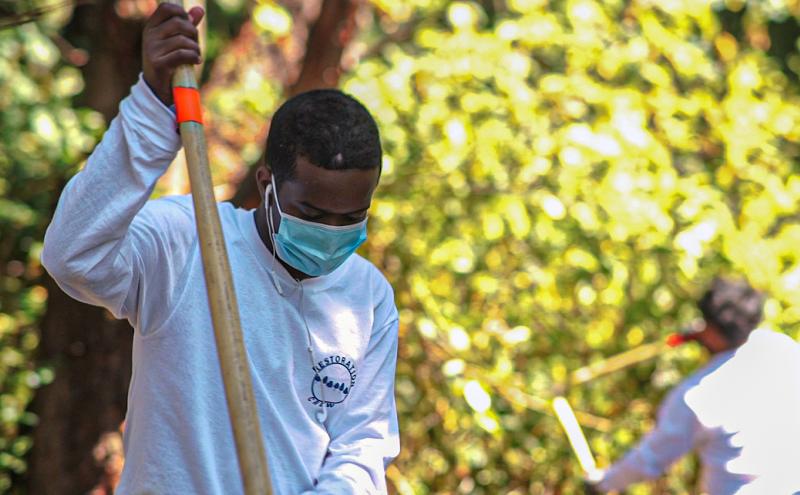 Environmental Grants
The SKCF Environmental Grants Program is a new cycle of the South King County Fund that supports projects that improve the environment in the near-airport communities of Burien, Des Moines, Federal Way, Normandy Park, SeaTac, and Tukwila. Community-led groups are invited to apply for funding for activities such as:
public space improvements (including parks, school playgrounds, public square or port habitat sites),
equipment or artwork installations,
or neighborhood or environmental stewardship projects.
The SKCF Environmental Grants Program expands the reach of the successful Airport Community Ecology (ACE) program into more communities that surround Seattle Tacoma International Airport (SEA). Communities in South King County disproportionately experience environmental harms due to a long history of inequitable land use practices and economic displacement that have pushed marginalized communities farther and farther south. With the additional health and economic impacts of COVID-19 on low-income populations and communities of color, there is a stronger than ever need for investment in South King County, where residents have less access to parks and green space than in the rest of the County.
Fall 2020: Our first SKCF Environmental Grants Program cycle
The Port is now accepting proposals for the first South King County Fund Environmental Grants cycle.
Download the application by clicking the "Application Packet- Attachments A and B" link below. There are several other documents which can be used to help you fill out the application including an EXAMPLE application and a SAMPLE Match Worksheet which can be used to help calculate the match.
All required documents must be emailed to e-submittals-sa@portseattle.org by 1:00 p.m. Dec. 4, 2020.

Grants awarded will be up to $20,000 and must be matched 3:1.
Fund highlights
$435,000 of funding is available in this cycle.
Requests can be up to $20,000.
Projects must take place on public property.
Projects must demonstrate a 3:1 match, meaning every dollar awarded by the Port must be matched by three dollars from the grant recipient or project partners. The Port offers several ways to meet this match including volunteer time, attendees of public events, contact hours, lifetime environmental value of trees planted, carbon emissions reductions, in-kind contributions, contributions of project partners, and cash.
Proposers must be a nonprofit organization with 501(c)3 or 501(c)6 status or community group that works with a 501(c)3 fiscal sponsor.
Organizations must demonstrate experience in serving diverse near-airport communities that experience economic and environmental injustice.
Organizations must submit a written proposal and participate in a discussion with the review panel.
Questions must be submitted through VendorConnect
You must register as a Plan Holder at VendorConnect to ask questions and receive ongoing updates. Register by going to the South King County Fund Solicitation Overview page in VendorConnect.
For detailed instructions about registering, read the VendorConnect External User Guide. 
Information sessions
Attend one of our virtual sessions to find out more about the proposal process. During information sessions, applicants can receive technical assistance for using VendorConnect or ask questions regarding the proposal and submittal process. Language interpretation is available upon request.
Technical Assistance Sessions
On a weekly basis, Port staff will be available to provide applicants technical assistance to help navigate VendorConnect. See Technical Assistance Schedule below for available dates/times. To join one of the scheduled sessions, follow the link or use the call-in number:
Join by computer
Join by phone

MS Teams Meeting Link

Call-In Number: +1 425-660-9954  
Conference ID:  284 653 194#
Technical Assistance Schedule
Nov. 4    
12:00 PM – 1:00 PM
Nov. 6    
9:00 AM – 10:00 AM
Nov. 9  
6:00 PM – 7:00 PM
Nov. 13    
9:00 AM – 10:00 AM
Nov. 17  
12:00 PM – 1:00 PM
Nov. 18    
11:00 AM – 12:00 PM
Nov. 24    
9:00 AM – 10:00 AM
Nov. 30    
9:00 AM – 10:00 AM
Dec. 2    
12:00 PM – 1:00 PM
Dec. 3    
6:00 PM – 7:00 PM
City Points of Contact
For projects taking place on city property including parks, public right of ways, street ends, etc., it is best to contact a representative within your project city to pre-approve the project. Some projects may need permits or require approval from Parks and Recreation or Public Works. It is best to contact the city early in your planning process and if possible, ask for a letter of recommendation to include in your application packet. The following list is designated points of contact who are familiar with the Environmental Grants Program and are ready to help you with your project. 
Examples of projects funded previously by ACE
Midway Park & Play Area Restoration – Des Moines Rotary Foundation, Des Moines. The grant provides funds that enable volunteers to repair and maintain park equipment to enhance the beauty and recreational value of the park for youth and families to enjoy.
Farmbot – Ecotech in an Urban Garden, Key Tech Labs, Des Moines. This project combines STEM (Science, Technology, Engineering, and Math) and healthy food education by teaching youth how to build a robot that will tend a community garden in Des Moines' high poverty area of Pacific Ridge.
New Futures Farm – Southwest Youth and Family Services, Burien and SeaTac. This project provides healthy food education by teaching families how to build and maintain a community garden in low-income housing areas in Burien and SeaTac.
SeaTac Ethnic Community Ecology Connections – Partner in Employment, SeaTac. The grant will provide culturally relevant engagement with SeaTac refugee and immigrant communities to inspire environmental education, organize community cleanup events, and increase capacity for small businesses to practice environmental sustainability.
View full project list
Questions?
You must register as a Plan Holder at VendorConnect to ask questions and receive ongoing updates. 
For detailed instructions about registering, read the VendorConnect External User Guide.
Disclaimer
Disclaimer: This is not the Port's official procurement site. The official RFP information and most updated requirements are made available in the Port's VendorConnect system.
Sign up to receive updates on South King County fund and learn about other grant opportunities: