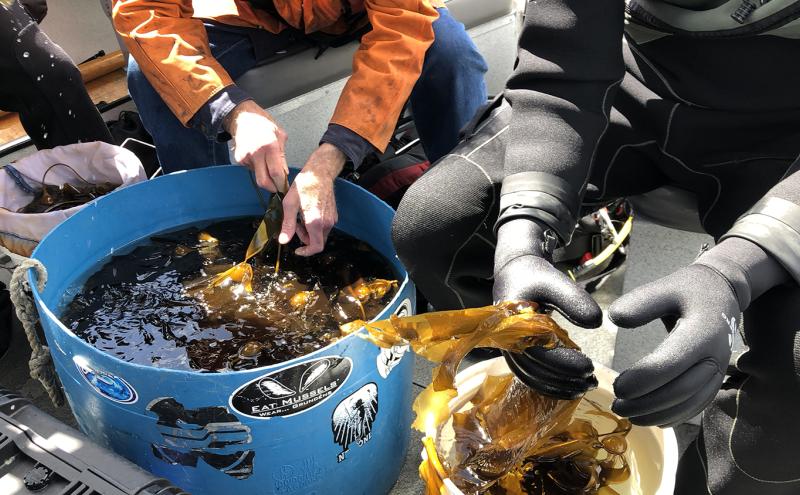 April 18, 2023
The Port of Seattle Commission, in support of Earth Day 2023, announced this year's Sustainable Century Award winners from both the maritime and aviation divisions. The Sustainable Century Awards honors partners that demonstrate environmental leadership and are critical partners in helping the Port achieve its environmental stewardship, sustainability, and equity goals.
"I'm honored to recognize the important and innovative accomplishments of the recipients of the Port's 2022 Sustainable Century Awards," said Port of Seattle Commissioner Fred Felleman. "The Port cannot achieve its goal of being the greenest Port in North America without the dedicated work of our customers, tenants, and non-profit partners. Their commitment to sustainability makes every day Earth Day. Thank you for all you continue to do on behalf of all of us."
2022 honorees
The honorees for 2022 include:
2022 Maritime Sustainable Century Award for Environmental Performance — Lineage Logistics for investments in energy savings for the fishing industry. Lineage invested in updates to its cold storage facilities to save 1.2 million kilowatt hours per year by adding LED lighting with automatic sensors and installing new rail doors and high-speed doors on cold storage areas to reduce energy loss from freezers that maintain a -15F temperature. This included the installation of new variable frequency compressors and evaporators that adjust for demand instead of running 24/7.
"As the world's leading temperature-controlled industrial real estate investment trust (REIT) and logistics solutions provider, we take seriously our great responsibility to help lead the world into a more sustainable, equitable future," said Chris Thurston, Director of Energy and Sustainability at Lineage Logistics. "We work to strategically integrate environmental, social, and governance (ESG) initiatives into the way we do business and live out our values by stewarding the environment, participating in responsible corporate citizenship, and driving innovation in our industry. We couldn't be more proud of our team or appreciative that these incredible efforts have been recognized by the Port of Seattle. We thank them for their long-standing and important partnership, and we look forward to collaborating in the years to come as we work to create a more sustainable future."
2022 Maritime Sustainable Century Award for Environmental Education & Outreach and Equity, Diversity, and Inclusion — ECOSS for the initiation and facilitation of two notable outdoor education and sustainable natural resources programs among Black, Indigenous, and People of Color (BIPOC), immigrant, and refugee communities in King County. This included a transit-to-parks outing to Little Mount Si in collaboration with the Washington Trails Association, The Wilderness Association, and King County Metro and Parks teams that introduced over 66 community members aged 4 to 50+ to hiking in regional natural areas. The second was the adoption of a habitat restoration site in Seward Park in collaboration with Mountains to Sound Greenway Trust, Green Seattle Partnership, and Seward Park Audubon Center, and working with over 40 participants for habitat restoration events.
"ECOSS is proud to be part of a movement that furthers environmental justice for marginalized communities in the greater Seattle area," said ECOSS Communications Manager Meagan Dwyer. "Receiving this award highlights the importance of our work in culturally relevant education and engagement with frontline communities to tackle environmental sustainability."
2022 Maritime Sustainable Century Award for Environmental Innovation — The Seattle Aquarium for three innovations in support of the Urban Kelp Research Project to understand bull kelp populations in Puget Sound. This included the use of remotely operated vehicle survey methods to expand the area and amount of data gathered, artificial intelligence analysis to process and generate orders of magnitudes of the video received across Puget Sound, and open access research to ensure current and future conservation and restoration programs are effective and efficient. The program also received an honorable mention for equity, diversity, and inclusion for its partnership with Sea Potential LLC., which exposes BIPOC communities to maritime careers.
"Kelp forests maintain healthy coastlines by providing food and shelter to numerous marine species," said Dr. Zachary Randell, Research Scientist at the Seattle Aquarium. "We're proud to partner with the Port of Seattle to use innovative technologies — including artificial intelligence and our remotely operated vehicle — to analyze images of bull kelp in our local waters. By studying why bull kelp is thriving here, we can inform kelp forest restoration efforts everywhere. We're honored to receive this recognition and look forward to advancing this important work."
2022 Aviation Sustainable Century Award for Environmental Innovation/Performance — HMSHost for their participation with the Port on a pilot project to evaluate alternatives to single-use plastic bottled beverages sold at SEA. The pilot continues today, gathering real-world feedback about the availability of aluminum, glass or paper drink packaging alternatives and customer demand from side-by-side sales. HMSHost also began offering aluminum water bottles in quick-serve and sit-down restaurants and partnered with a restaurant oil maintenance and recycling vendor that reduced HMSHost's oil use at SEA by 11,500 lbs. and recycled 28,200 lbs. of used oil into biodiesel.
"We are honored by this recognition and would like to thank the Port of Seattle and our partners at SEA for selecting HMSHost and helping us achieve this meaningful award," said Chris Keaton, HMSHost. "HMSHost is proud to support our local community and participate in programs that have beneficial impact on the environment."
2022 Aviation Sustainable Century Award for Environmental Performance — UBER is recognized for advancing electric vehicle (EV) use and driver access to EVs at SEA. The number of EV rideshare trips in 2022 tripled between Q1 and Q4 2022. UBER also lowered its eKPI score by 17% to reduce emissions by 2.5 million lbs. of CO2 in 2022 from Q2 to Q4. Additionally, UBER has partnered with Hertz to offer discounted Tesla EV rentals with higher earnings potential for drivers that utilize the program. In total, more than 24 million trips have been completed for more than 260 million road miles to date. Finally, UBER offers driver incentives for EV trips, in-app resources, and expanded customer offerings while supporting efforts to provide equitable charging access for drivers.
"We are honored to be selected for a Sustainable Century Award and we look forward to continuing our collaboration with the Port of Seattle and Seattle-Tacoma International Airport to drive environmental progress and innovation," said Daniel Hammer, Sr. Airport Partner Manager (Northwest & Mountain), UBER. "Our recently launched Comfort Electric offering allows Seattle riders to tap a button and request a ride in a premium Electric Vehicle and is just one of the ways we're continuing to invest in making Uber the most sustainable rideshare choice for Seattle riders."
2022 Aviation Sustainable Century Award for the greatest use of airport ground power and pre-conditioned air systems — Southwest Airlines. The airline utilized ground power for 92% of operations and stayed connected for 81% of the turn time. Additionally, 65% of operations connected to pre-conditioned air and stayed connected for 75% of turn times. Southwest's efficient ground crew teams consistently use these systems, which allow aircraft to reduce idling and emissions while at gates.
"Southwest Airlines is working to address our environmental footprint, and the use of ground power systems at airports including Seattle-Tacoma International Airport plays an important part in reducing emissions in our operations," said Helen Giles, Director of Environmental Sustainability at Southwest Airlines. "We've provided service to SEA Airport for nearly 30 years and are proud to continue our partnership by supporting the Port's sustainability initiatives."
2022 Aviation Sustainable Century Award for highest percentage use of fuel-efficient aircraft — Delta Air Lines. Of the aircraft Delta operated at SEA in 2022, 25% were highly fuel-efficient, including Airbus A220s, A321neos, A330neos, and A350 aircraft. Using modern fuel-efficient aircraft reduces fuel consumption and emissions.
Contact
Perry Cooper | Port of Seattle Senior Media Officer
(206) 787-4923 | cooper.p@portseattle.org