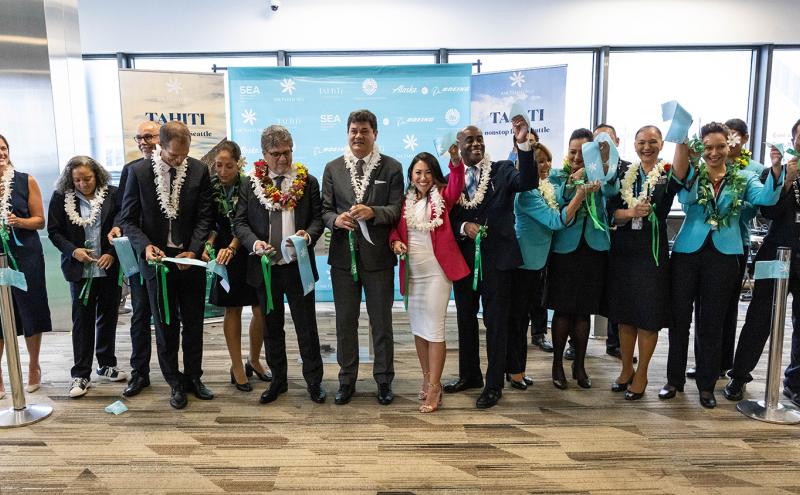 New Gateway to The Islands of Tahiti
October 5, 2022
Seattle-Tacoma International Airport (SEA) welcomes its latest new international service with Tahiti Nui's 787-9 Dreamliner inaugural service today from Seattle to Papeete. In a new partnership with Alaska Airlines, Air Tahiti Nui becomes the first and only carrier offering nonstop flights connecting the South Pacific and the Pacific Northwest. Air Tahiti Nui will be operating this service twice weekly.
"We're thrilled to welcome Air Tahiti Nui as the newest international airline to launch service to SEA," said Port of Seattle Commissioner Toshiko Hasegawa. "As only the second U.S. destination for Air Tahiti Nui, we look forward to being a new gateway for travelers seeking to luxuriate in the tropical paradise of Tahiti."
"Our new route provides a chance for North American travelers to discover the beauty of the 118 Islands of Tahiti, including Tahiti, Bora Bora, Moorea, and Rangiroa, which serve as the background to the many wonders to discover, landscapes to explore, and memories to create," said Michel Monvoisin, CEO of Air Tahiti Nui. "In addition to our long-established route from Los Angeles International Airport (LAX), this new gateway to The Islands of Tahiti brings the heart of the South Pacific to more travelers in North America and strengthens Air Tahiti Nui's position as the leading carrier of French Polynesia."
»  View video and images of arrival and event use password: portpress.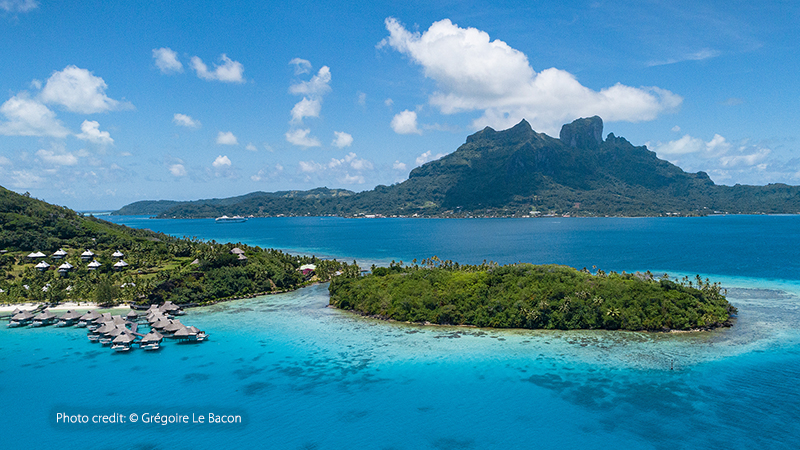 The codeshare partnership between Air Tahiti Nui and Alaska Airlines allows passengers to travel via Seattle-Tacoma International Airport (SEA) to and from almost 100 cities in North America. Alaska Airlines and Air Tahiti Nui offer flexible and convenient access between many major cities such as Vancouver, Boston, Chicago, Miami, New York City, and The Islands of Tahiti.
SEA Airport is making significant investments to make international travel through SEA more efficient and representative of our region. The recently-opened new International Arrivals Facility provides travelers with an expanded and more efficient experience to meet the growing regional demand for international travel. The new facility is over four times the size of the current facility and includes an iconic aerial walkway which is the longest in the world over an active taxi lane!
Flight Details 
The new flight operates twice a week – Wednesday and Sunday using a Boeing 787-9 Tahitian Dreamliner aircraft.
| Route | Days | Departs | Arrives | Flight # |
| --- | --- | --- | --- | --- |
| Seattle to Tahiti  | Wednesday, Sunday | 12:40 p.m. | 7:10 p.m. | TN51 |
| Tahiti to Seattle | Tuesday, Saturday | 10:00 p.m. | 10:25 a.m. (+1) | TN52 |
International Service at SEA
Tahiti Nui's service is one of three new international airlines launched this year at SEA. Turkish Airlines launched service to Istanbul and Finnair began service to Helsinki. Overall, 43 international services are currently in operation at SEA, providing nonstop flights to 28 unique international destinations, through 25 airlines.
About Air Tahiti Nui
Air Tahiti Nui links the South Pacific with four continents as the leading carrier to French Polynesia, with daily non-stop service to Tahiti from Los Angeles, and is one of only two airlines to offer a selection of non-stop flights connecting Los Angeles and Paris. With the new non-stop service to Tahiti from Seattle commencing on October 5th, 2022, Air Tahiti Nui becomes the only airline connecting the Pacific Northwest and French Polynesia. Headquartered in Papeete, Tahiti, Air Tahiti Nui currently operates from its Tahiti base to destinations in 10 countries in cooperation with a number of codeshare partners including Alaska Airlines, American Airlines, SNCF, Air Calin, Air New Zealand, Japan Airlines, Korean Air, Qantas, and LATAM. Follow Air Tahiti Nui on Facebook and Instagram. For more details, please visit the Air Tahiti Nui website.
Contact
Perry Cooper | Port of Seattle Senior Media Officer
(206) 787-4923 | cooper.p@portseattle.org