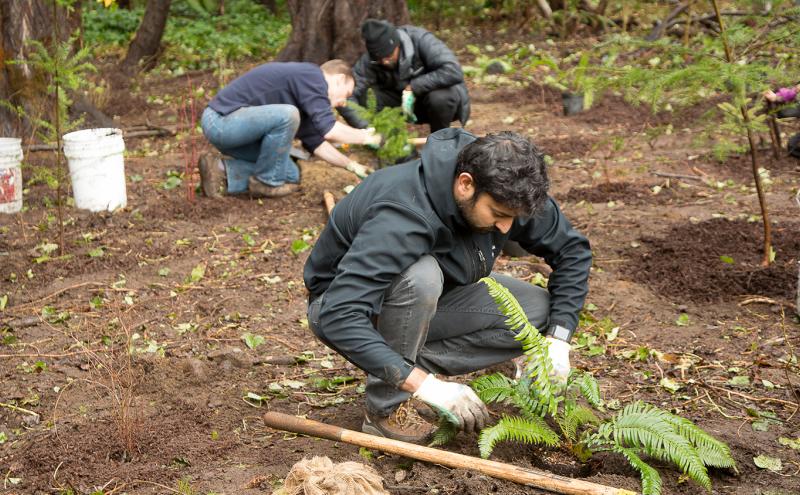 Collaborative grant projects involve near SEA Airport communities
October 8, 2021
Here's a chance to get out and get your hands dirty while helping plant trees in your community! Three tree planting events are scheduled for October as part of the Green City Partnerships supported by the Port of Seattle in SeaTac, Burien, and Des Moines. The public is encouraged to register for the events and media are invited to attend and speak with Port of Seattle Commissioners on-site.
"The Port of Seattle committed to supporting healthy, forested parks, and green spaces that strengthen neighborhoods," said Port of Seattle Commissioner Peter Steinbrueck. "Urban trees reduce heat islands, clean the air, and lower noise. What makes this project even more important is the youth training in green jobs, and local communities it supports as they develop their own tree stewardship plans."
The plantings are part of a multi-year collaborative project that began with the Port Commission's authorization in 2016. The program supports environmental projects and program in the cities of SeaTac, Burien, and Des Moines. The $1 million ACE Fund included annual funding for small matching grants to community organizations to improve the local environment and funding to Forterra's Green City Partnerships to establish and support long-term community-based forest stewardship programs in SeaTac, Burien, and Des Moines.
"These tree planting days are a great way to get outside, dig-in, and come together as a community to support the many benefits our forested parks and urban tree provide — from CO2 reduction to reducing urban heat zones and as a natural habitat for wildlife," said Joanna Nelson de Flores, Forterra Restoration and Stewardship Managing Director.
Previous planting events took place in Burien at Dottie Harper Park, Angle Lake in SeaTac, and in Des Moines at Kiddie Park. The Port did not host planting events in 2020 due to COVID.
Join Our Upcoming Events!
October 9, 9 a.m. – 12 Noon | Sonju Park | Green Des Moines Day 2021
Celebrate Des Moines's forests and leave a legacy-plant a tree! Volunteer with your family and friends to kick off the planting season. All ages, identities, and experience levels welcome. Tools and gloves provided. Commissioner Steinbrueck will be attending.
October 16, 10 a.m. – 12 Noon | North SeaTac Park | Green SeaTac Day 2021
Celebrate SeaTac's forests and leave a legacy-plant a tree! Join us for a short program (10-10:30 am) to recognize and celebrate restoration efforts within North SeaTac Park, followed by an opportunity to plant native plants in restoration areas (10:30 to noon). Commissioner Stephanie Bowman will be attending.
October 23, 10 a.m. – 1 p.m. | Hilltop Park | Green Burien Day 2021
Celebrate the 3rd Annual Green Burien Day at Hilltop Park by planting trees, getting to know your neighbors, and learning more about urban forestry, tool use and safety! Gloves, tools, snacks, and water will be provided. No experience needed, just come ready to have fun and learn about this important work! Commissioner Steinbrueck will be attending.
For all events, to prevent the spread of COVID-19, masks will be required. Please wear clothes that can get dirty and closed-toed shoes.
For more information, check out ACE Fund or ACE Green City Partnerships.
Contact
Perry Cooper | SEA Airport 
(206) 787-4923 | cooper.p@portseattle.org