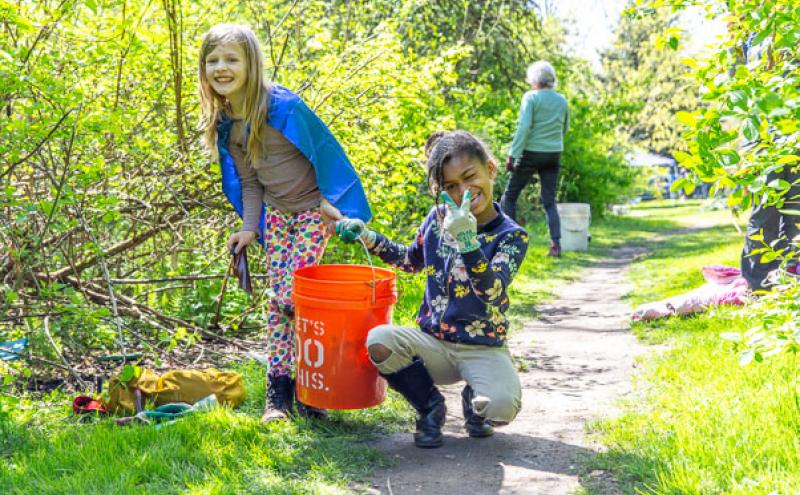 What is the Airport Community Ecology Fund?
The Airport Community Ecology (ACE) Fund, authorized by the Port of Seattle Commission in November 2016, recognizes that neighboring communities that experience more impacts from airport operations should also experience more benefits. The Commission directed that the program support environmental projects and programs in the cities of SeaTac, Burien and Des Moines.
To ensure maximum environmental benefit to communities, the ACE Fund takes a two-pronged approach. The brand new Small Matching Grants Program offers community members of SeaTac, Burien, and Des Moines the chance to apply for Port funding to improve the local environment. In addition, the cities of SeaTac, Burien and Des Moines can benefit from the Ecology Fund through the Green Cities Partnership.
GRANTS PROGRAM INFORMATION SESSIONS:
Mon., August 13th, Valley View Library (17850 Military Rd. S, SeaTac, WA 98188)  5:30 pm - 7 pm
Wed., August 29th, Des Moines Library (21620 11th Ave S, Des Moines, WA 98198) 5:30 pm – 7 pm
Burien Library (400 SW 152nd St, Burien, WA 98166) - Coming soon!
Online Webinar - Coming soon!
Small Matching Grants Program
Q: What is the Small Matching Grants Program?
Since 2017, sixteen organizations have received a share of $128,000 to support environmental projects and programs in the cities of SeaTac, Burien and Des Moines.
Q: Who can submit a grant proposal?
Local community organizations, chambers of commerce, service organizations, youth or athletic associations, or other associations located in or providing services in the cities of SeaTac, Burien and Des Moines. Unincorporated neighborhood groups may apply as long as they find a fiscal sponsor that will manage the grant on their behalf. A non-profit not licensed in the eligible cities may apply if their project demonstrates that the impact benefits residents in SeaTac, Burien, and or Des Moines.
Q: What kind of projects are eligible?
The downloadable application provides more detail. In short, projects must meet these criteria:
Applicant is an eligible organization

Project benefits residents in the cities of SeaTac, Burien and or Des Moines

Project accomplishes specific, measurable outcomes

Project shows a match of 3:1 the grant value (through funding, volunteer labor, donated materials, supplies, and/or professional services) 
Q: What projects have received grants so far?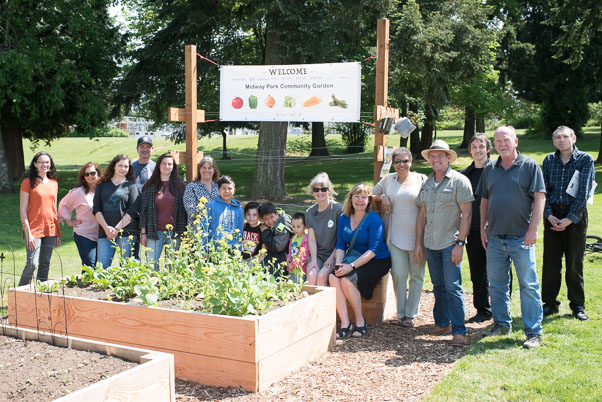 Farmbot – Ecotech in an Urban Garden, Key Tech Labs, Des Moines. This project will combine STEM (Science, Technology, Engineering and Math) and healthy food education by teaching youth how to build a robot which will tend a community garden in Des Moines' high poverty area of Pacific Ridge.
Beach Heroes – Environmental Science Center, all cities. Grant will sustain program's ability to partner with Highline School District teachers to bring 1,200 students to an education center at Burien's Seahurst Park.
Making Burien Awesome – Weed Warriors, Burien. This project addresses climate change and enables residents to take steps to mitigate the local impacts of climate change through education, hand-on action, and behavior change. 

 

Plastics and Litter Reduction Program – Zero Waste Washington, Burien. This project will create a litter assessment tool, test and refine the tool during cleanup events, produce waste reduction educational materials and conduct outreach to motivate residents to reduce their plastic waste and littering to protect stormwater and freshwater pathways flowing into Puget Sound.
Stormfest – Futurewise – all cities. This program aims at increasing Highline Public Schools students' understanding of stormwater, reduce behaviors contributing to pollution and inspire stewardship long-term by providing hands-on, experiential education.
Neighborhood Heritage Garden – Highline Botanical Garden Foundation, SeaTac. Grant funds will support the development of a neighborhood history research project that will inform the design of the new Neighborhood Heritage Garden.
Puget Sound Environmental Sculpture – Des Moines Legacy Foundation, Des Moines. The grant enables the Foundation to collaborate with a local artist and community partners to create a public art sculpture to be located on the Des Moines waterfront.
Invasive Weed Removal and Awareness Campaign – Friends of Saltwater State Park, Des Moines. This project aims to remove invasive ivy and other species that are taking over Saltwater State Park and create a community awareness campaign regarding healthy environmental stewardship in Des Moines.
Midway Park & Play Area Restoration – Des Moines Rotary Foundation, Des Moines. The grant provides funds that enable volunteers to repair and maintain park equipment to enhance the beauty and recreational value of the park for youth and families to enjoy. 
New Futures Farm, Southwest Youth and Family Services, Burien & SeaTac.

This project provides healthy food education by teaching families how to build and maintain a community garden in low-income housing areas in Burien and SeaTac.

Engaging Trees Speaker Series, SoCo Culture, all three cities.

The speaker series will engage residents in the three cities with educational programming on the environmental and cultural benefits of trees, urban forests, and their preservation.

N. SeaTac Park Improvements, Discovering Open Spaces, SeaTac.

This project will improve the quality of the N. SeaTac Park's recreational value through supporting native vegetation, litter control, and installing new disc golf field equipment.

ADA Inclusive Play Equipment Installation, Gregory Heights Parent Teacher Student Association, Burien.

Grant funds will be used to acquire ADA Inclusive park improvements at Gregory Heights Elementary School to provide recreational opportunities to neighborhood youth and adults who experience limited physical abilities and concentration challenges.

SeaTac Ethnic Community Ecology Connections, Partner in Employment, SeaTac.

The grant will provide culturally relevant engagement with SeaTac refugee and immigrant communities to inspire environmental education, organize community cleanup events, and increase capacity for small businesses to practice environmental sustainability.
Q: My question isn't answered here. How do I learn more?
The downloadable Application document offers complete instructions, eligibility requirements, criteria and scoring information, suggestions for meeting the 3:1 required match, and submission guidelines.
Check out our Frequently Asked Questions (FAQ) document, which we update weekly during the application cycle. (You'll find it listed in the "Other Documents" section at the top of this page.) If your question still isn't answered there, email us at: EcologyFund@portseattle.org.​​​​
Green Cities Partnership
Q: What is the Green Cities Partnership?
Healthy forested parks and green spaces have the power to strengthen neighborhoods, provide safe access to nature and offer numerous benefits and "green services" to our cities.  Without a coordinated effort to restore and care for our urban parks, we are at risk of losing the many benefits these forests and natural areas provide. The Port and local cities are partnering with Forterra, a local non-profit organization, to launch the Green Cities Partnership Program in SeaTac, Burien, and Des Moines. Already active in nine other cities in our region, the Green Cities Partnership supports a lasting, community-based urban forestry program in each city.
Q: How can I get involved?
If you would like to participate in the Green Cities Partnership as it gets started in SeaTac, Burien, and Des Moines, email us at EcologyFund@portseattle.org.