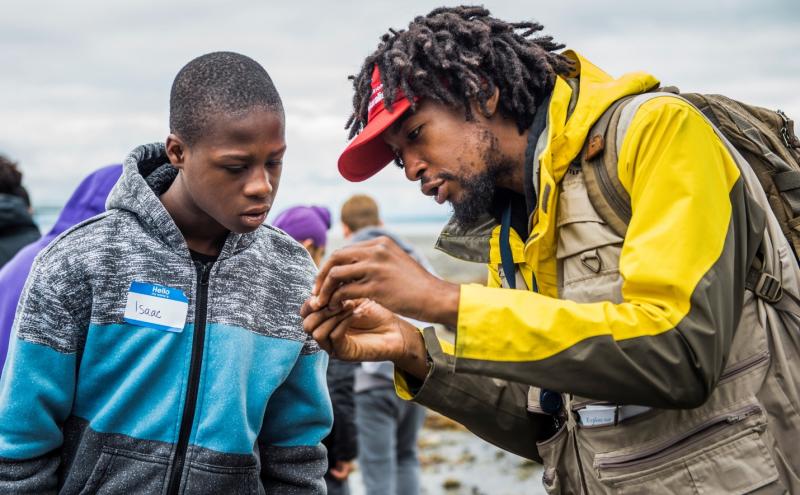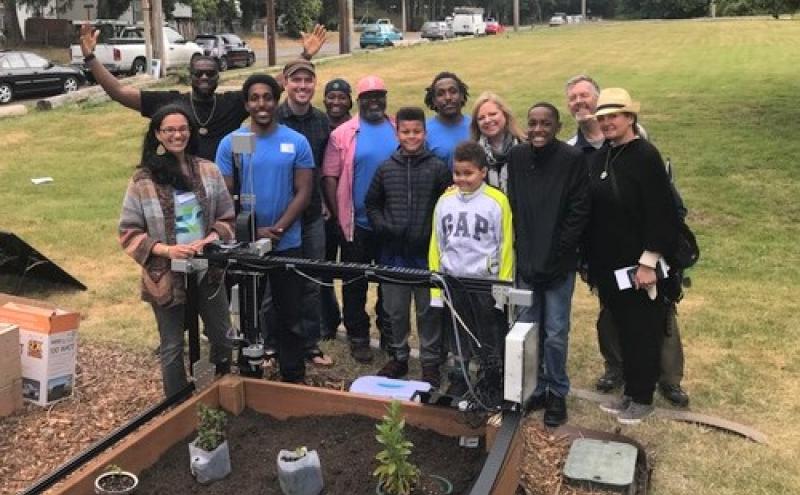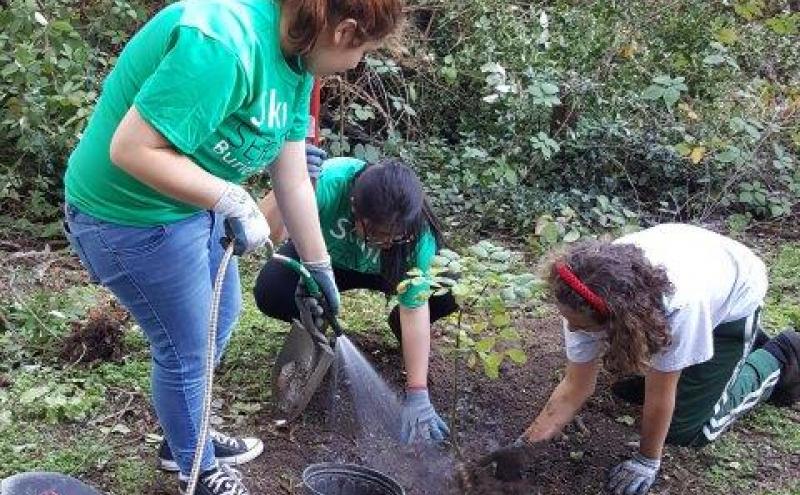 The spring 2020 application cycle now closed 
Thank you for your interest in the Airport Community Ecology (ACE) Fund Small Matching Grant program. Please check back this summer for more information on the fall cycle.
What is the Airport Community Ecology Fund?
The ACE Fund, authorized by the Port of Seattle Commission in November 2016, recognizes that neighboring communities that experience more impacts from airport operations should also experience more benefits. The Commission directed that the program support environmental projects and programs in the cities of SeaTac, Burien, and Des Moines.
To ensure maximum environmental benefit to communities, the ACE Fund takes a two-pronged approach. The Small Matching Grants Program offers community organizations the chance to apply for Port funding to improve the local environment. The Port supports long-term forest stewardship in SeaTac, Burien, and Des Moines through Forterra's Green Cities Partnership.
Have questions or want to learn more?
We held virtual Zoom drop-in sessions on March 11 and 12 that were recorded. To watch the recording, select the link below.
View March 11 Virtual Drop-in Session
Q: What is the Small Matching Grants Program?
Since 2017, 28 projects have been funded for a total of just under $240,000 to support environmental programs in the cities of SeaTac, Burien, and Des Moines.
Q: How do I apply?
View the documents located at the top right of this webpage, you'll see the Fall 2019 Application listed. All instructions and information are included in the "APPLICATION" documents. Please follow all instructions carefully and submit electronically to e-submittals-sa@portseattle.org by the deadline stated on the application.
Q: Who can submit a grant proposal?
Local community organizations, chambers of commerce, service organizations, youth or athletic associations, or other associations located in or providing services in the cities of SeaTac, Burien and Des Moines.
Q: What kind of projects are eligible?
The downloadable application provides more detail. In short, projects must meet these criteria:
Applicant is an eligible organization

Project benefits residents in the cities of SeaTac, Burien and or Des Moines

Project accomplishes specific, measurable outcomes

Project shows a match of 3:1 the grant value (through funding, volunteer labor, donated materials, supplies, and/or professional services) 
Q: What projects have received grants so far?
Congratulations to Fall 2019 Recipients!
Farmbot – Ecotech in an Urban Garden, Key Tech Labs, Des Moines. This project will combine STEM (Science, Technology, Engineering, and Math) and healthy food education by teaching youth how to build a robot that will tend a community garden in Des Moines' high poverty area of Pacific Ridge.
Beach Heroes – Environmental Science Center, all cities. The grant will sustain the program's ability to partner with Highline School District teachers to bring 1,200 students to an education center at Burien's Seahurst Park.
Making Burien Awesome – Weed Warriors, Burien. This project addresses climate change and enables residents to take steps to mitigate the local impacts of climate change through education, hand-on action, and behavior change. 

 

Plastics and Litter Reduction Program – Zero Waste Washington, Burien. This project will create a litter assessment tool, test and refine the tool during cleanup events, produce waste reduction educational materials and conduct outreach to motivate residents to reduce their plastic waste and littering to protect stormwater and freshwater pathways flowing into Puget Sound.
Stormfest – Futurewise – all cities. This program aims at increasing Highline Public Schools students' understanding of stormwater, reduce behaviors contributing to pollution and inspire stewardship long-term by providing hands-on, experiential education.
Neighborhood Heritage Garden – Highline Botanical Garden Foundation, SeaTac. Grant funds will support the development of a neighborhood history research project that will inform the design of the new Neighborhood Heritage Garden.
Puget Sound Environmental Sculpture – Des Moines Legacy Foundation, Des Moines. The grant enables the Foundation to collaborate with a local artist and community partners to create a public art sculpture to be located on the Des Moines waterfront.
Invasive Weed Removal and Awareness Campaign – Friends of Saltwater State Park, Des Moines. This project aims to remove invasive ivy and other species that are taking over Saltwater State Park and create a community awareness campaign regarding healthy environmental stewardship in Des Moines.
Midway Park & Play Area Restoration – Des Moines Rotary Foundation, Des Moines. The grant provides funds that enable volunteers to repair and maintain park equipment to enhance the beauty and recreational value of the park for youth and families to enjoy. 
New Futures Farm, Southwest Youth and Family Services, Burien and SeaTac.

This project provides healthy food education by teaching families how to build and maintain a community garden in low-income housing areas in Burien and SeaTac.

Engaging Trees Speaker Series, SoCo Culture, all three cities.

The speaker series will engage residents in the three cities with educational programming on the environmental and cultural benefits of trees, urban forests, and their preservation.

N. SeaTac Park Improvements, Discovering Open Spaces, SeaTac.

This project will improve the quality of the N. SeaTac Park's recreational value through supporting native vegetation, litter control, and installing new disc golf field equipment.

ADA Inclusive Play Equipment Installation, Gregory Heights Parent Teacher Student Association, Burien.

Grant funds will be used to acquire ADA Inclusive park improvements at Gregory Heights Elementary School to provide recreational opportunities to neighborhood youth and adults who experience limited physical abilities and concentration challenges.

SeaTac Ethnic Community Ecology Connections, Partner in Employment, SeaTac.

The grant will provide culturally relevant engagement with SeaTac refugee and immigrant communities to inspire environmental education, organize community cleanup events, and increase capacity for small businesses to practice environmental sustainability.

Environmental Activist Learning and Cleanup Project- East African Community Services will engage high school students of African descent in the new environmental curriculum through an established program to provide afterschool homework assistance. The youth will conduct community cleanups in SeaTac as part of the project.
North SeaTac Park Trails Improvement- Evergreen Mountain Bike Alliance will enhance the North SeaTac Park user experience through trail maintenance and trail improvement. In addition to maintaining trails, volunteers will be trained in invasive species removal, adding to urban forest stewardship in the park.
Des Moines Beach Park and Des Moines Creek Park Vegetation Management- Friends of Des Moines Creek will enhance and restore critical habitat by controlling nonnative invasive weeds, such as English ivy, dominating the forest floor and canopy in Des Moines Creek Park. A restoration demonstration patch will be created to educate the public on invasive weed removal and improving critical habitat.
Garden Signage- Highline Botanical Garden will install signage to identify plants and organizations supporting the garden to educate visitors and connect them with garden experts. Translated materials will be available to multi-lingual audiences.
In the second phase of an ongoing project, New Start Community Garden will further develop community garden common areas and increase assets and overall functionality. This encompasses adding new informational and educational signage throughout the garden and continuing the essential food program for the students at New Start High School Summer Garden Work Program.
Tyee High School- Service Project with Tyee Scholars- YMCA of Greater Seattle will engage Tyee Scholars, a group of academically-motivated students at Tyee High School, with a service project to educate students about environmental stewardship through service-leadership.
Earth Corps will improve outdoor recreational and educational opportunities in Seahurst Park by initiating new restoration in the area between Southwest Seahurst Park Road and the upper parking lot, continue ivy removal along the park entrance road, and ongoing stewardship, monitoring and reporting of the shoreline restoration.
Environmental Science Center will serve 50 SeaTac, Burien, and Des Moines elementary classes with an environmental education program designed to take students outside to Seahurst Beach in Burien during a low tide. Students will observe and discover the plants and animals that live in the nearshore environment, clean up trash on the beach, and learn ways to help protect these amazing habitats.
Friends of Saltwater State Park will improve the condition of Saltwater State Park habitat and provide environmental education for park visitors, schools and community groups. The funding supports regularly hosted restoration volunteer days for invasive plant removal, marine monitoring and awareness, and community environmental education and engagement.
Key Tech Labs will share skills with minority and under-represented youth through Science, Technology, Reading, Engineering, Arts, and Math (STREAM) education. Students will build a FarmBot to tend a community garden, which introduces youth to open and accessible technology and aids the community to grow food.
North Hill Elementary School PTSA will improve recreational opportunities for the students, families, and community at North Hill Elementary School with activities that support healthy lifestyles. The funding supports building a walking and running track around the existing grass field at the elementary school. 
Q: How do I learn more?
Check out our Frequently Asked Questions (FAQ) document, which we update weekly during the application cycle. (You'll find it listed in the "Other Documents" section at the top of this page.) If your question still isn't answered there, email us at EcologyFund@portseattle.org.​​​​
Green Cities Partnership
Q: What is the Green Cities Partnership?
The Port and local cities are partnering with Forterra, a local non-profit organization, to launch the Green Cities Partnership Program in SeaTac, Burien, and Des Moines. Already active in nine other cities in our region, the Green Cities Partnership supports a lasting, community-based urban forestry program in each city. Learn more and get involved!