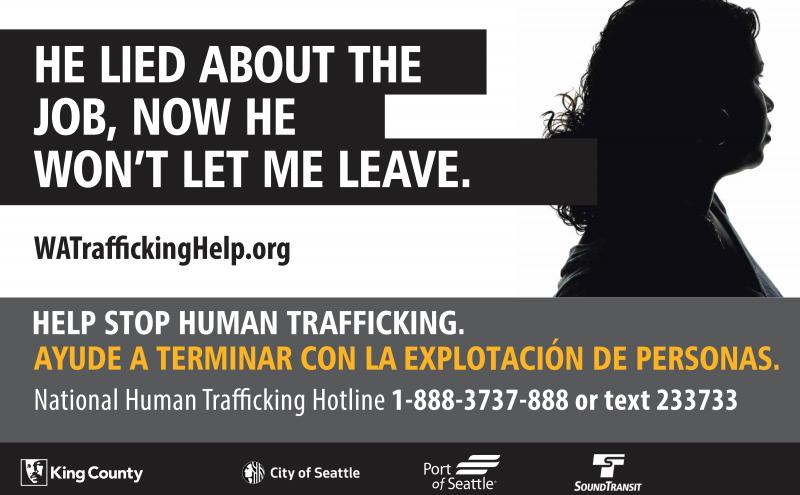 January 18, 2019
Summary
King County, Port of Seattle, City of Seattle, Sound Transit, Alaska Airlines, and Delta Air Lines are launching a public awareness campaign encouraging victims and survivors of human trafficking to get the help they need, expanding a previous effort that dramatically increased the number of people who called the national hotline for resources, including medical care, financial assistance, and housing.
Story
Leaders representing King County, Port of Seattle, City of Seattle, Sound Transit, Alaska Airlines, and Delta Air Lines today launched a unified public awareness campaign to stop human trafficking, encouraging survivors to call a national hotline for assistance.
It is modeled after a successful campaign led by the King County Council in 2013 that dramatically increased the number of trafficking survivors who called for resources, including medical care, financial assistance, and housing.
The campaign launched today will expand the approach to a regional scale with additional public, private, and nonprofit partners sharing resource signs at airports, buses, trains, health clinics, libraries, law enforcement offices, public defender offices, community centers, and elsewhere throughout the region. 
Victims and survivors are encouraged to call the national hotline at 888-373-7888, text 233-733, or visit WATraffickingHelp.org.
"We all must do our part to see an end to human trafficking. The Port of Seattle is committed to addressing this issue – leveraging our roles as a county-wide government, large employer and manager of significant trade and travel facilities," said Port of Seattle Commissioner Courtney Gregoire. "We want to make sure that places like Sea-Tac Airport, our cruise terminals and our marinas are not used as transit points for traffickers and their victims, and we want the more than 50 million annual visitors to our facilities to join us in our fight to end trafficking here in our region."
"We have the dedicated employees, strong partnerships, and shared commitment needed to stop labor and sex trafficking in our region," said King County Executive Constantine. "Human traffickers prey on people in our community who are vulnerable, specifically targeting people of color. Our united effort will connect survivors with the resources they need to break free and thrive once again."
Other partners include Expedia Group, Uber, Lyft, the Snohomish County Lodging Association, and several other King County cities. 

Preying on those who are vulnerable
Contrary to the popular myth, many people who are trafficked for labor or sex are not brought here from Asia or other parts of the world. Most victims and survivors already lived in the United States but were vulnerable, with many experiencing homelessness. Victims and survivors are disproportionately people of color while the majority of people charged with trafficking are white.  
According to the National Human Trafficking Hotline, Washington ranked 12th among states for the highest number of signals – either phone call, email, or website form – from people who are victims of sex or labor trafficking. The national hotline has received more than 3,600 calls from people in Washington since 2007, including 266 last year. That includes people who were lured here from other countries and people who already live here and are exploited for labor or sex.
Local human service providers receive nearly 800 referrals each year.
The Bridge Collaborative – YouthCare, Friends of Youth, Nexus Youth and Families, Kent Youth and Families, and the Organizations for Prostitution Survivors – provided outreach services 212 people between the ages 12 and 24 who are either survivors of the sex trades and trafficking or at high risk to become exploited with about 90 percent of being U.S. citizen.
In 2018, Washington Anti Trafficking Response Network, or WARN, received 75 referrals for sex and labor trafficking survivors with nearly 90 percent being foreign nationals.
In 2018, Real Escape from the Sex Trade, or REST, provided services to 517 survivors of the sex trade with about 90 percent being U.S. citizens. 
The Port of Seattle Commission passed a motion in January 2018 directing staff to implement a port-wide anti-trafficking strategy, including the development of a trafficking awareness campaign. The King County Council passed a motion in July 2018 requesting that Executive Constantine convene a workgroup to implement a Stop Human Trafficking public awareness campaign.
The 2013 campaign led by the King County Council resulted in a 63 percent increase in the number of people from Washington who called the national hotline. 
The goals of the public awareness campaign are to raise public awareness about the nature of human trafficking, how and where it occurs locally, and how to prevent and stop it; help identify victims and survivors and promote access to services, and decrease demand through awareness.
The regional Human Trafficking Awareness Campaign plans to renew the effort each January, which is national Human Trafficking Awareness Month.
Quotes
This is a crime that is an assault against our core values of human dignity and liberty. We must continue to reach victims and educate the public on how they can help. This effort has – and will continue to – make a difference in the lives of so many men, women, and children living in King County.
 – Reagan Dunn, King County Council
Knowledge is power and public awareness is key in combatting the scourge of human trafficking, including labor trafficking and sexual exploitation of children and vulnerable adults. Although our State and County, along with other local jurisdictions, have led the public sector efforts dating back to the early 2000s, the impetus has been, and continues to be, our community partners who have organized to create visibility around the issue, mobilized advocates and lifted up victims and survivors.
–  Jeanne Kohl-Welles, King County Council
The King County Sheriff's Office is committed to combating the dark crime of sex trafficking in our region. And we're determined to seek justice for those who have been victimized.
– Mitzi Johanknecht, King County Sheriff
This integrated approach focused on education and prevention is exactly what's needed, in addition to the important work being done by our community partners. Our office will continue to do our part to support victims and survivors by holding the people committing these crimes accountable and deterring others.
– Dan Satterberg, King County Prosecutor
We implemented training for flight attendants on human trafficking in 2015 as part of their required recurrent training. Flight attendants are often the first line of defense in identifying and reporting potential human tracking situations. Our flight attendants do an excellent job caring for our guests. Their training and safety-first mindset go a long way in helping all of our passengers feel safe.
– Ron Calvin, Vice President of Inflight Operations at Alaska Airlines
As one of the world's largest airlines, we have a responsibility to fight for those who can't fight for themselves. In addition to partnering with organizations like Polaris, as well as King County, City of Seattle and Port of Seattle, we're fighting the issue of human trafficking head-on by training more than 56,000 of our employees, engaging our customers, volunteering, and supporting legislation to drive change. Today and throughout the year, we're taking a stand to help raise awareness and send a clear message to traffickers to stay off our planes and out of our airports.
– Tony Gonchar, Delta Air Lines Vice President for Seattle
Contacts
Chad Lewis, Executive Office, (206) 263-1250
Perry Cooper, Port of Seattle, (206) 787-4923
David Shurtleff, King County Council, (206) 477-2181