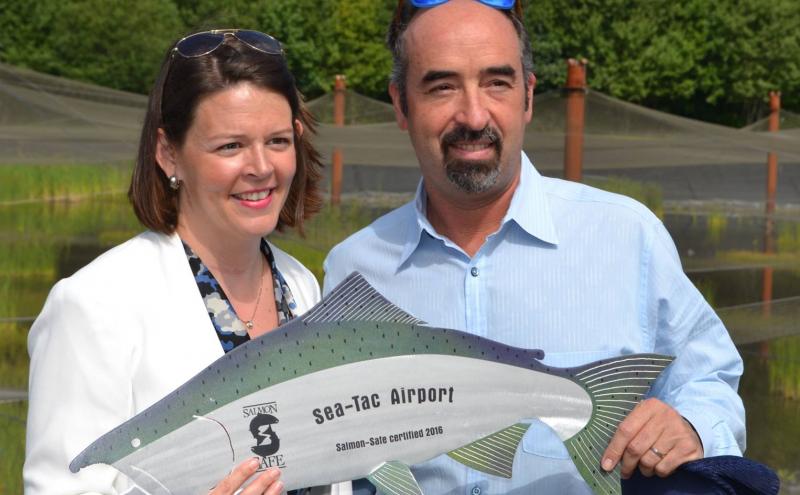 Salmon-Safe is an independent 501(c)3 non-profit organization that conducts third party assessment and certification for land and water management within the urban realm. This initiative significantly advanced restoration efforts in urbanized watersheds by developing urban aquatic protection guidelines and a citizen education campaign throughout the Pacific Northwest. Salmon-Safe developed certification standards for infrastructure sites (e.g., airport, road, rail, water and wastewater, energy). These Infrastructure Certification Standards are applicable across a variety of urban development landscapes, ranging from high-level master planning processes to single-site infrastructure projects. While the standards are designed as a stand-alone program, they can also complement other leading certification standards (e.g., LEED), by certifying project activities that specifically address ecological function and the quality of habitat for fish, wildlife, and people.
Airport:
In 2016, Seattle-Tacoma International Airport (Airport) received Salmon-Safe certification under the Industrial Standards. Airport staff have worked with Salmon-Safe on certification that Airport operations and stormwater/habitat management programs protect local streams, the Puget Sound, and their salmon populations. This certification validates the Airport's efforts toward environmental sustainability and compliments the Airport's Long Range Plan and Century Agenda strategies and objectives. The Airport is the largest Washington urban site to be reviewed for Salmon-Safe certification and was the first US major transportation facility receiving the award.
Key Airport initiatives supporting the standards include Low Impact Development techniques to avoid or reduce stormwater runoff , and conservation of potable water through rainwater capture and reuse, high efficiency fixtures, and recycling of water.  The standards also support ongoing programs in habitat protection and restoration, invasive weed and debris removal, and ecological projects such as Bee Pollinator Habitat, Queen Bee Breeding Program, and Community Planting Project.
Airport Salmon-Safe: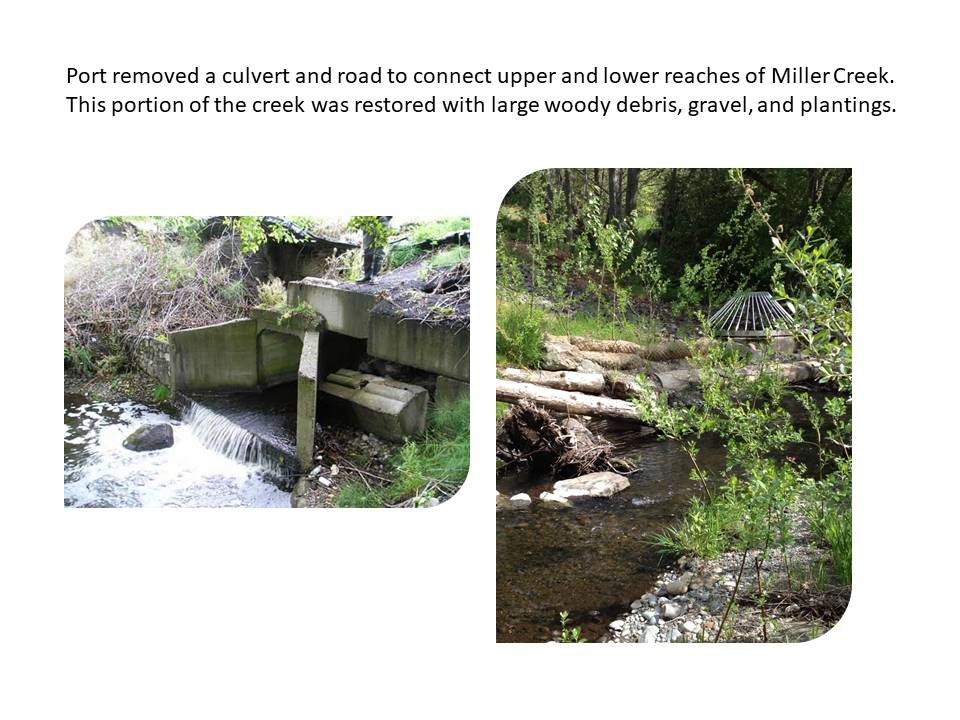 Maritime Parks
The Port's Maritime parks were first certified by Salmon-Safe in 2008 and recertified in 2013. The program encompasses five parks and 10 public shoreline access sites, which cover over 44 acres or nearly 3% of Maritime property. The conditions for ongoing certification are intended to enhance the ecological environment and improve salmon habitat. Pre-conditions for the 2013 to 2018 certification period include:
Expand landscape management plan to reduce pesticides and define integrated pest management measures

Prepare and implement a fertilizer management plan

Prepare and implement a water conservation plan

Assess opportunities for stormwater treatment projects

Assess opportunities for shoreline and habitat restoration projects
The certification conditions to meet by fall of 2018 include installing two stormwater treatment projects, and installing two habitat restoration projects.
The Port has completed a number of habitat restoration projects, and is initiating a number of green stormwater infrastructure projects under the Port's Marine Stormwater Utility.