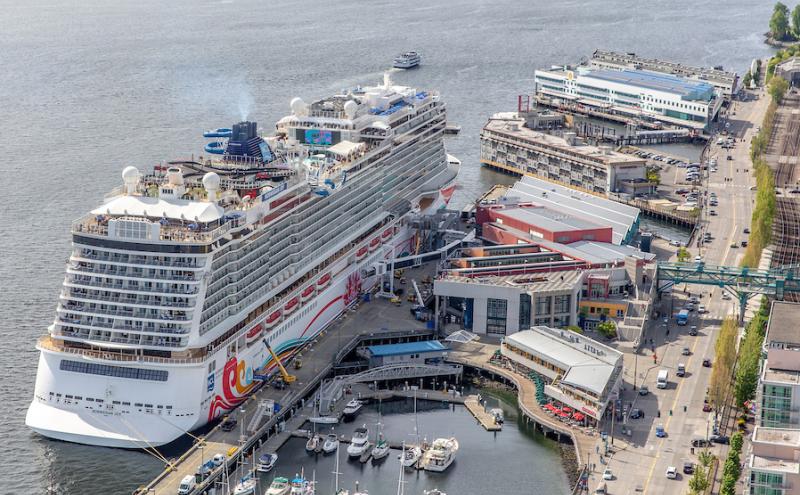 Bell Street Cruise Terminal at Pier 66
Bell Street Cruise Terminal at Pier 66 is located on Seattle's downtown waterfront and is homeport to Norwegian Cruise Line and Oceania Cruises. The pier is walking distance to many of the city's most popular tourism attractions. Port of call vessels often use the facility.
Opened May 2000 and expanded in 2001;  $30 million expansion was completed in 2017
One berth facility; two berths possible with in-transit vessels
Two story building; 143,000 square feet
Maximum length: 1,600 feet
Mechanized gangway system provides comfortable access from second floor ticketing level
Easy access to Seattle-Tacoma International Airport (20 minutes) and downtown Seattle retail core (5 minutes)
Due to current health and safety protocols for the 2023 cruise season we are not able to offer our standard amenities, including concierge and on-site car rental services. 
Guest Services include:
Concierge services offer luggage storage before and after cruises, plus city information
Parking garage located directly across the street features 1,700 secure, covered spaces for passengers, friends and family.

General parking is available for $23 per day. Book online at Republic Parking Northwest
Location: 9 Wall Street. Enter at the corner of Alaskan Way and Wall Street
25 handicap parking stalls available
Maximum height is 6'6"
Questions? Call the Republic Parking Northwest at (206) 783-4144.

Lenora Street Bridge (located a few blocks south) connects pedestrians to the historic Pike Place Market and other downtown attractions
Rental car kiosk on-site
Terminal Management & Operations at Pier 66 
Bell Street Pier at Pier 66 is managed by Cruise Terminals of America (CTA). The CTA team can assist with guest services, vessel operations and berth applications, and potential promotion of products, services or attractions.
Cruise Terminals of America contact: 206-644-1355 or ops@cruiseterminals.com
Contact us for your next homeport or port of call! 
Marie Ellingson
Manager, Cruise Services and Business Development
Port of Seattle
(206) 787-3529
Ellingson.m@portseattle.org