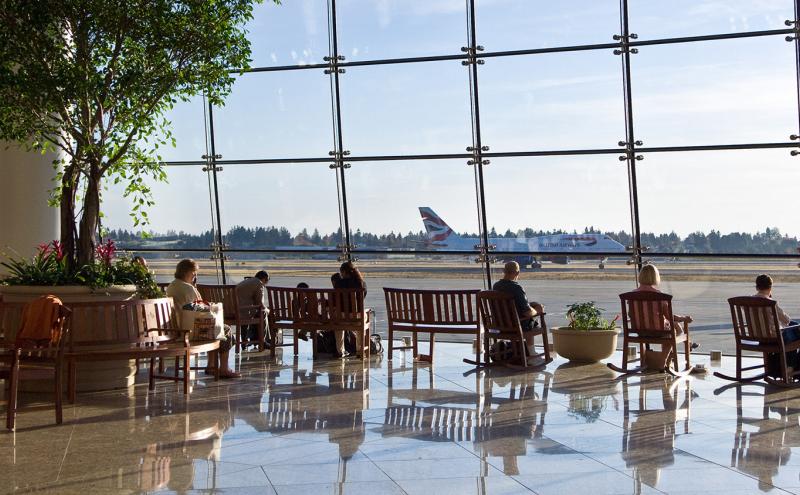 Seattle-Tacoma International Airport (SEA)
About Seattle-Tacoma International Airport
Operated by the Port of Seattle, Seattle-Tacoma International Airport (SEA) serves the people of the Pacific Northwest with essential services, access to hundreds of domestic and global destinations, and economic activity that supports tens of thousands of jobs and produces $20 billion in economic activity. SEA in 2022 earned the travel industry's prestigious 4-Star Skytrax Airport Rating and designation as Best Airport in North America, focused on customer-centered travel with better services, facilities, and amenities. SEA totaled 45.9 million passengers in 2022 – down just 11% from 2019 – with a forecast to reach pre-pandemic traveler volumes in 2024.
For more information, visit www.flysea.org and follow us on Twitter, Facebook, and Instagram—every day. Elevate.
Air Passengers at SEA
45.9 million in 2022 (+27.1%  over 2021, -11.3% v. 2019)
Domestic passengers: 41,582,500 in 2022 (+20.6% v. 2021)
International passengers: 4,381,821 (+162.5% v. 2021)
U.S. rank by passenger numbers: #11 (2022 rank)
World ranking by passenger numbers: #16
Gates: 80
Approximately 70% of the airport's passengers originate and terminate their itinerary at SEA
Air Cargo at SEA
456,289 metric tons in 2022 (-8.5% increase over 2021)
U.S. rank by air cargo volume: #20 in 2022
North American air cargo volume: #19 in 2021
Aircraft Operations at SEA
401,351 takeoffs and landings 2022Aircraft operations increased 7.2 percent from 2021
Air carrier, 98.7% of total operations
Air taxi, 1% of entire operations
12th busiest U.S. commercial service airport (2022 rank)
Runways
SEA operates with three category IIIb certified runways using ASR-9 and ASDE-X radars which reduce congestion and delays:
16L/34R - 11,901 feet, concrete/grooved
16C/34C - 9,426 feet, concrete/grooved
16R/34L - 8,500 feet, concrete/grooved
Detailed information on SEA Airport is available at http://www.airnav.com/airport/KSEA.
Air Carriers at SEA
Top carriers by passengers (percent of the total):
Alaska 54.3%
Delta 24.3%
United 4.9%
Southwest, 4.7%
Top carriers by domestic passengers:
Alaska 58.1%
Delta 24%
United 5.4%
Southwest 5.2%
Top carriers by international passengers:
Delta 27.9%
Alaska 18%
Air Canada 5.7%
Qatar 4.6%
Emirates 4.2%
Destinations
33 airlines
92 non-stop domestic destinations
29 international destinations
Roughly 70 percent of the airport's passengers originate and terminate their itinerary at SEA.
History
SEA was developed as a direct response to the World War II Pearl Harbor attack in 1941 when military needs limited civilian access to existing airports. The federal Civilian Aviation Authority sought a local government to develop new regional airport. The Port of Seattle accepted the challenge and selected Bow Lake in southwest King County for the new airfield. Runway construction was completed in 1944, civilian operation began in 1946, and a modern terminal building was dedicated on July 9, 1949.