Operated by the Port of Seattle, Seattle-Tacoma International Airport (SEA) is a top-ten U.S. airport, serving 51.8 million passengers and 453,549 metric tons of air cargo in 2019. With a regional economic impact of more than $22.5 billion in business revenue, SEA generates more than 151,400 jobs (87,300 direct jobs), representing over $3.6 billion in direct earnings and more than $442 million in state and local taxes.
As the region's gateway to the globe, 30 airlines connect to 91 non-stop domestic and 27 international destinations. At SEA, we promise to create, through a passionate service culture, an elevated travel experience that's inspired by the original nature of the Pacific Northwest. 2020 is a monumental year at SEA, ushering in a new era of customer-centered travel with better services, facilities, and amenities. For more information, visit flysea.org.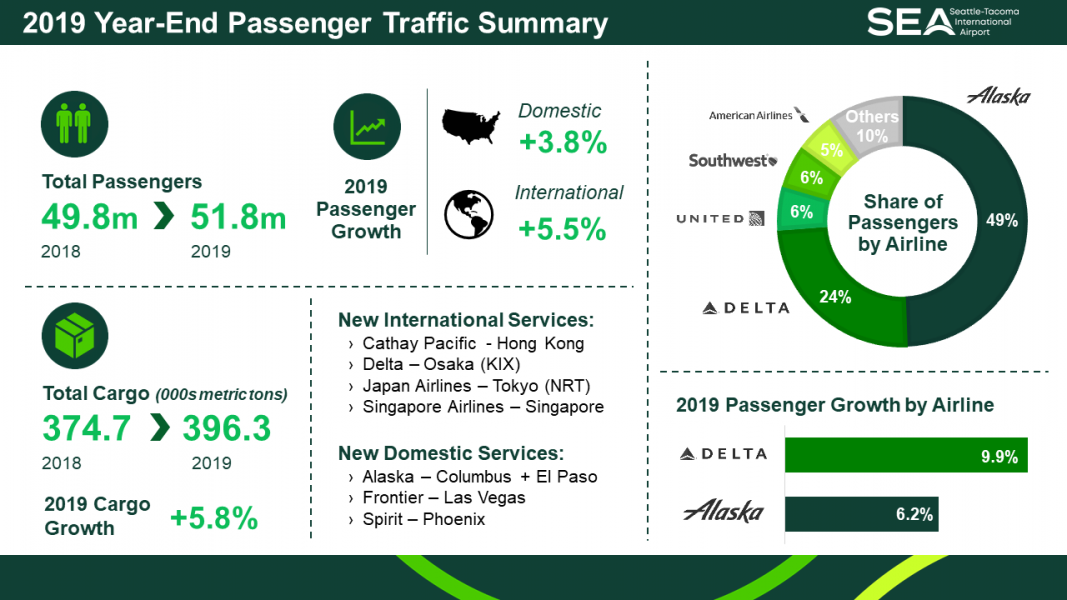 See a printable version here.
SEA Airport Weekly Dashboard 
Weekly dashboard of airport activity to track economic recovery following COVID-19 for SEA and the region
Current and Historic Traffic and Operations Statistics
Trade Route Report

Date

Traderoute

Asia 

Canada 

Europe

Cargo

Passenger 

Freight

In/Out

Enplaned 

Deplaned 

Both