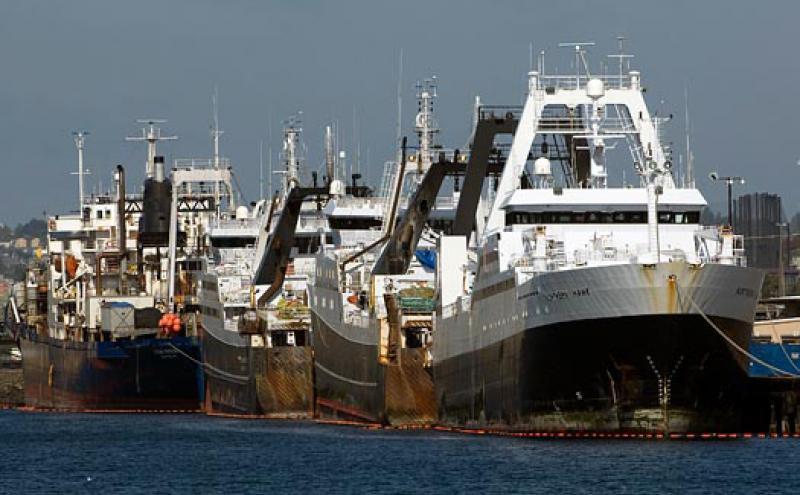 Features & Amenities | Moorage | Storage | Customer Information
Terminal 91 provides short-term and long-term moorage for fishing and commercial vessels, including factory trawlers, longliners, tugs, barges, ferries, research vessels, ships of state, cruise ships, and superyachts. 
Terminal 91 8,000 feet (2,438 meters) of moorage on a 152-acre (62 hectare) site
Concrete aprons, large laydown/staging areas
Marine repair/maintenance services nearby
Forklifts, gangways, and 200 Ton Pull Bitt
Third parties offer heavy-lift mobile cranes, derrick barges, and other equipment
Fish processing and cold storage on site
Bunker fuel can e delivered via barge
Hot work allowed with permit from Seattle Fire Department
On-terminal rail access to BNSF Railway and Union Pacific Railroad
Easy access to Interstates 5 and 90
---
Find detaled information about port rates, charges, rules, and regulations governing dockage, wharfage, handling, storage, handling of containers, equipment lease and other miscellaneous services in Terminal Tariff No. 5 
Make a Berth Reservation: Complete a reservation form and send it to seaops@portseattle.org or call 206-787-3751.
---
Outdoor storage space is available for commercial businesses.
Open Storage Rates

| Location | Monthly Rate |
| --- | --- |
| South of Magnolia Bridge | $0.60 per sq. ft. + tax |
| North of Magnolia Bridge | $0.35 per sq. ft. + tax |
Location and boundaries must be prearranged in a location designated by the Port. Rate applies to a specific fixed location.
Staging Rates for Vehicles, Containers, and Rolling Stock

| Duration | Monthly Rate |
| --- | --- |
| Truck & Vehicle Staging for less than 30 days | $76.50 per day per truck |
| Truck & Vehicle Staging for 30 days or more | $248.00 per month + tax per truck |
Daily staging must be prearranged and unit must be in a location designated by Port. See Terminal Tariff No. 5 for complete details. 
Contact the Maritime Operations office to reserve storage: seaops@portseattle.org or 206-787-3751.
---
Maritime Operations staff contact information
Best Management Practices (BMPs)