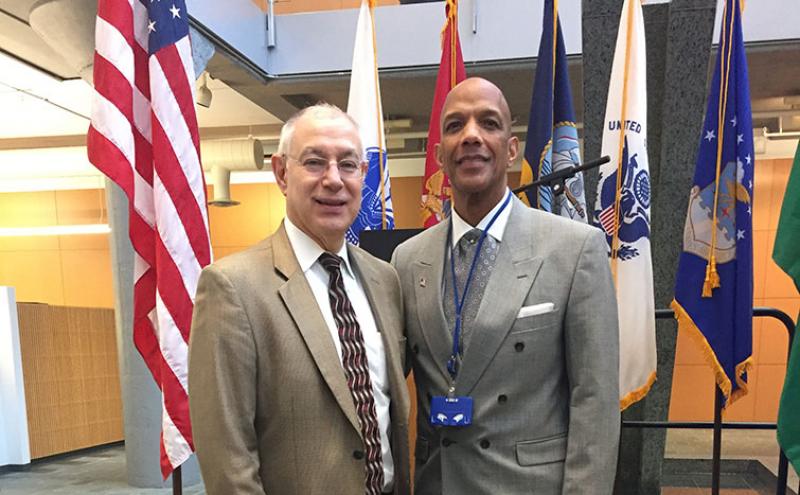 (Above) 2020 Community Champion Carlton Williams with Luis Navarro, Director of Workforce Development
The Port of Seattle would like to publicly congratulate Airport Ground Transportation Controller Carlton Williams of the SEA Airport Landside team, who recently was honored as the 2020 Lindsay Pulsifer Community Champion. Named for a distinguished Port leader who herself was a champion for diversity, inclusion, and public service, the award recognizes someone who embodies a spirit of generosity and caring, both as they engage in Port business and in their community.
Carlton retired from the Port this year after over twenty years of service. He joined the Port in 1999, and has been providing customer service at the highest level for every day of his career. His ability to connect with people in a friendly and helpful manner from the moment he has eye-contact with anyone is a skill that can only be surpassed by his beautiful voice and his deep spirituality. Carlton has made us cry and smile at so many events at the Port, from Veterans' Day to the Holiday celebrations and Customer Appreciation events.
It seems that Carlton has a song or several for every occasion and he knows how to evoke the right feelings for the moment. And in one-on-one conversations, Carlton is a wonderful human being who cares about others and who gives without asking for anything in return. Carlton lives the Port values in his work and in the community. There is probably much to say about him and his service in the community that we don't even know, but that is who he is.
Carlton has said, "Ever since I had a voice, I have been singing." Those privileged to hear Carlton's voice include five US presidents and first ladies, and he has also performed at Seahawks, Mariners and Storm games and at venues around the world and at home.
During his 20-year military career with the U.S. Air Force, he traveled around the United States and to several other countries as a vocalist with the Air Force Ninth Division soldiers' chorus, and as vocalist/emcee with the Air Force 45-piece concert band and jazz ensemble. After retiring from the military, he continued to sing for occasions such as weddings, funerals, military memorial services and at school Veteran's Day events.
"I feel honored that people allow my voice to be in the vicinity of their hearts," Carlton says.
Carlton was nominated for the Lindsay Pulsifer Award by Luis Navarro, director of workforce development in OEDI who said, "Carlton is like a brother to me and he knows when I need a kind word or a beautiful song."
"My favorite story," says Carlton's former manager Jo Woods, "is about the time that Carlton walked into his house and saw a news story on TV about a woman and her granddaughter who were held at knifepoint in the driveway to their home and robbed of all their valuables inside and outside. Carlton called the television station, made contact with the reporter and asked if he could make a difference in their lives. The reporter contacted the woman and told her that he wanted to ask some follow-up questions and he and Carlton traveled to her home in Tacoma. Carlton met the woman and her granddaughter, expressed his condolences and handed her an envelope with $3,000 inside.
"This is just one expression of the heartfelt kindness and compassion that Carlton embodies. He doesn't ask for anything in return. He doesn't expect anything in return. I've been the recipient of his loving friendship for over 20 years and I'm a much better person because of his presence in my life."
Current manager of Airport Landside Operations Vicky Ausbun adds, "Year to date, Carlton has received 52 (yes fifty two!) compliments on the airport customer comment system. Often the commenters say that Carlton seemed to sense when someone was distressed or in need before they even asked for help.
"He volunteers at the police department for canine training. Received a compliment from police department regarding his generosity and reliability. He sings at special events all over the port often on his own time. He is often the first to volunteer for holding over or overtime when we are in operational need. He has the most generous spirit of anyone I've met."
Through the Port of Seattle Community Giving Campaign, employees can support their communities by donating to non-profit organizations through recurring direct deductions from each paycheck. Every year, in the fall, the Community Giving Campaign kickoff celebrates the good these employees have done so far and seeks to inspire increased engagement among our Port family toward building our surrounding communities.
Published Date
Nov 10, 2020