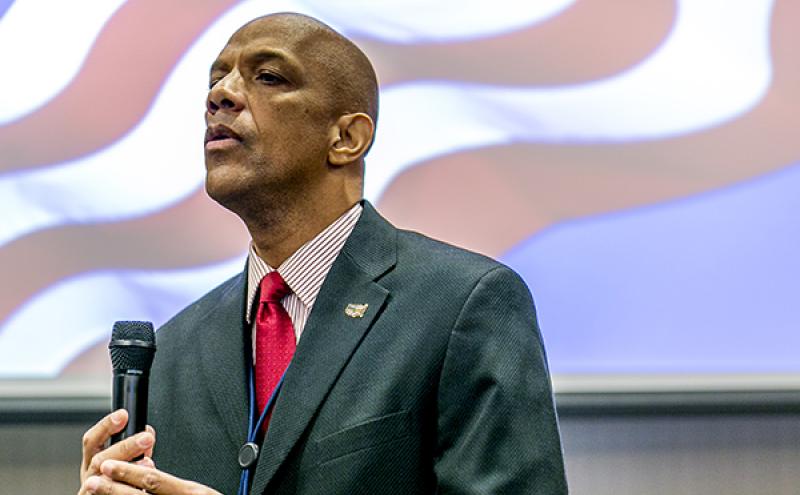 "I feel honored that people allow my voice to be in the vicinity of their hearts..."
"Ever since I had a voice, I have been singing," said Port of Seattle employee Carlton Williams. For him, the singing voice came when he was only nine years old.
In the years since, he sang before five presidents and first ladies; at Seahawks, Mariners and Storm games and at venues around the world and at home.
During his 20-year military career with the U.S. Air Force, he traveled around the United States and to several other countries as a vocalist with the Air Force Ninth Division soldiers' chorus, and as vocalist/emcee with the Air Force 45-piece concert band and jazz ensemble. After retiring from the military, he continued to sing for occasions such as weddings, funerals, military memorial services and at school Veteran's Day events.
He said people in his audiences periodically will ask him to perform at an event they are planning, such as a woman who requested he sing at her husband's funeral.
"She and her husband had watched me sing on local television together before he passed away. For me, singing for that family was much more powerful than performing for the presidents," Carlton said. "It's amazing how fortunate I am to keep meeting new people with new circumstances, and am able to be of service to them in this way."
Williams performed at the 2016 Memorial Day service in Chehalis, which he described as "a humbling experience." Even though he has performed before many large audiences over the years, Carlton said he most loves singing in small and intimate settings, where the music can speak for itself. "I feel honored that people allow my voice to be in the vicinity of their hearts at occasions like this," he said.
Williams joined the Port of Seattle in 1999 and worked in various departments. Currently he is a ground transportation control agent at Sea-Tac Airport, overseeing taxi and limousine operations. At the airport, he is known for frequently sharing his a cappella singing style at Port events, and for his warm, outgoing personality and dedication to friendly customer service.
Published Date
Mar 15, 2018