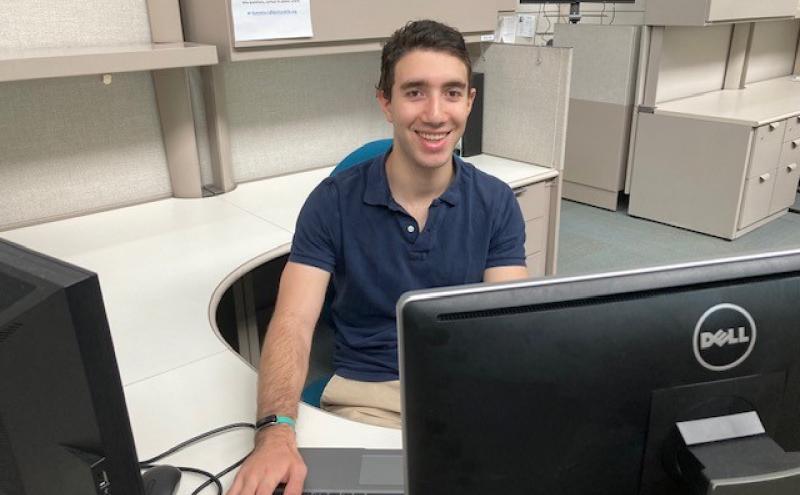 Strategic Planning Team's College Intern, Oliver reflects on his Learning Opportunities at the Port
Over the last two months, I've had the pleasure of interning with Marin Burnett and Mary Van Biber on the Strategic Planning team within Strategic Initiatives. It has been a tremendous learning experience for me. My previous work experience was mostly in policy research and advocacy, and I am currently working towards a joint BA/MA degree in International Relations and Public Policy at the University of Chicago, but until now I had never had a chance to do work like this. This summer, I have had the opportunity to contribute to major reports, department-level planning sessions, and internal team logistics.
Last week, the Strategic Planning team hosted a Disruption event, a quarterly speaker series, on geopolitical risks to the Port. I was given the chance to take the lead on the project. I found the speaker, Courtney Rickert McCaffrey, EY Global Geostrategic Business Group Insights Leader, set up the meeting, and helped run the event. The seminar was a smashing success. We had 149 people from around the port in attendance, including 5 Executive Leadership Team members and 1 Commissioner. I am very grateful to the rest of the Strategic Planning team for both helping me with the event and giving me the freedom to do much of the work on my own.
One of the best parts of my internship so far is the informational interviews that I have had across the port. I have held meetings with almost a dozen port leaders in a range of positions. In these meetings, I have learned a lot about potential career paths, jobs at the port, and general work skills. I even got to meet with Commissioner Cho, which was a very informative and interesting conversation. For any current or future interns, I would absolutely recommend reaching out to anyone who works in any position that you find even a little bit intriguing. Everyone at the port has been incredibly gracious with their time!
I am truly grateful for all of the support and advice that Strategic Initiatives and the rest of the Port have readily provided me with over the course of this internship. Thank you so much for everything!
- Oliver Keimweiss, College Intern, Strategic Planning, Office of Strategic Initiatives
Published Date
Aug 28, 2023