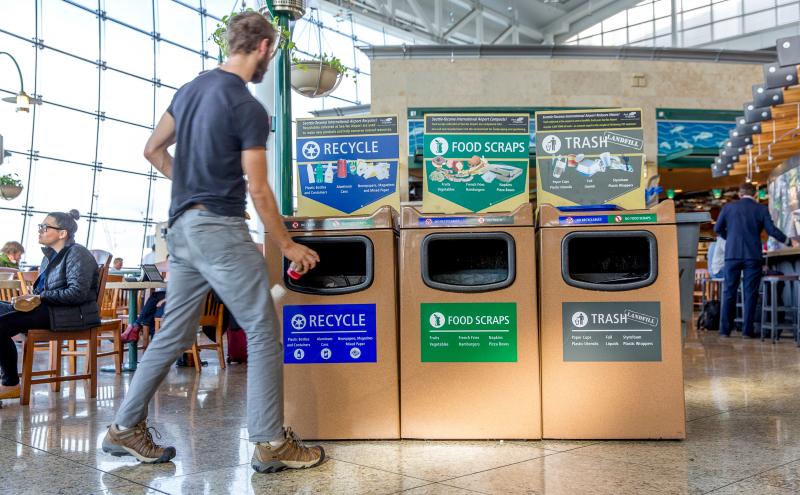 SEA Airport's Waste Reduction and Recycling Program manages services, provides outreach, and coordinates with airport staff, tenants, and business partners to reduce airport solid waste generation and minimize contributions to landfills. We strive to maximize diversion of recoverable materials while maintaining compliance with applicable federal, state, and local waste regulations.
Inside the airport terminal, passengers have access to recycling bins in concourses, at security checkpoints, and in food court areas. Compost bins are available to passengers in select dining areas. Food and beverage and retail businesses recycle and compost a wide range of pre-consumer materials, and airlines recycle deplaned waste. 
For more information about airport recycling and a complete list of recycled materials programs, please email Airport Environmental or call (206) 787-5525.
Guidance for Handling COVID-19 Waste at SEA
SEA COVID-19 Waste Handling Guidance
Guidance Summary (See complete guidance for details)
This guidance for managing municipal solid waste (MSW) and biohazard wastes with potential or known COVID-19 contamination is intended to reduce employee risk and ensure safe disposal of wastes at SEA.
It applies to all Port employees, contractors, tenants, and operators that generate, handle, or manage MSW and biohazard wastes at SEA. 
Recommendations are based on a review of the COVID-19 waste guidance from local and national public health organizations and Airports Council International (ACI) available at the time this document was written.  As new information becomes available, SEA will post updates to the guidance at this location.