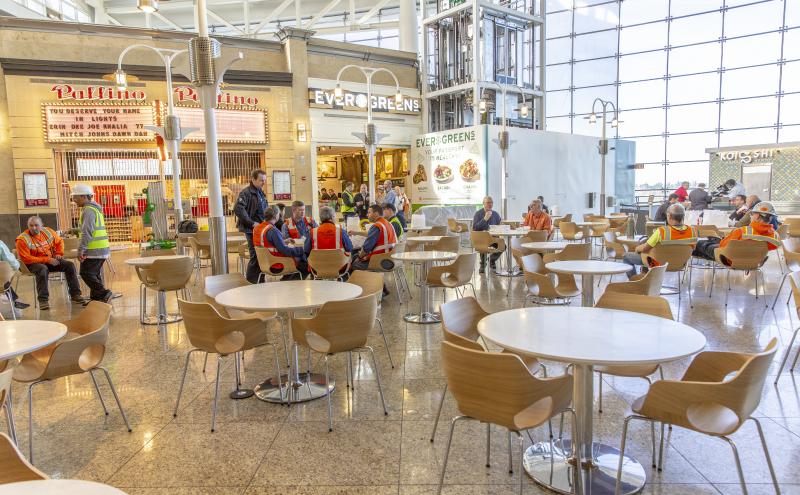 Tenant Resources
The SEA Environment and Sustainability Department is here to support tenants with recycling and waste disposal compliance. Explore the options below for recycling guidance and resources. If you have questions regarding the Recycling and Waste Reduction Program email the SEA Environment and Sustainability Department at recycle@portseattle.org. 
What Tenants Can Recycle at SEA
Below are some common waste items at SEA.
Comprehensive lists of recyclable and compostable materials can be found at recology.org, cedargrove.com, and kingcounty.gov.

Examples of materials that can be recycled at SEA:
Paper
Plastic
Metal
Glass

Cardboard (flattened)
Office paper, including windowed envelopes and file folders
Mail, magazines, mixed paper
Newspaper
Paper bags
Wrapping paper (non-metallic)
Cartons

Bottles (all colors and numbers)
Food containers and trays
Clear or colored plastic milk jugs
Dairy tubs
Plastic cups
Lids (3 inches or wider)
Plastic buckets
PVC pipe (white only)
Household rigid plastic items such as furniture and laundry baskets

Aluminum cans
Aluminum foil & pie tins (clean)
Tin cans
Ferrous scrap metal
Other scrap metals (smaller than 2' x 2' x 2')


Other Recyclable Materials
Below are additional materials that tenants may need to recycle. Some of these materials can be recycled on site, however some may need to be taken to an offsite facility.
Onsite Recyclables (available at SEA to tenants)
Metal: Steel, rebar, aluminum, wire and other metal items can be dropped off at the green dumpster on the service tunnel load dock OR Air Cargo 1 and 4. 
Wood: Pallets and untreated or non-painted lumber can be dropped off at Air Cargo 1 and 4. 
Used cooking oil: Waste cooking oil can be dropped off at the oil collection tanks on the load docks at Concourse A and North and South Satellites, and in Central Terminal trash rooms (ramp level). A tutorial of how to properly dispose of cooking oil can be found here.
Offsite Recyclables (tenant responsibility)
SEA Recycling and Waste Disposal Map
Explore the map below to find the recycling and waste collection areas located throughout the central terminal.
Food Donation Program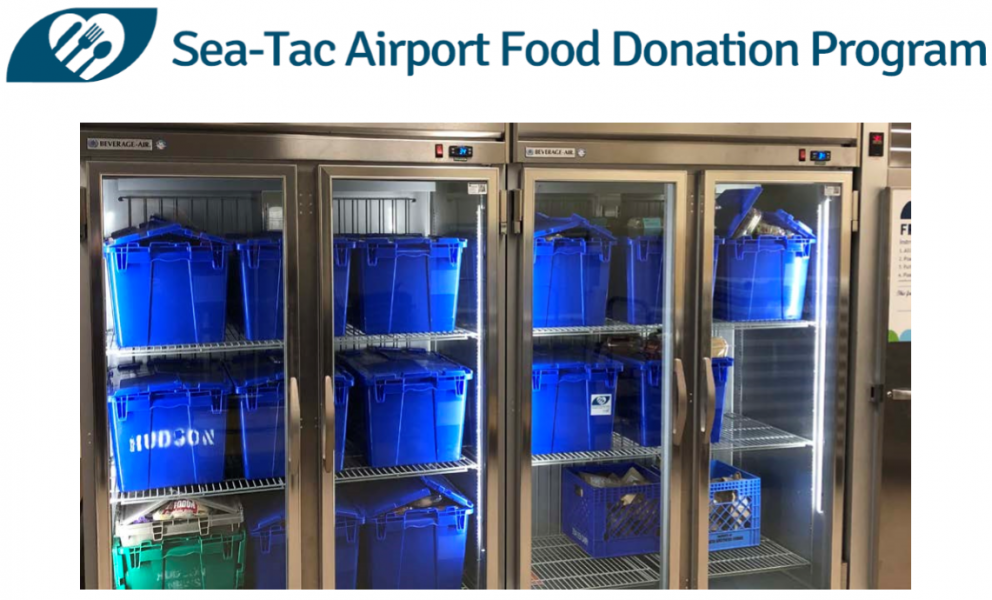 SEA's Food Donation Program is operated in partnership with the Des Moines Area Food Bank. We encourage all food service and food generating tenants to participate.
Program details and participation guidance can be found here.
Free SEA Recycling Educational Materials 
The following educational materials and services are free and available to all airport employees and tenants upon request. To request materials email the SEA Environment and Sustainability Department at recycle@portseattle.org
Posters and brochures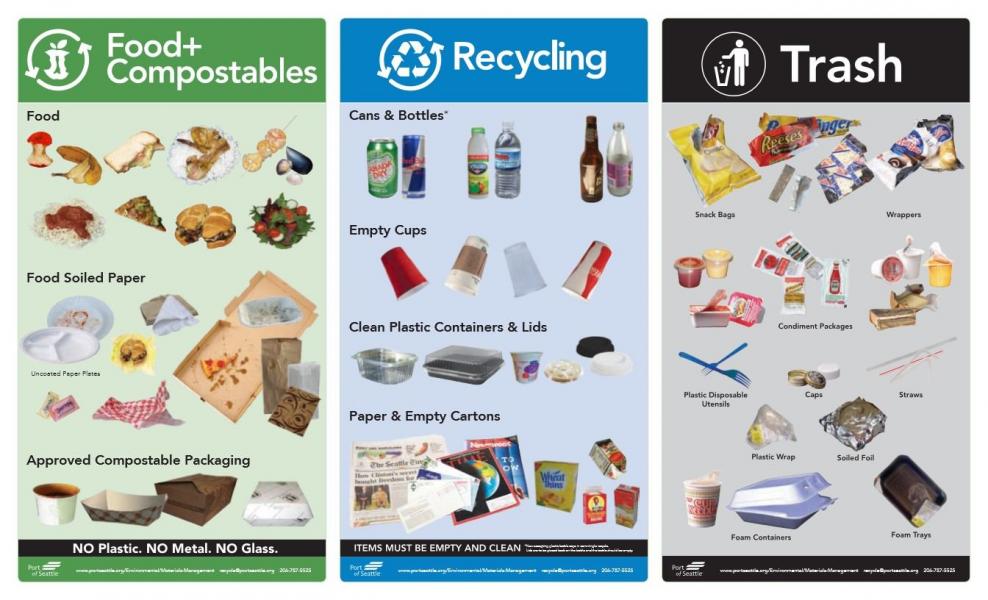 Labels and decals

Collection bins and lids
Color Options: Black (Trash), Blue (Recycling), and Green (Food + Compostables).
Size Options: 7, 10, or 23 gallons (pictured below are the 23 gallon bins)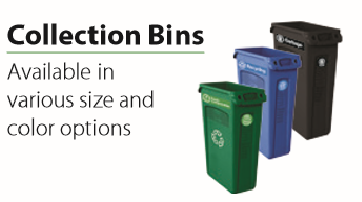 Recycling and Food Service Ware Requirements

All SEA airport food service tenants are required to comply with Section 5 of the Seattle-Tacoma International Airport Schedule of Rules and Requirements and the recycling requirements outlined in their lease agreements, including:
Properly sorting waste into designated bins

Collecting waste in clearly labeled bins

Use durable, compostable, or recyclable food service wares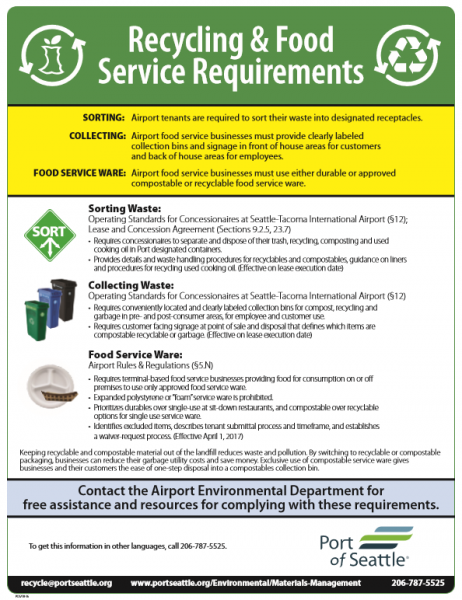 Contractor Guidance for Construction Waste
Construction contractors must follow Port Construction Waste Management requirements (See Section 01 74 19, pg. 212).
Additionally, construction contractors are required to comply with King County regulations regarding both recyclable and non-recyclable construction and demolition waste. A list of designated C&D facilities and operating hours can be found here.