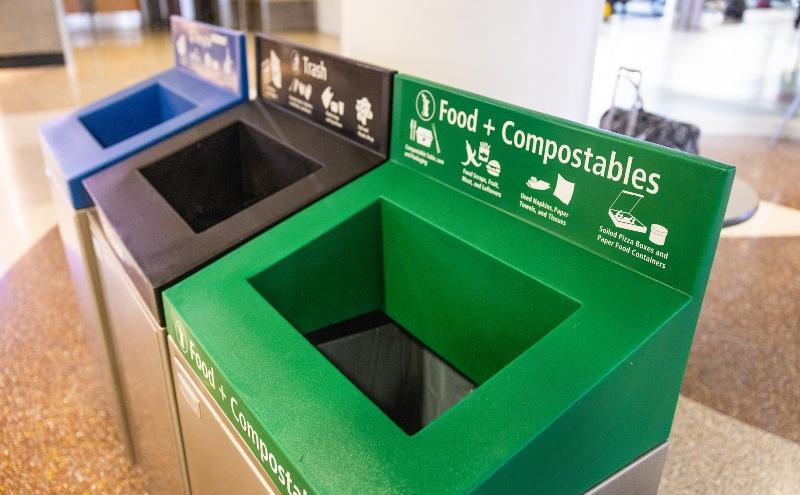 Help SEA prevent waste and keep recoverable materials out of landfill
The Port of Seattle aspires to be the greenest and most energy-efficient port in North America. SEA's Waste Reduction and Recycling Program works towards this goal and provides opportunities for passengers to contribute. Passengers play a key role and we need your support!
We strive to maximize diversion of recoverable materials from landfills while maintaining compliance with federal, state, and local waste regulations. Our waste reduction goals are:
Divert 60% of our terminal waste from landfills

Divert 15% of our airfield waste from landfills

Divert 90% of our construction project waste from landfills
Reduce your impact while traveling
Prevent waste in the first place! Bring your own reusable water bottle and consider bringing reusable food service ware or opting for reusable products when dining. Also, use digital boarding passes and say "no thanks" to bags when purchasing at the airport. For these tips and more, explore The Green Guide to Sustainable Travel.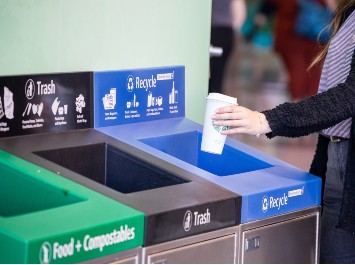 Properly sort your waste
Passengers will find recycling and compost bins conveniently located throughout the airport. Use these bins and follow signage to properly sort your waste!
All food service ware provided by tenants is required to be reusable, compostable, or recyclable.
Recycle Right! It Matters!
Recyclables need to be empty, clean, and dry. Food and liquids contaminate other recyclables in the bin. Help SEA sort correctly so more materials can turn into new products!
Learn more about recycling right from the Washington State Department of Ecology.

Recyclable Materials:
Paper
Plastic
Metal
Glass

Cardboard (flattened)
Office paper, including windowed envelopes and file folders
Mail, magazines, mixed paper
Newspaper
Paper bags
Wrapping paper (non-metallic)
Cartons

Bottles (all colors and numbers)
Food containers and trays
Clear or colored plastic milk jugs
Dairy tubs
Plastic cups
Lids (3 inches or wider)
Plastic buckets
PVC pipe (white only)
Household rigid plastic items such as furniture and laundry baskets

Aluminum cans
Aluminum foil & pie tins (clean)
Tin cans
Ferrous scrap metal
Other scrap metals (smaller than 2' x 2' x 2')
Find a comprehensive list of recyclables at Recology.
Compost More! Waste Less!
Passengers can compost food scraps, used napkins, pizza boxes, and approved food service ware packaging. Food + Compostables go to a local composting facility and come back to SEA as soil amendments used in landscaping.
Compostable Materials:
Food
Food-Soiled Paper
Approved Compostable Packaging

Food scraps
Fruit
Vegetables
Shells and bones
Dairy
Pasta and rice
Eggshells and nutshells
Bread and grains
Meat and fish

Paper bags, towels, packets, and newspapers
Pizza boxes
Uncoated paper plates and napkins
Coffee grounds and filters
Find a comprehensive list of compostables at Cedar Grove.
When In Doubt, Find Out!
Unsure of how to dispose of a certain material? Use SEA's guidance or Seattle Public Utilities Where Does it Go? Tool*
*This link is intended for general information only. Not all guidance matches SEA's waste disposal requirements. For questions, contact SEA's Environment and Sustainability Department at recycle@portseattle.org.

Any material that cannot be recycled or composted should be disposed of in the trash. Examples include dirty foil, plastic wrap, food wrappers, foam containers, gloves, masks, plastic cutlery, and straws.
Bring a reusable water bottle
Find the closest water bottle refill station to you on the interactive SEA map and learn more about the stations.