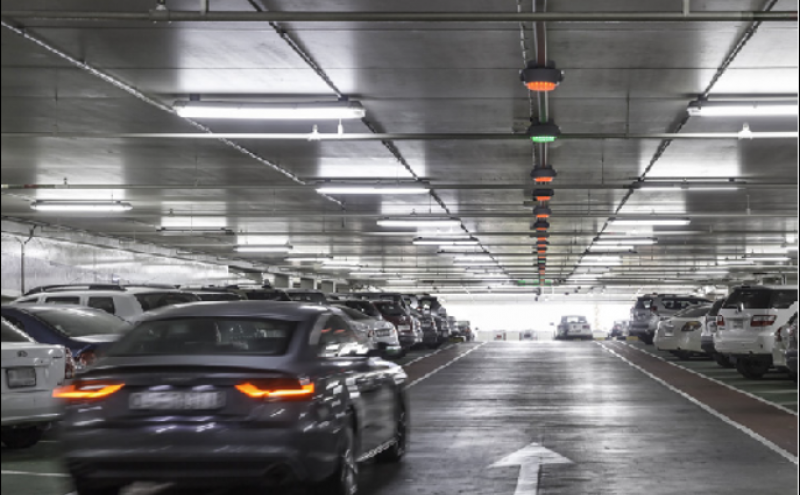 Status: In Progress
We want you to have an exceptional customer experience at the Seattle-Tacoma International Airport (SEA) parking garage. SEA is incorporating new technology and installing the Park Assist® automated parking guidance system (APGS) to solve many customer parking issues once inside the garage.
Elevating Efficiency and Safety
With over 12,000 stalls spread across eight floors in the Seattle-Tacoma International Airport (SEA) garage, finding an open stall quickly can be a challenge. With the Park Assist APGS, parkers will be able to find an open stall quickly using a system of wayfinding signage, smart sensors and LED lights to designate available or occupied stalls. Sensors and lighting will be installed above all drive lanes in the garage, to help you navigate the parking garage more efficiently. Each sensor also comes equipped with camera-based license plate recognition (LPR) technology to assist our Operations staff with parking policy enforcement (ex. restricted, premium stalls, overstays) and help locate your vehicle in case you forget where you parked, and motion-activated video surveillance to improve vehicle monitoring and security in the garage. 
Getting Greener
We heard your feedback regarding the lack of EV stalls and we understand that the number of electric vehicles in the region is continuously rising. The APGS project will increase our EV charging capacity in the garage by nearly 50%, expanding the number and charging speed of electrical charging stations to meet public demand.
Previously, there were 48 Level 1 public parking charging receptacles in the garage that were consistently occupied. This project has nearly doubled the number of EV charging stations to 94 stalls and improved the vehicle charging capacity with the addition of new Level 2 chargers (120V vs 240V power supply). There is the opportunity for further EV stall expansion should future demand require it. This improves the customer service for plug-in vehicle drivers, while also reducing emissions from ground transportation.
Construction Phase: In Progress
Our partner for this project, PCL Construction, began installation of the system in March 2021. PCL is installing the electrical infrastructure, APGS equipment and the electric vehicle charging equipment.
The phased construction will temporarily close parts of the garage to parkers and it is estimated that 700 stalls may be unavailable at a given time.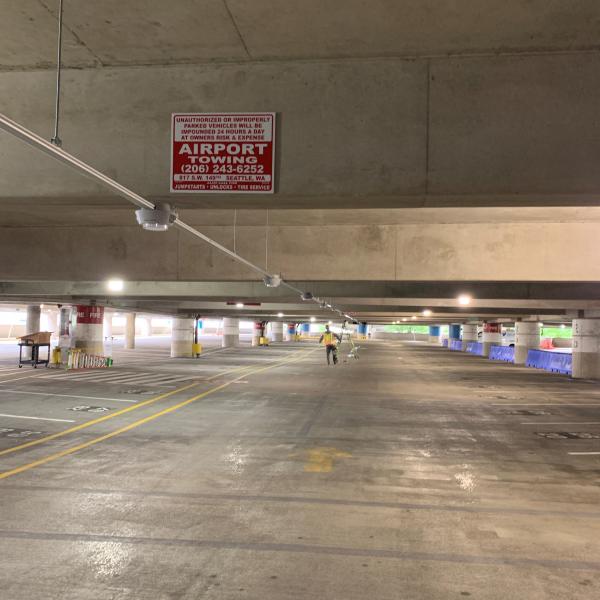 Installation Timeline
Construction closures in the garage for the installation of the APGS will be present through mid-2023. Below is the estimated schedule for closures throughout the different parts and floors of the garage. Please note, this is an estimated schedule and could change at any time. During the periods of closures on each floor, only a few rows at a time will be impacted. If you plan to park at the airport garage during this time, please allow extra time to find an available stall.
Last updated: April 2023
Phase 1 (Levels 1 and 2) Active
Phase 2 (Sublevel and level 6) Active
Phase 3 (Level 5 and Overheight) Level 5 is Active, Over-height Area still in Progress
Phase 4 (Levels 7 and 8) Level 7 is Active, Level 8 is still in Progress
Phase 5 (Levels 3 and 4) In Progress
Electric Vehicle Charging Stalls (Levels 4 and 7) Active
Estimated Project Completion: Q2 2023
Estimated Project Costs
The APGS project is estimated to cost $22.9 million.