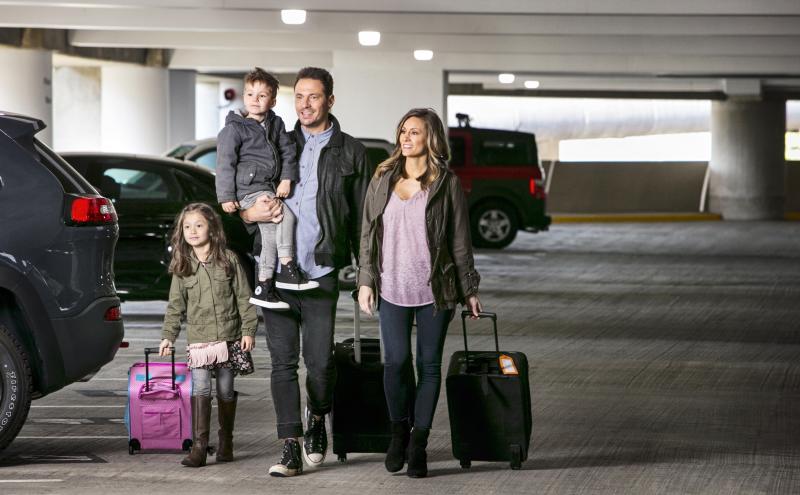 Drive-Up Parking Rates
Whether you're traveling for business or pleasure, the onsite parking garage at Seattle-Tacoma International Airport (SEA) offers the closest, most convenient airport parking for your needs and budget. With more than 12,100 spaces available for both short- and long-term parking, the SEA garage offers a wide range of affordable parking options for business and leisure travelers.
Parking Product

Type

Current Rates

Terminal Direct
(Floor 4, shortest walk to terminal)

Hourly

$6.00

Daily

$39.00

Weekly

No weekly rate available

General Parking
(Floors 1-3, 5-8)

Includes Over-Height Parking
(over 6'10")

Hourly

$5.00

Daily

$32.00

Weekly

$149.00

Passport Parking 
(recurring billing)

Monthly

$375.00/month

Daily

$22.00
SEA Airport increased public parking rates effective July 1, 2019. Our rates include all taxes and fees.
Revenue from the parking garage goes directly to airport infrastructure projects for travelers, including recent upgrades of the garage such as lighting, painting, electric vehicle charging upgrades, emergency phones, additional staffing and soon to be added amenities such as a parking reservation system and an automated parking guidance system.
Parking Products
Terminal Direct - Our Most Convenient Parking Option
The fourth floor of the parking garage is reserved for Terminal Direct parking. As the name implies, parkers have direct access via the fourth-floor skybridges to the Main Terminal. It's the shortest route from car to plane and is available for both short- and long-term parking. The rate for this direct access floor is $6 per hour with a daily maximum of $39 for up to 24 hours. Reservations are not accepted at this time.
General Parking 
General Parking is available on seven floors of the SEA garage:  Floors 1-3, and 5-8. The rate is just $5 an hour with a maximum of $32 for up to 24 hours and a special weekly rate of $149. Parkers can use General Parking for both short- and long-term stays.
Special Weekly Rate in General Parking 
SEA Airport offers a special, reduced weekly rate of $149 for up to seven days General Parking (Floors 1-3, 5-8). Travelers headed out on a week-long trip (more than five days, maximum of seven days) pay only $149 – all inclusive. No extra taxes. No extra fees. That's a tremendous savings of two days free for a seven-day trip.
The special weekly discount begins after the fifth day of parking and continues until the end of the seventh day. Customers staying longer than seven days can take advantage of the $149 maximum weekly rate for each additional week of parking. Normal rates apply for partial weeks of parking ($32/day), but will not exceed the special weekly rate of $149 during subsequent seven day periods. No coupon is needed; you receive the special discount when you pay.
Over-Height Parking
The height limit for vehicles entering the Airport Garage is 6'10." Vehicles above that limit should park in Over-Height Vehicle Parking. You can access this parking area via Highway 99 / International Blvd. from the north or south. Follow the signs marked "Over-Height Parking" from the Airport Expressway. At the entry plaza, use the open lane on the far right and take a ticket from the machine. After the gate opens, drive in and park in any of the 60-plus stalls in the outdoor area. The lot is within walking distance to the terminal.
Motorcycle Parking 
Motorcycles pay the same parking rates as automobiles for hourly, daily and weekly parking in both General and Terminal Direct parking.
Electric Vehicle Parking
The airport offers 48 electric vehicle parking spaces providing free electric vehicle charging for parking customers. Spaces are marked with green striping and are designated as "Electric Car Charging Only." Our electrical stalls are 120 Voltage. Customers must provide a charging cord as none are available in the parking garage.
Floor 5, General Parking:
Thirty-six (36) spaces available.
There are twelve spots in each row at D, G, and I.
General Parking rates apply.
Floor 4, Terminal Direct Parking:
Twelve (12) parking spaces are located in Row I.
Terminal Direct fees apply.
Extended Stay Parking 
Travelers may leave their vehicles for extended periods. Travelers parking for more than 30 days must make special arrangements through the SEA Airport's Public Parking Office, (206) 787-5308. Without these arrangements, the vehicle may be considered abandoned and could be towed at the owner's expense.