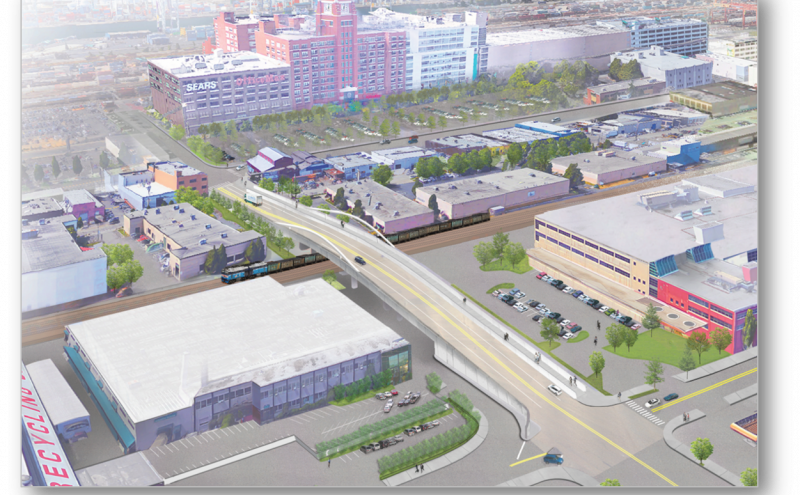 On August 16, 2017, the Port of Seattle and City of Seattle signed an agreement to launch the "Safe and Swift Corridor Program." This partnership will benefit commuters, residents and cargo carriers by improving the efficiency and safety of several key transportation corridors around the city.
As part of the agreement, the Port of Seattle will contribute an additional $10 million for the Lander Project (for a cumulative total of $15 million) and $5 million for transportation projects at the north end of the harbor should the City enter into a future development agreement for Key Arena.
Read more about the Lander Street Safe and Swift project. 
The Program will also focus on improvements to East Marginal Way. That corridor has long been identified as an important route for both freight and commuters. As East Marginal acts as a key connector for the Port's cargo terminals, partnering with the Port around the City's improvement project just makes sense. With bikes and trucks sharing the road around East Marginal, we recognize the importance of working collaboratively to improve the route for the safety of all modes.
Finally, the Safe and Swift Corridor Program will focus on the 15th Avenue West, Elliott Avenue West and Mercer Street corridors, which are critical to economic activity in commercial fishing, cruise and tourism. With the explosive growth all around Seattle, the Ballard and Interbay neighborhoods are struggling to maintain safe and efficient corridors.
As the Port/City MOU recognizes the need for transportation investments in freight mobility around the City, should an agreement between the City and the Oak View Group materialize, the dollars will support those projects in the related corridors.