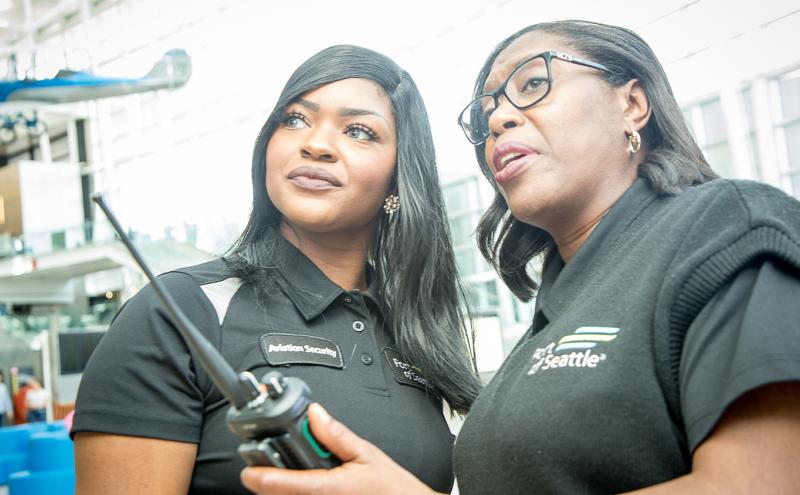 Port of Seattle is focusing on filling high-priority police officer, bus driver, skilled trades, and capital projects positions
September 29, 2022
The Port of Seattle launched a hiring campaign this week to fill open positions across its departments and divisions, with a focus on high-priority, difficult-to-fill positions like police officers, bus drivers, skilled trades, and capital projects roles.
The Port regularly has more than 30 job openings on its website at any given time. More than 2,000 employees work at the Port of Seattle, from Seattle-Tacoma International Airport (SEA) to its numerous maritime properties, moving people, goods, and ideas across the country and around the world. Every year, Port employees serve millions of people, generate billions of dollars for the economy, and support thousands of well-paying, family-wage jobs in the maritime and aviation industries.
Port employees enjoy competitive pay and benefits, robust learning and development opportunities, recognition programs, as well as a unique and inclusive work environment.
The Port of Seattle plays a critical role in the region's economy. All of Washington's top industries depend upon the Port for global access to markets, our aviation, and maritime gateways are some of the county's largest job sites, and Port construction spending alone supports nearly 1,300 full and part-time jobs each month.
To meet rising demand in travel and trade, the Port plans to build $4 billion worth of infrastructure at our airport and seaport over the next five years.  The Port needs a full team to keep operations running efficiently while building the future.
Police careers
Port of Seattle police officers and civilian employees provide primary law enforcement services to SEA Airport and more than 30 miles of waterfront property, piers, marinas, and cargo and cruise ship terminals.  
The Department serves the community in many ways such as dispatching and responding to 911 calls, assisting the public, providing proactive patrol, and facilitating the safe and expeditious movement of traffic. Officers routinely interact with a diverse population and a large number of different local and federal agencies.
The Port of Seattle Police Department currently has over 30 officer openings and is seeking to fill both lateral and entry-level candidates. Lateral candidates must have worked at least two years in a full-time, paid commissioned officer role. Entry-level candidates must be 21 years old and successfully complete the state law enforcement training program (Basic Academy). Interested candidates must pass written and physical ability examinations before being considered for a position.
The Port of Seattle Police Department is also actively recruiting Traffic Support Specialists, who assist with traffic control on the departure and arrival drives at SEA Airport and keep traffic around the airport moving safely and smoothly.
Contact Derek Bender, Port of Seattle Human Resources for more information.
Bus drivers
The Port of Seattle Employee Parking and Rental Car Facility (RCF) operations are hiring safety-minded drivers who enjoy driving and providing great customer service to employees and passengers. During each shift, bus drivers will safely and efficiently transport SEA Airport employees and passengers to and from airport facilities and SEA Airport.
Candidates must have a valid Washington State Commercial Driver License (CDL) Class A or B with a Passenger (P1) endorsement and a Department of Transportation Health Card. 
Skilled trades
The Port's team of skilled trade workers keeps facilities and equipment running smoothly. They build, maintain, and restore essential infrastructure behind the scenes so that the Port of Seattle can continue to serve as an economic engine for the region. As the Port seeks to grow its team of skilled workers, it is particularly focused on hiring women in these roles and providing access to training to help open doors to well-paying jobs.
Skilled trade professionals like operating engineers, electricians, carpenters, plumbers, and painters are in high demand and provide living wages and paths to stable and lasting careers. As the Port serves the region now and into the future, we rely on the availability of these skilled workers and are committed to helping our community access the quality, family-wage jobs that this industry has to offer.
Capital projects careers
Join the Port as we build $4.4 billion in infrastructure over the next five years that supports the region's economy and makes trade and travel more efficient. Capital project managers and leaders, engineers, and construction roles are all needed to complete this vision. Options are available for working on site on airport or waterfront projects. Help modernize SEA airport to meet traveler demand, or help build the most equitable, sustainable, and successful maritime industries in the world.
Contact
Perry Cooper | Port of Seattle Senior Media Officer
(206) 787-4923 | cooper.p@portseattle.org