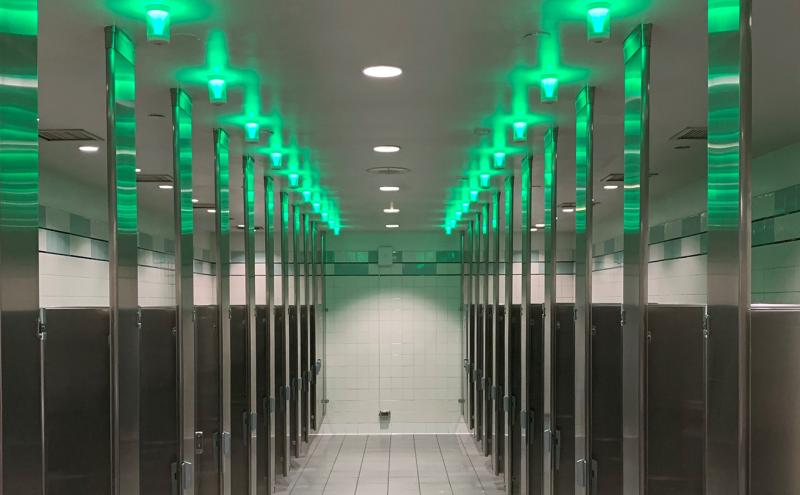 SEA continues escalated disinfecting and adds new cleaning technology
September 8, 2020
As the seasons change this month, Seattle-Tacoma International Airport (SEA) is preparing for the fall and winter by doubling down on disinfecting. Cleaning is one of the greatest areas of emphasis as part of FlyHealthy@SEA, the airport's action plan to ensure the health and well-being of travelers and airport workers.
"A clean facility is necessary for a clean bill of health," said SEA Managing Director Lance Lyttle. "Your health and well-being matter to us and are our top priority. Enhanced cleaning means we doubled down with more elbow grease, brought in medical grade disinfectants and invested in new cleaning technologies."
Clean freak
At the beginning of COVID-19, SEA escalated its already-robust cleaning practices to ensure frequent disinfection with medical-grade and EPA approved cleaning products. We added an emphasis on high-touch areas such as buttons, handrails, and counters.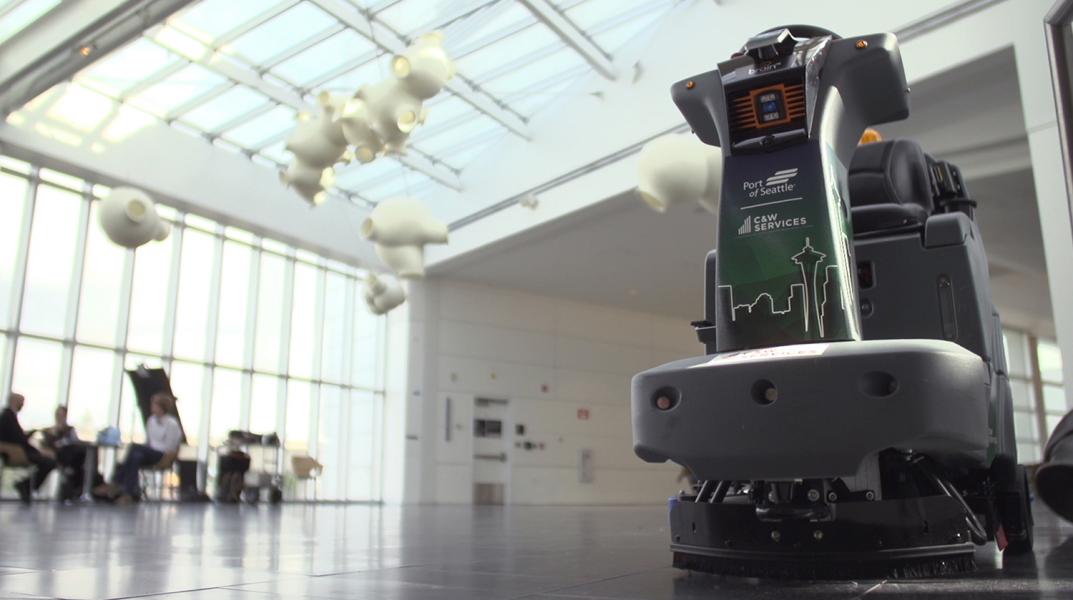 And that was just the beginning. SEA continues to add new and better solutions for cleaning.
Travelers may spot the fleet of six self-driving machines that autonomously clean the floor. Artificial intelligence software manages and deploys uses terminal digital maps, freeing up airport cleaning staff to complete other work that requires a human touch.
As part of the airport's cleaning focus on high-touch areas, a portable escalator handrail cleaning system was added last month. Handrails can harbor pathogenic bacteria and viruses and the patented system by Thomsen Manufacturing removes 99.94 percent of bacteria without cross contamination.
Electrostatic sprayers joined the suite of cleaning equipment this summer. The patented technology provides an electrical charge to the cleaning solution, which wraps conductive surfaces with effective and even coverage to allow more efficient disinfecting of large areas such as gate holdrooms, security checkpoints, the train system, and seating areas throughout the terminal. The double-charged disinfectant solutions cling to surfaces and kills 99.99 percent of viruses, bacteria and fungi and molds in three minutes.
In August, SEA began enhanced security checkpoint cleaning that encompasses hourly, continuous disinfection of the bins, bowls, conveyers, railings, benches, tables and other surfaces. Additionally, TSA's "Stay Healthy. Stay Secure." campaign is designed to help travelers understand the many protective measures the agency implemented at security checkpoints to make the screening process safer such as physical distancing in the checkpoint, reduced physical contact, PPE worn by TSA officers and the ability for each traveler to bring a container of hand sanitizer up 12 ounces in carry-on luggage.
SEA recently installed Tooshlights in the restrooms near Gate C14 to pilot the industry's first and only automated LED lighting system that increases traffic flow and creates more opportunities for physical distancing. Red lights overhead indicate a stall is occupied and green lights communicate a stall is available for use. The smart restroom solution adds more privacy, improves physical distancing during the pandemic, and prevents the need for passengers to push or touch stall doors to determine availability.
Another new restroom technology deployed at SEA this summer is the Optiqo Qlvr Box, which enables the airport to proactively manage the cleaning and maintenance frequencies of restrooms. The digitally timestamped system increases transparency and communicates to travelers the last time a restroom was cleaned. Travelers can also scan the QR code to submit feedback. 
Cleaning innovations coming soon
Later this month, SEA is piloting a mobile system that removes pathogens from the air. SEA's existing HVAC system already captures 90 percent of COVID-19 sized particles and ensures the continuous of fresh, clean air into the terminal, but we're adding CASPR to Concourse D because more is more in response to COVID-19. The device filters the air and disperses negatively charged ions. These ions are attracted to positively charged particulates, such as viruses, bacteria and mold, to neutralize and kill them at the molecular level.
Also in September, SEA is investing in an additional escalator handrail cleaning system in South Satellite. The device is installed inside the escalator and uses UVC LED lighting technology from Schindler. Handrails are disinfected continuous to remove bacteria and viruses.
Clean Suite
SEA's custodial and operations team will add new clean technology features to a response strategy that already includes multiple layers:
Increased cleaning, sanitizing and disinfection protocols as recommended by the Centers for Disease Control (CDC) and the World Health Organization (WHO)
Over 5,700 hours each week are spent cleaning and disinfecting the buses and terminal at SEA,
Medical-grade and EPA approved cleaning products for use against SARSCoV- 2, the virus that causes COVID-19
An air ventilation and filtration system that captures 90 percent of COVID-19 sized particles 
Over 2,343 gallons of hand sanitizer and 1,444 containers of sanitizer wipes used in response to the pandemic
Upgraded 270 touch-free paper towel dispensers in airport bathrooms
Added over 250 hand sanitizer stations throughout the terminal with 30 more coming this week
FlyHealthy @ SEA Action Plan 
Today Seattle-Tacoma International Airport Managing Director Lance Lyttle and Director of Customer Experience Julie Collins briefed the Port of Seattle Commission on the FlyHealthy@SEA Action Plan.
FlyHealthy @ SEA launched in April 2020 as a multi-layered strategy to ensure the safety and well-being of the traveling public and airport workers. Initial actions included enhanced cleaning, physical distancing, communication and partner collaboration. The program continues to evolve as travelers return to the airport. Compliance in the face covering or mask requirement as SEA is at over 90 percent.
A recording of the public meeting on September 8, 2020 and meeting materials are available online (see attachments 7a).
Contact
Kate Hudson | SEA Airport 
hudson.k@portseattle.org