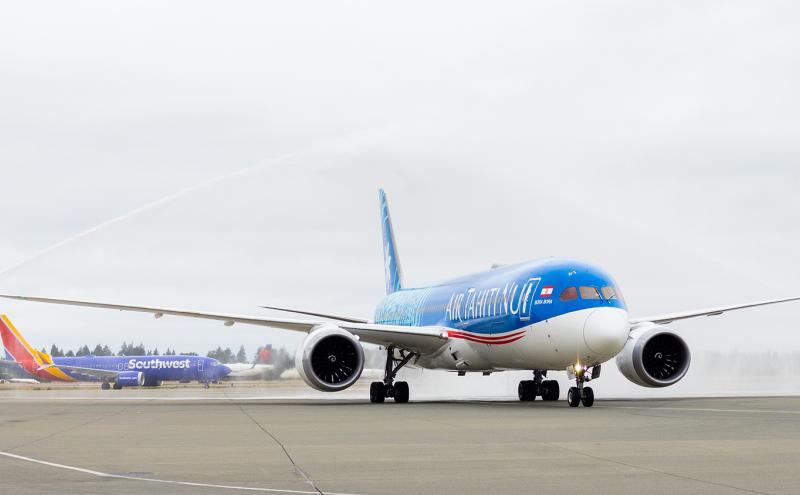 New Gateway connects French Polynesia to Paris
June 13, 2023
Seattle-Tacoma International Airport (SEA) welcomes its latest new international service with Tahiti Nui's 787-9 Dreamliner inaugural service today from Seattle to Paris (CDG). After becoming SEA's first connection to French Polynesia in October, Air Tahiti Nui is now connecting Seattle to Paris in new year-round, twice-weekly service. A water turret salute on the ramp and a ribbon-cutting event in the terminal officially kicked off the first flight to the European continent.
In partnership with Alaska Airlines, Air Tahiti Nui becomes the first and only carrier offering nonstop flights connecting the South Pacific, Pacific Northwest, and now Paris.
"We are very excited Air Tahiti Nui is launching their second new international service from SEA, only eight months since we first welcomed their initial launch from the Pacific Northwest to Tahiti," said Arif Ghouse, SEA Airport Chief Operating Officer. "This new service provides an additional option for travelers between Metropolitan France and French Polynesia. And, of course, we say to those travelers - Don't forget Seattle! Stop along your way!"
"The opening of the new Tahiti-Seattle direct service was already an exciting achievement for Air Tahiti Nui," said Mathieu Bechonnet, Air Tahiti Nui's Managing Director. "Beginning this new service to Paris this summer was a way for us to offer even more options for our client base in Tahiti to reach Paris while also allowing the Seattle region to enjoy more options to explore France and Europe." Bechonnet continues, "Our decision to move this to a year-round service is made possible today thanks to the great response we are getting from the market. We are really thrilled about the new business opportunities this represents for us and the dynamism it brings to our operations.
The codeshare partnership between Air Tahiti Nui and Alaska Airlines allows passengers to travel via SEA to and from almost 100 cities in North America. Alaska Airlines and Air Tahiti Nui offer flexible and convenient access between many major cities such as Vancouver, Boston, Chicago, Miami, New York City, and The Islands of Tahiti.
SEA Airport is making significant investments to make international travel through SEA more efficient and representative of our region. The recently-opened new International Arrivals Facility provides travelers an expanded and more efficient experience to meet the growing regional demand for international travel. The new facility is over four times the size of the current facility and includes an iconic aerial walkway which is the longest over an active taxilane in the world!
Flight Details
The new flight operates twice a week – Tuesday and Saturday using a Boeing 787-9 Tahitian Dreamliner aircraft.
| | | | | |
| --- | --- | --- | --- | --- |
| Flight | Departs on |  Departure | Arrival | Duration |
| TN58 PPT-SEA | Mon, Fri | 11:35 p.m. | 12:00 noon (next) | 9 hrs 25 min |
| TN58 SEA-CDG | Tues, Sat | 2:30 p.m. | 9:00 a.m. (next day) | 9 hrs 30 min |
| TN57 CDG-SEA |  Wed, Sun | 12:05 p.m. | 1:20 p.m. (same day) | 10 hr 15 min |
| TN57 SEA-PPT |  Wed, Sun |  3:20 p.m. | 9:50 p.m. (same day) | 9 hrs 30 min |
International Service at SEA
Air Tahiti Nui's new Paris service is the 11th brand-new international service to launch at SEA since the pandemic. Overall, 46 international services are currently in operation at SEA, with 25 airlines providing nonstop flights to 29 unique international destinations.
About Air Tahiti Nui
Air Tahiti Nui links the South Pacific with four continents as the leading carrier to French Polynesia, with daily non-stop service to Tahiti from Los Angeles, and is one of only two airlines to offer a selection of non-stop flights connecting Los Angeles and Paris. With recently added non-stop service to Tahiti from Seattle, Air Tahiti Nui becomes the only airline connecting the Pacific Northwest and French Polynesia. Headquartered in Papeete, Tahiti, Air Tahiti Nui currently operates from its Tahiti base to destinations in 10 countries in cooperation with a number of codeshare partners, including Alaska Airlines, American Airlines, SNCF, Air Calin, Air New Zealand, Japan Airlines, Korean Air, Qantas and LATAM. Follow Air Tahiti Nui on Facebook facebook.com/airtahitinuinorthamerica and Instagram @airtahitinui. For more details, please visit https://www.airtahitinui.com.
Contact
Chris Guizlo | SEA Airport
(206) 787-3433 | guizlo.c@portseattle.org