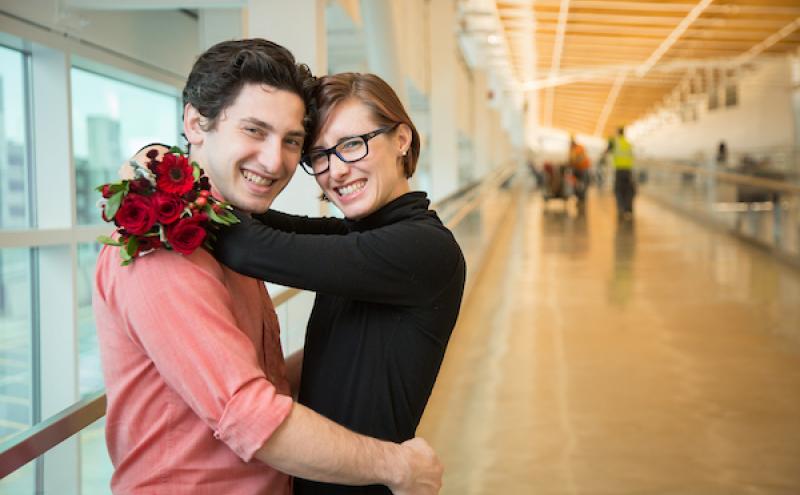 New Program will allow 200 per day with online sign-ups
December 16, 2019
Editor's note: This article was updated on March 15, 2023 to reflect the latest hours and operations
Hugging grandpa the minute he gets off a plane, catching up with your childhood friend on a layover, spending precious moments with your daughter before her deployment, or surprising someone with flowers at the gate because you can't wait another minute — all of these opportunities, and others, will now be available every day for a limited amount of non-ticketed visitors as the SEA Visitor Pass returns to Seattle-Tacoma International Airport.
Beginning today, up to 200 non-ticketed visitors will be approved to go post-security between 5 a.m. and 10 p.m. seven days a week. Guests can apply online for the SEA Visitor Pass the same day you want to enter or up to seven days in advance, until the day's maximum limit has been met.
"I am incredibly excited to announce that SEA Visitor Pass is back," says Lance Lyttle, Managing Director of SEA Airport. "SEA Visitor Pass opens the doors of our airport to families, friends, and guest who are not traveling. And it's free!"
"At SEA we get that we are not just a building, we are a place where people's lives happen," says Port of Seattle Commissioner Ryan Calkins. "As much as we think about how our space and facilities impact the passenger experience, we are also focused on how the airport feels and the opportunities for connection. We guarantee SEA Visitor Pass will make memories."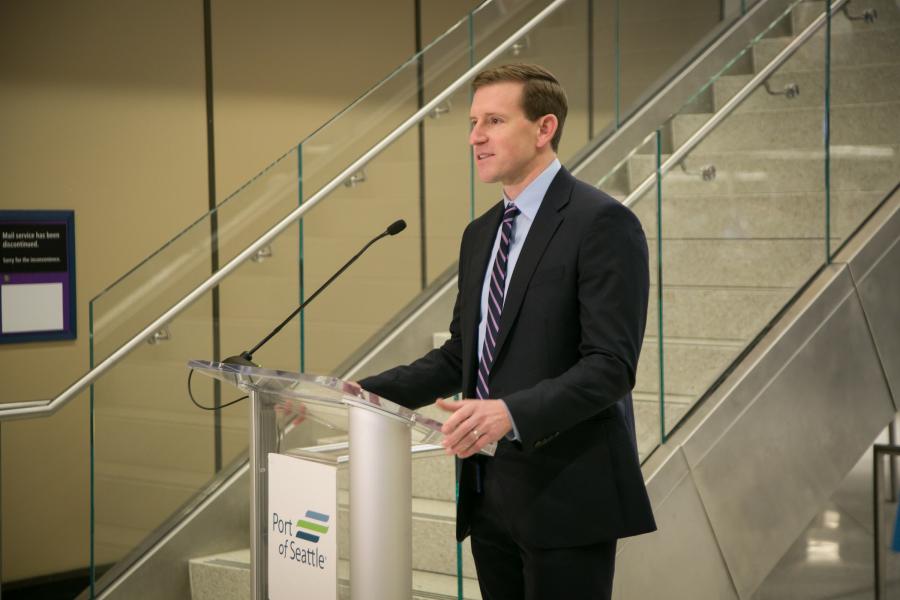 Last year's pilot program was greeted with an enthusiastic response with over 1,100 participants in less than six weeks with a limit of 50 people per day. After reviewing the program details with stakeholders including Airport Dining and Retail, Information Technology, Operations, and Security teams, a more customer friendly registration process was developed. Now you can get your TSA approval and receive a QR code that will allow entry through security checkpoint 3.
"The SEA Visitor Pass allows the residents of SeaTac to eat at all the great restaurants and visit the shops of the Airport without leaving their hometown," says City of SeaTac Mayor Erin Sitterley. "This Visitor Pass program continues to strengthen the relationship between SeaTac and SEA."
The SEA Visitor Pass program is intended for personal use and to enable approved visitors to spend time with friends and family or shop and dine at the airport or be an aviation geek to watch planes. There are many things you can try, including these examples from those who participated last year:
"I grew up watching romantic scenes in movies where someone meets their partner with flowers as they get off a plane, but was never able to do that myself... Until now!," said Zachary Cohn, a Seattle resident who utilized the program during its pilot period. "The SEA Visitor Pass let me surprise and delight my partner as she disembarked the plane from a long work trip."
The Lehman family of Lynnwood also used the program to greet family. "We absolutely loved our experience with Visitor Pass!," said Tana Lehman. "Our daughter loved to surprise her grandpa at the gate. It reminded me of when I was younger and we'd get to see people off or welcome them home from their journey."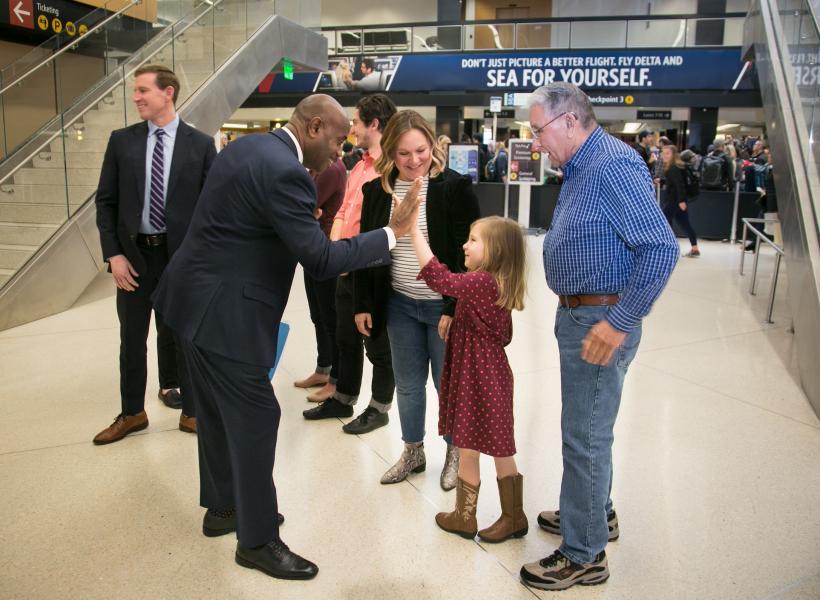 More details
Entry hours for SEA Visitor Pass are 5 a.m. to 10 p.m. seven days a week.
Peak passenger airport times are mornings, evenings, and Sunday nights. At these times, SEA recommends arriving at least two hours before you want to be post-security.
For more information
Media contact
Perry Cooper | SEA Public Information Officer
(206) 787-4923 | cooper.p@portseattle.org