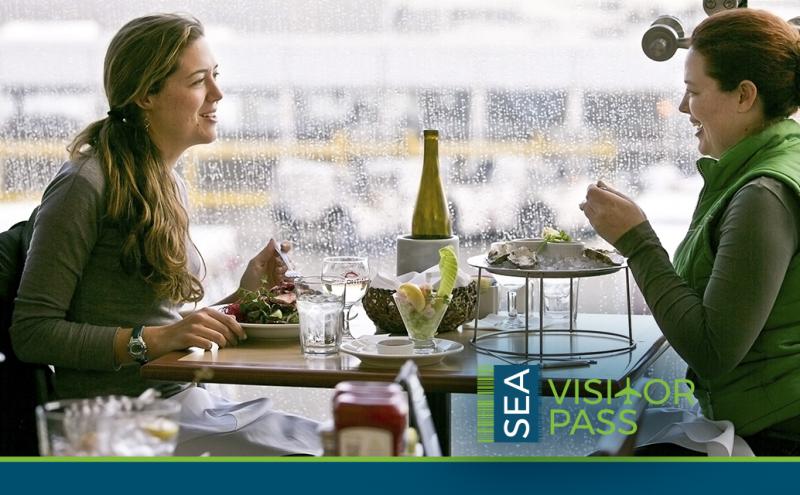 Remember the days when … 
You could get a hug the minute they land? Or you could catch up over a meal during their layover?  It's been 17 years since passengers who were not flying could meet their loved ones at their gate after a domestic flight. 
Sea-Tac International Airport is studying the feasibility of bringing those days back with the SEA Visitor Pass pilot program. You can now enter the post-security side of the terminal even if you're not traveling that day. Clear the security checkpoint and take advantage of the events, amenities, restaurants, and boutiques at the airport. 
For example, you could:
Spend more time at the gate or a restaurant with family or friends
Bring your family to watch the arrivals and departures of different types of planes
Surprise your arriving service member at their gate (domestic gates only)
Participate in Celebrations at Sea-Tac events 
Have an amazing meal at one of the airport restaurants
Find the perfect gift for your arriving passenger at the many boutiques
Attend a live music performance
Pilot Program Details
This program runs from November 2 - December 14, but the program could end early at Sea-Tac's discretion.
This program is limited to 50 visitors per day.
Visitors must be approved by TSA.
Apply online before 1:30 p.m. the day before you want to visit.
Enrollment is available Monday through Friday from 7:30 a.m. to 1:30 p.m.
Entrance to the post-security side of the terminal is allowed from Tuesday through Saturday from 8 a.m. to 9 p.m. 
If you are meeting a flight or a traveler, allow enough time to pick up your pass and get through security. During peak travel times, we recommend arriving two hours before you want to be on the secure side of the terminal. 
Meeting travelers at their gate applies only to domestic arrivals.
Apply Online 
Apply the day before you want to visit the airport. You will receive an email by midnight the day you applied with approval status and more specific details on where to go 
Here's how:
Complete the request form, which is available from 7:30 a.m. to 1:30 p.m. Monday through Friday. This program is available to 50 visitors a day. If the form is not available, it is past the signup time or the daily quota has been met. 
 Check your email to see if you are approved for access. Don't head to the airport until you have verified approval.
On the day you are approved, bring the same photo ID that you used for registration to the airport. Post-security access is allowed between the hours of 8 a.m. and 10 p.m.
Pick up your SEA Visitor Pass after 8 a.m.. You will receive an email with directions on where to go.
Go through security — arrive two hours before you want to be on the secure side of the terminal.
Eat, drink, shop, and visit at Sea-Tac Airport.
Complete a survey that you will receive by email to help us evaluate this program.
Questions
For more specific details on this pilot program: