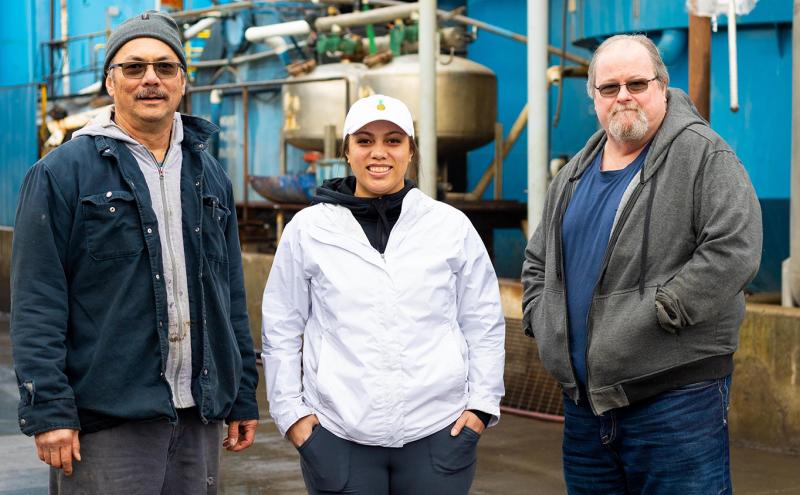 April 11, 2023
Port Commission adopted a new policy today that expands access to career and work opportunities.
The Equity Motion Directive identifies and eliminates disparities in access to working with and for the Port of Seattle. Commissioners Hamdi Mohamed and Sam Cho introduced the policy directive. The Commission also heard an update on progress to increase the diversity of firms contracting with the Port.
"One of the most crucial aspects of the policy is the section that outlines the development of a definition for 'equity-related resources"', said Port of Seattle Commissioner Hamdi Mohamed. "By measuring our current investments and collecting data, we can make an even greater impact. I want to express my gratitude to the many Port staff and community members who worked alongside us to pave the way for this equity policy directive."
"The Port has the power to create real opportunities," explains Port of Seattle Commission President Cho, "but habit and unconscious bias created a well-worn path where opportunities tended to flow or not. It takes a deliberate effort to disrupt decades of formal and informal inequity. The fact that we've come to this point now, where there is accountability to our employees and community, is how we become an organization that truly promotes equity."
Equity Policy Directive
The Equity Policy Directive will institutionalize how the Port prioritizes policies and programs internally and externally. The Port will report continuous process improvement opportunities annually regarding contracting with community-based organizations, informed by at least one listening session with these community-based organizations.
Highlights from the Directive include:
Permanent structural changes establish the Senior Director of the Office of Equity, Diversity, and Inclusion as a member of the Executive Leadership Team and make the Port's "Change Team" of front-line and director-level employees permanent.
Executive Director and Executive Leadership Team's annual performance reviews will be based on progress toward set equity goals. All Port departments will use the Port's Equity in Budgeting Playbook in annual business planning and budgeting.
The Port will expand its portfolio of community-based programs, work directly with community members and advisors, and collaborate with other jurisdictions on equity initiatives.
OEDI will support the growth of EDI practices and values and develop an environmental justice frame to guide future Port decisions. 
For more detail on the Equity Policy Directive, read "Advancing Equity through Port-wide Policy."
Diversity in Contracting
Commissioners also heard an annual briefing on the status of work to increase the utilization of Women Minority Business Enterprises and other disadvantaged firms.
In 2017 the Port established goals to increase to 15 percent the amount of spend on WMBE contracts by five years and to triple the number of WMBE firms doing business with the Port. In its fourth full year of the program, the Port has increased its utilization to above 12 percent and worked with 351 firms.
Although the Port may not reach its WMBE utilization goal by 2023, it appears likely to reach the 5-year goal of tripling the number of WMBE firms we partner with. Highlights of the Diversity in Contracting report include:
In non-construction, 16.4% of the Port's total spend of $203M went to WMBE firms ($44.2M) — meeting its 15% goal for 2022.
In construction, 2022 was the first year the Port established a goal. The Port's total spend of 7.5% of $203M went to WMBE firms ($15.1M) — short of its 12.5% goal.
Reaching the 15 percent utilization goal requires significant growth in construction utilization. The Port continues to set WMBE Divisional goals while exploring changes to procurement and bidding, outreach and training, and compliance procedures to increase the utilization of WMBE firms on construction projects.
In 2023, the Port will also conduct a disparity review to understand better current barriers to WMBE utilization to inform the future of this program and develop an Architectural and Engineering program for small and disadvantaged businesses, veterans, and WMBE businesses.
For more information, read the 2022 Diversity in Contracting Report.
Contact
Peter McGraw | Port of Seattle Media Officer
(206) 787-3446 | mcgraw.p@portseattle.org