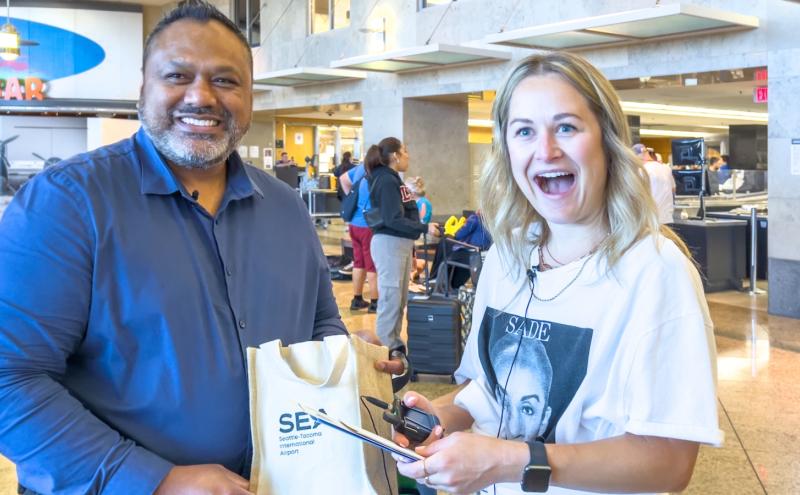 SEA innovation now adopted at other airports around the country
June 29, 2023
Seattle-Tacoma International Airport (SEA) today celebrated the one-millionth user of its SEA Spot Saver program, the popular free tool for travelers to reserve their space in TSA screening lines.
SEA was the first airport in the country to implement a free program like Spot Saver. Today many airports around the country offer a similar service.
Originally launched in 2021 as a pilot program with Alaska Airlines and Delta Air Lines, Spot Saver was the first-of-its-kind virtual queuing program piloted and refined at SEA. In September 2021, the program became permanent and has expanded to all general screening checkpoints serving passengers from 5:00 a.m. to 10:00 p.m. Spot Saver now allows travelers to make reservations anytime between five days to three hours before their flight.
SEA celebrated the customer service success of this innovative model by surprising the one-millionth SEA Spot Saver user with a package of SEA swag, a free ticket from Alaska Airlines, a day pass to The Club @ SEA, and a gift card to Salty's at the SEA in Central Terminal. Travelers using SEA Spot Saver have more time to enjoy the airport amenities and options just like our winner today!
"SEA Spot Saver has been critical to helping passengers get through our security checkpoints predictably and efficiently," said SEA Airport Managing Director Lance Lyttle. "Hitting the one-millionth user of SEA Spot Saver also shows that our passengers love the service. We are committed to a five-star airport experience and free tools like SEA Spot Saver are critical to helping us get there."
Survey data from SEA Spot Saver users shows:
97% were satisfied with their SEA Spot Saver experience.
62% used the time saved waiting in line to check out SEA's dining and retail options.
56% of users were first-time users.
How to Use SEA Spot Saver
SEA Spot Saver is a free program that is available to all travelers without a membership. Here are the steps for travelers:
Up to five days before your flight, sign up in advance or when you arrive at SEA's ticketing level of the terminal.
Register by filling-in flight details, the number of people in your party, and contact information to save your spot.
Once you're at the airport, do whatever you need or want to do in the meantime! Check your bags, grab some coffee, spend more time with loved ones, or just walk up at your appointment time!
Go to your assigned checkpoint and look for the SEA Spot Saver logo or use our interactive map for step-by-step directions. SEA Spot Saver is available at TSA Checkpoints 3 and 5 (closest to the C, D, and N Gates) or at TSA Checkpoint 2 (closest to the A, B, and S Gates).
Show airport staff confirmation of your appointment and go through screening!
Innovation at SEA
In addition to tools like SEA Spot Saver, SEA continues to focus on a suite of improvements that make the airport experience less stressful and more predictable. That includes beautifully modernized spaces such as new dining and retail options in the N Concourse, the fully renovated and expanded Central Terminal, and the International Arrivals Facility.
Over the next five years, SEA is working on a suite of capital projects to Upgrade SEA with a focus on improving the traveler experience across the airport. 
SEA is currently certified with Skytrax's prestigious 4-Star Airport Rating. It is only the second large hub U.S. airport (serving 40 million or more passengers) to be recognized at the 4-Star Rating level.
Innovation and a better customer experience are also supported by the flySEA App. Other traveler-focused updates include:
Improved wayfinding and customer information.
Upgraded seating and furniture
Expanded availability of seat power outlets.
New dining and retail options to entice and delight travelers at SEA Airport.
Contact
Perry Cooper | Port of Seattle Senior Media Officer
(206) 787-4923 | cooper.p@portseattle.org
Photo caption: Passenger Marie and Sabin Mudaliar, SEA Airport Terminal Operations Manager, celebrate one million passengers using SEA SpotSaver.