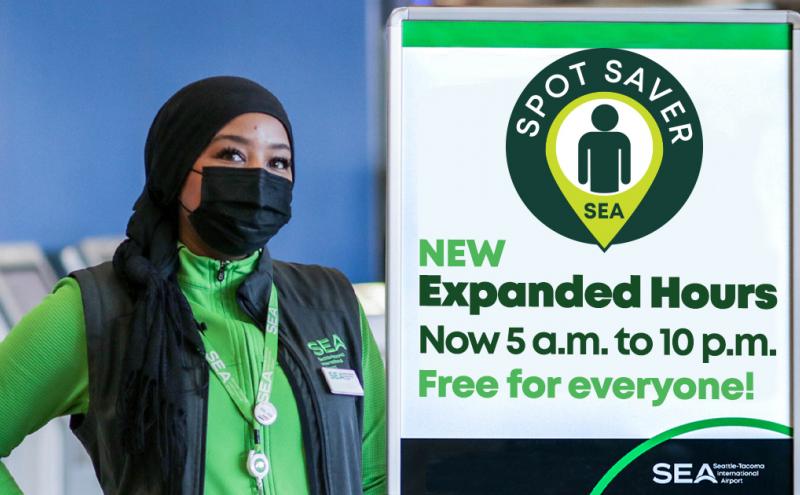 Skip the Security Line from 5 a.m. to 10 p.m.
Your time while traveling is important, let us help with SEA Spot Saver, a reservation program for TSA screening for passengers flying out of Seattle! Experience expedited screening without a membership and all contact-free. Schedule your appointment for screening beforehand or when you're at the terminal. With less wait times and more time to do all the things you need and want to do.
Reservations and walk-in appointments are available for departing and general screening passengers daily from 5 a.m. to 6 p.m. at TSA Checkpoints 2 and 5 and 5 a.m. to 10 p.m. at TSA Checkpoint 3 for all airline passengers! Any checkpoint leads to all gates.*
*Appointment availability is limited, reserve your spot early to get the appointment time you'd prefer! SEA Spot Saver is currently not available at TSA PreCheck Checkpoints or outside of the 5 a.m. to 10 p.m. hours
How it works:
Sign up in advance up to 72 hours before your flight or when you arrive to the airport at the ticketing level of the terminal!
Select the airline you're flying with, destination, and flight number along with your name, number of people in your party, and contact information to save your spot.
Once you're at the airport, do whatever you need or want to do in the meantime! Check your bags, grab some coffee, spend more time with loved ones, or just walk up at your appointment time!
Go to your assigned checkpoint and look for the SEA Spot Saver logo or use our interactive map for step-by-step directions. SEA Spot Saver is available at TSA Checkpoints 3 and 5 (closest to the C, D, and N Gates) or at TSA Checkpoints 2 (closest to the A, B, and S Gates).
Show airport staff your confirmation of your appointment and go through screening!