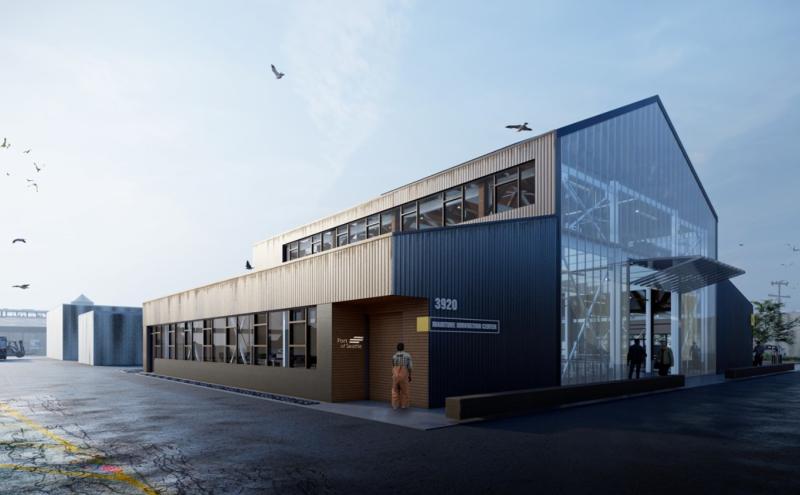 Seattle's fourth Living Building Challenge facility to anchor future of maritime
August 8, 2023
The Port of Seattle Commission approved $32,600,000 to achieve a long-standing goal of transforming the historic Ship Supply Building at Fishermen's Terminal (FT), one of the oldest existing Port facilities, into a new globally recognized home for maritime innovation. Watch a video introducing this groundbreaking building.
The Port will build the Maritime Innovation Center (MInC) to reach new cutting-edge, Living Building Challenge (LBC) certifications. With only three currently certified Living Buildings in Seattle today, the Port seeks this goal to reach its own sustainability objectives, attract the attention of global industry leaders to Puget Sound, and demonstrate the connection between innovative technologies and the maritime industry.
The Port will make companion investments to make Fishermen's Terminal easier to navigate and more informative by adding new historical perspectives from a wider array of voices and communities.
"The transformation of the Port's oldest building into a world-class center is a reflection of the Port's commitment to investing in innovation so that the maritime industry and marine environment will thrive for generations to come," said Port of Seattle Commissioner Fred Felleman. "The Maritime Innovation Center will inspire collaboration between entrepreneurs, investors, and workers that will grow our region's blue-green economy by drawing on our heritage to create living wage careers of the future."
The United Nations estimates that the world ocean economy, often referred to as the "blue economy," is worth $1.5 trillion US dollars annually. With 90 percent of the world's trade traveling over the ocean, and increasing demand for maritime services such as commercial fishing, sustainability innovations, and recreation, Puget Sound maritime industries could benefit from a global boom.
The Maritime Innovation Center will serve as headquarters for incubator and accelerator programs that are already helping startups and established businesses refine and scale their work. The MInC will also support workforce development programs aimed at ensuring that job opportunities in maritime industries are equitably accessible to all communities. By building a stronger maritime ecosystem, the Maritime Innovation Center will ultimately reach hundreds of startups, established businesses, and local would-be workers.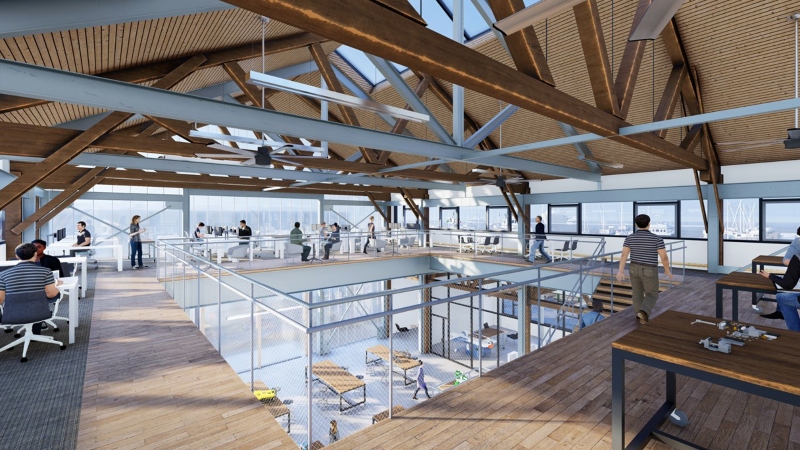 Along with the creation of the new Maritime Innovation Center, the Port will make Fishermen's Terminal easier to navigate and more educational for visitors. New wayfinding and site signage, interpretative signage, and landscaping will balance the Port objectives of inviting the public to explore Fishermen's Terminal and appreciating the value of the working waterfront.
The new interpretative signage content was developed by public historian Sharon Boswell, with careful collaboration by Native consultant Headwater People, members of the local fisher community, and local public history experts. The result will tell the history of Fishermen's Terminal through a wider array of individual voices, communities, and moments.
Construction of the MInC is scheduled to begin by the second quarter of 2024 and be completed by the end of 2025.