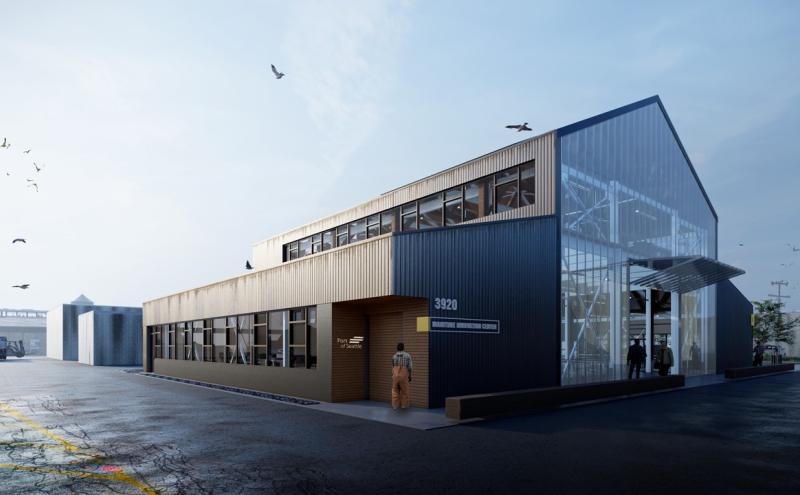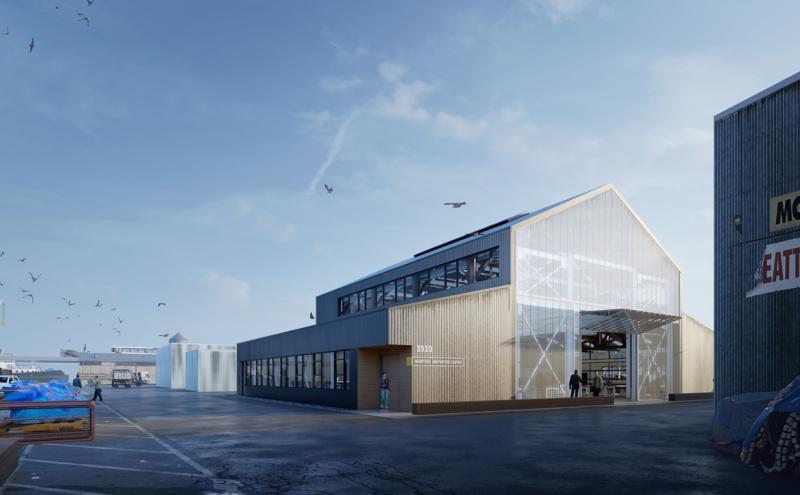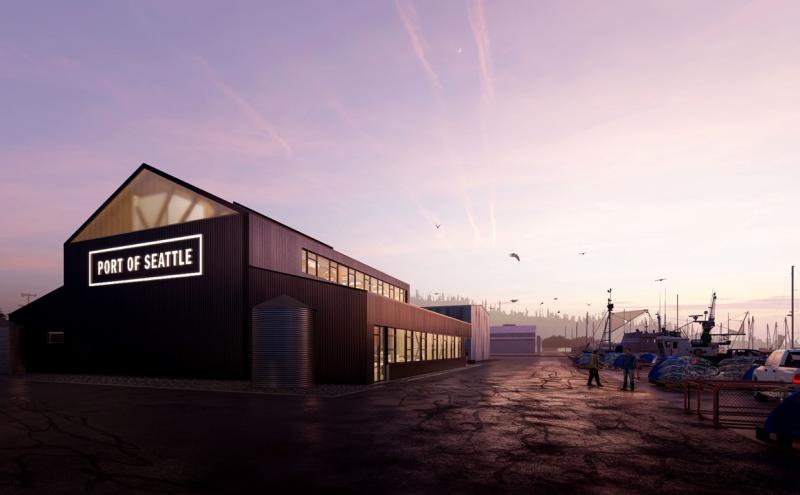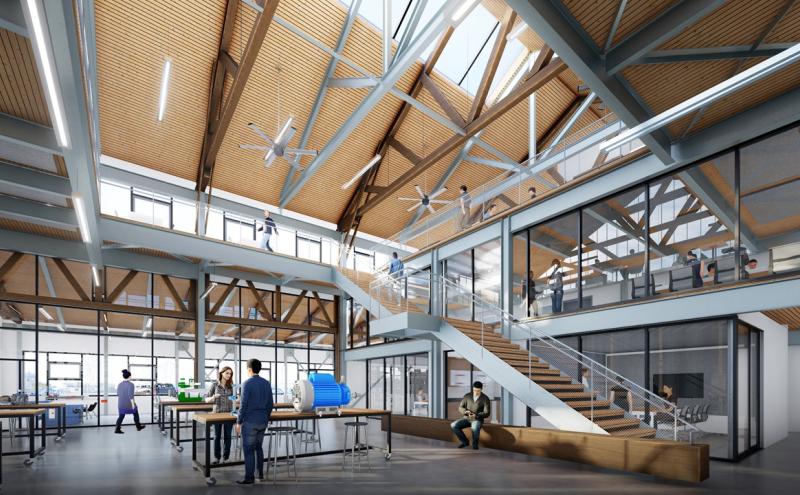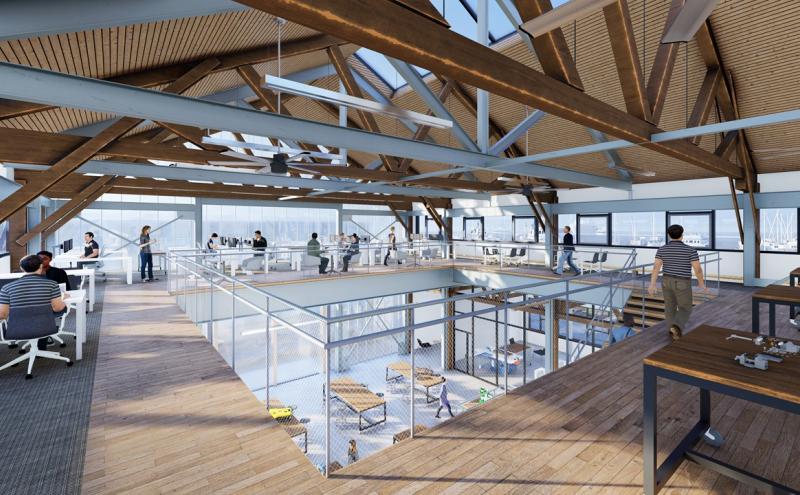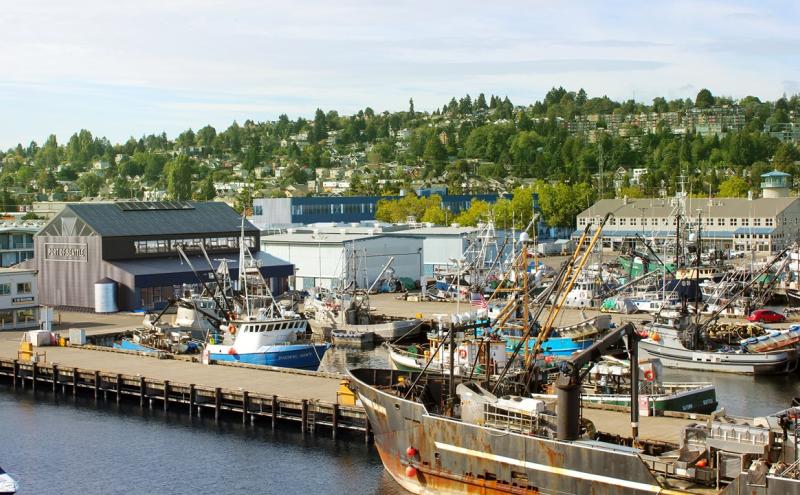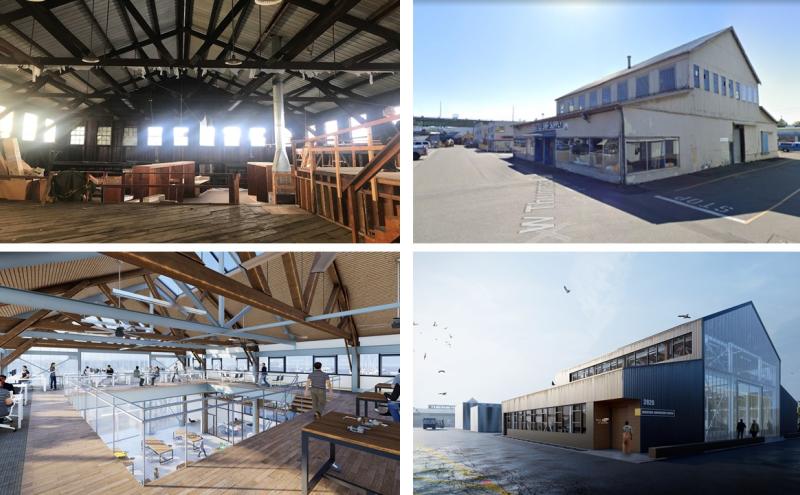 Renderings provided by Miller Hull Partnership
Project Overview
As part of the Port's investment to modernize Fishermen's Terminal, the Port of Seattle is investing in a flagship building called the Maritime Innovation Center (MInC), where emerging maritime companies can solve industry problems, find technical and financial support, and build their ideas into reality under one roof.
Built in 1914, the historic Ship Supply Building will be restored and modernized into a 15,000 square foot facility with a mix of working space for incubators, accelerators, and anchor tenants along with fabrication and event space. The MInC is designed to meet the Living Building Challenge – the most progressive sustainability standard in the country – in alignment with the Port's goal to be the Greenest Port in North America. The Port of Seattle will operate the MInC in partnership with Maritime Blue, and host emerging companies that are working to solve maritime industry problems, increase the maritime workforce, as well as advance blue economy opportunities around the world.
VISION FOR THE CENTER
The MInC will have the structure of our oldest building and feature our most modern and sustainable building investments as Living Building-certified. The MInC will serve as a focal point for maritime innovation and entrepreneurship and help drive the region's economic development. It will be a place to help support investment in BlueTech start-ups and new technologies and offer an incubator and accelerator environment. It aims to support workforce development and maritime career exploration. It will also include 15,000 total square feet of working space for incubators, accelerators, and anchor tenants along with fabrication and reservable spaces for meetings, seminars, and classes.
Along with the building renovation, there will be a set of public space improvements in and around the vicinity of the Maritime Innovation Center which will include wayfinding and site signage, interpretative signage and landscaping which connects to our goal to become a model for equity, diversity, and inclusion.  This package of improvements enhances the public experience at Fishermen's Terminal that was a priority of the FT Strategic Plan.  Our design works to balance our objectives of inviting the public to explore FT and understand the value of the working waterfront.
SUSTAINABILITY
The MInC will be Living Building Challenge-certified in alignment with the Port's sustainability goals. As a Living Building, the MInC will have its own utility, generate its own energy, capture its own water, and process its own waste. Some of the advanced LBC sustainability and resiliency features include:
Net positive energy 
Photovoltaic energy production
Salvaged materials 
High-performance envelope 
Reduced carbon emissions 
Natural ventilation 
Natural lighting and views 
Rainwater capture 
Ground source heat exchange 
Grey + blackwater treatment 
Stormwater treatment 
Red list free materials
HOME OF THE INNOVATION ACCELERATOR
New ideas in one of the most traditional sectors in Washington are critical for a thriving maritime economy and to protect our planet, precious natural resources, and ocean life. The MInC will become the home base for the annual Innovation Accelerator Program that is managed by Washington Maritime Blue and the Port of Seattle. The four-month, mentor-based accelerator program brings together founders from Washington, the region, and beyond to learn new skills, connect with resources, and scale their work to develop ocean-based climate solutions and become the next big job creators for the state.
Community Benefits
The MInC will benefit the region and the maritime community in several ways:
Job creation – Creating new employment opportunities for local residents and youth in the participating startups
Enhanced image– Building the region's reputation as a center or excellence for growth in the blue economy 
Increased entrepreneurialism – Elevating awareness of entrepreneurs and stimulating confidence in the maritime industry to create new products and services 
Business development – Sparking new opportunities for established area businesses to develop relationships with early-stage companies
Increased tax revenue – Generating a larger, more diverse tax base to support public services and contribute to livability and health
Workforce development – Nurturing the next generation of diverse, inclusive, and representative maritime workforce with technological expertise and access to clean, healthy, living-wage jobs
Timeline
| | |
| --- | --- |
| Commission construction authorization | August 8, 2023 |
| Construction starts | Q2 2024 |
| Open for use | Q4 2025 |
Estimated Project Costs
Total cost for this project is $32.6 million.