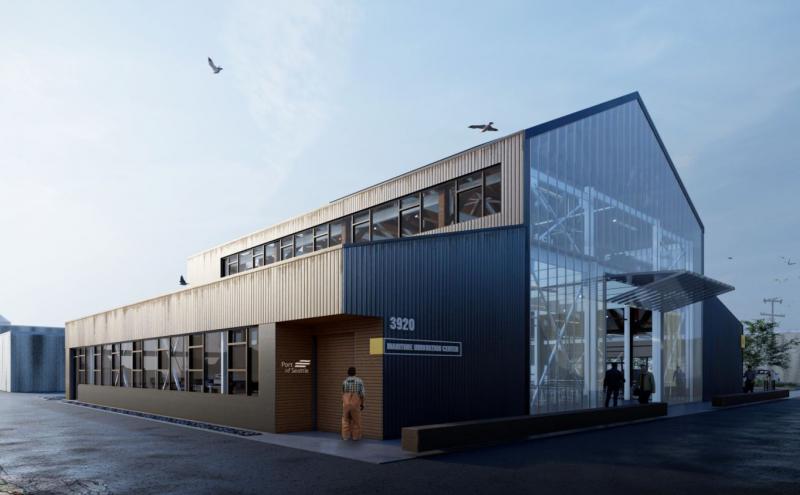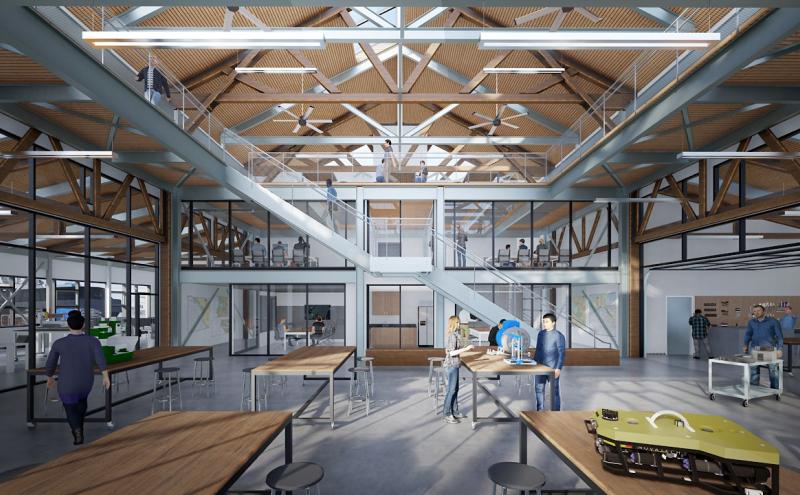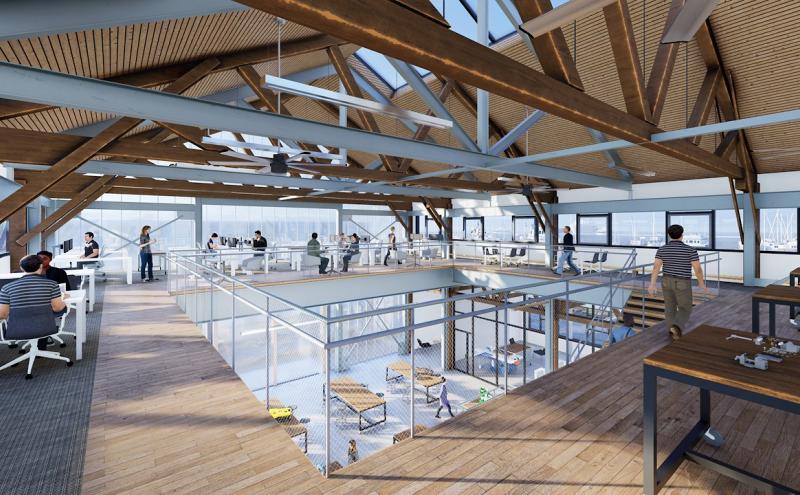 The Maritime Innovation Center will help the region's maritime industry adopt advanced technologies and stimulate innovative entrepreneurship. Promoting knowledge transfer, business incubation, and workforce development are the biggest needs in terms of addressing maritime innovation challenges and opportunities. The innovation center will help sustain maritime industries and help the Port modernize operations and key lines of business. 
Vision for the Center
The Puget Sound region becomes a hub leading the world in sustainable maritime and ocean industries by creating an ecosystem of innovation that drives productive collaboration among academia, industry, and government.

When people think about sustainable BlueTech industries, we want them to think about Puget Sound in the same way the world equates finance with New York or technology with Silicon Valley.

— Source: (The Maritime Alliance, Delawarde Consulting, and ECONorthwest, 2018)
Fast Facts
Location:  Fishermen's Terminal (Ballard neighborhood of Seattle)
Cost:  $20 Million
Schedule:  Due to open in 2024
Status:  90% Design (as of July 2022)
Structure
The historic Ship Supply Building will be restored and modernized into a LEED-certified and environmentally friendly facility. It will include 15,000 total square feet with a mix of working space for incubators, accelerators, and anchor tenants along with fabrication and event space. The facility will be a "Living Building" with advanced sustainability and resiliency features.
Community Benefits
This center will benefit the region and the maritime community in several ways:
Job creation – Creating new employment opportunities for local residents and youth in the participating startups
Enhanced image – Building the region's reputation as a center or excellence for growth in the blue economy 
Increased entrepreneurialism – Elevating awareness of entrepreneurs and stimulating confidence in the maritime industry to create new products and services 
Business development – Sparking new opportunities for established area businesses to develop relationships with early-stage companies
Increased tax revenue – Generating a larger, more diverse tax base to support public services and contribute to livability and health
Workforce development – Nurturing the next generation of diverse, inclusive, and representative maritime workforce with technological expertise and access to clean, healthy, living-wage jobs
Home of the Innovation Accelerator
New ideas in one of the most traditional sectors in Washington are critical for a thriving economy and to protect our planet, precious natural resources, and ocean life. The Maritime Innovation Center will become the home base for the Accelerator Program that's managed by Washington Maritime Blue and the Port of Seattle.
The startup companies selected to participate come from various sectors, such as augmented reality, machine learning, artificial intelligence, software as a service (SaaS), and compliance. Building on 2020's intentional diversity metrics, 45 percent of companies are founded by women. 
Past Maritime Blue Accelerator Cohort's focused on things like advancing decarbonization, environmental remediation, maritime workforce protections, clean energy mobility and so much more. Find out more about how to get involved in the program.
Funding Sources
The Maritime Innovation Center will be funded by the Port of Seattle and the State of Washington. The Port has included $10.5 million in its capital improvement plan, while a Washington state capital investment of $5.0 million is included in the proposed 2019-2021 biennium budget. The state's contribution resides in the Clean Energy Fund because it promotes creation of new clean technology and higher adoption of existing clean technology innovation. 
It is expected the Center will generate a net positive operating income after the first year.