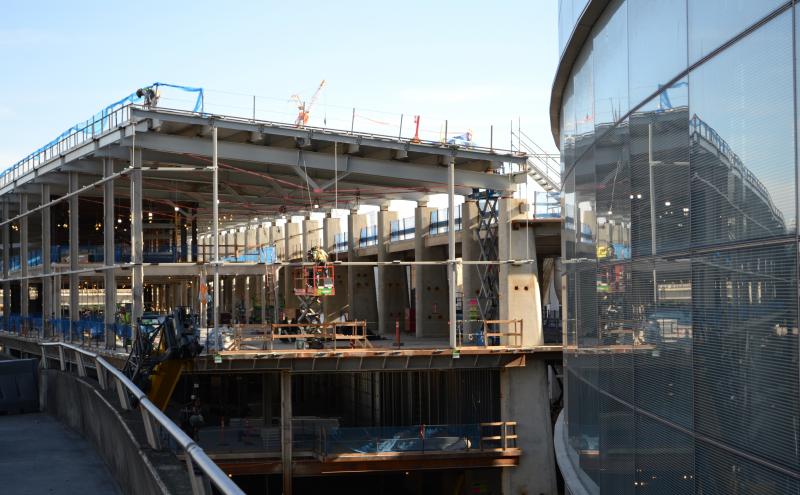 September 27, 2018
The Port of Seattle Commission this week authorized the new International Arrivals Facility (IAF) program Guaranteed Maximum Price (GMP) of $773 million in construction costs. The final cost to the Port, including $76 million in sales tax and additional Port costs, will be $968 million. The Port will complete construction on the IAF in May 2020 and will begin serving passengers in August 2020 following extensive security and systems testing.  
Prior to authorizing the GMP, Commissioners convened a panel of experienced construction management professionals to independently assess the project's budget and schedule. In a briefing provided to Commissioners on September 11, 2018, the external review panel (ERP) found the project budget "reasonable" given the overheated Seattle construction market and the complexity and scale of the IAF program. The ERP found the project timeline "aggressive but achievable" if the Port and contractor continue to pursue the project with great urgency.  
In addition to authorizing the program GMP, the Commission also approved a motion that directs changes to IAF project management at the Port and extended the length of the ERP's contract to continue its assessment as the projects progress. Management changes include formalized reporting schedules to the public, airport stakeholders, and Commission Aviation Committee, and more emphasis on effective decision making and dispute resolution. The executive director will report progress as a result of these changes to Commission next spring. 
The new International Arrivals Facility program is the most complex capital development project in the airport's history. The program includes a 450,000 square foot grand hall for baggage claim and customs processing, an 85-foot high aerial walkway that will directly connect passengers from the South Satellite to the grand hall, and a new sterile corridor that will allow eight existing domestic gates on Concourse A to also serve international passengers during peak periods, bringing the airport's total of international-capable gates from 12 to 20.  
Airport projects like the IAF are funded through a combination of airport-generated revenues, passenger facility charges (PFCs) and revenue bonds. As with virtually all airport projects, no taxpayer dollars will be used to fund the projects.
Contact
Perry Cooper | Seattle-Tacoma International Airport
(206) 787-4923 | cooper.p@portseattle.org