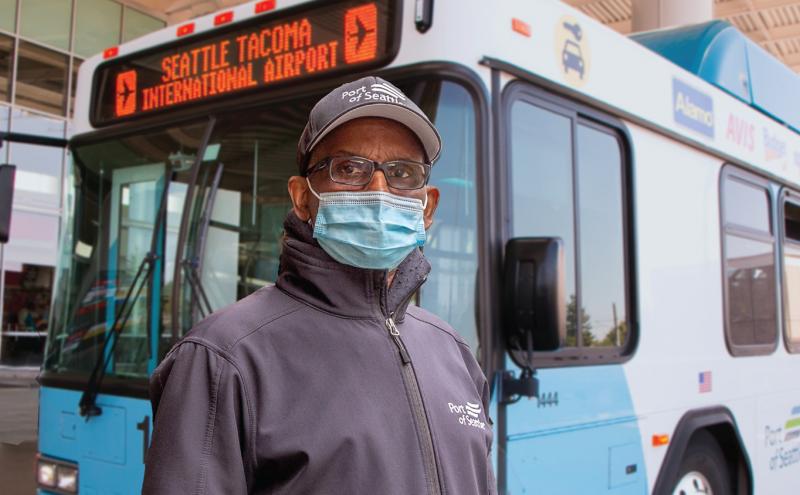 The Port of Seattle marks a major one-year milestone in its COVID-19 response this week, advancing goals related to ensuring health and safety, preserving regional jobs, and supporting an equitable recovery
March 4, 2021
On March 5, 2020, as COVID-19 began to spread in our community, Port of Seattle Executive Director Steve Metruck asked employees who could telework remotely to do so in order to help in limiting the spread of the virus and as an added layer of protection for frontline workers. We began to see how fundamentally life in our community would change as health measures were implemented, restricting unnecessary travel and large gatherings, as well as closing businesses, schools, and public venues.
Protecting the health and safety of Port workers, business partners, and the public was our top priority and key to recovery. More than a year later, the Port continues to follow a clear strategy.
Keep the airport and seaport gateways safely operating to boost the supply chain and maintain economic activity.
Continue long-term construction investments to prepare for the eventual recovery and maintain jobs and spending.
Identify new opportunities to provide relief and recovery opportunities for the most impacted industries and communities.
"The COVID-19 pandemic forced us all to adapt and respond to huge impacts across all our lines of business," said Port of Seattle Commission President Fred Felleman. "Central to the Port's recovery efforts is our continued investments in infrastructure, support for innovation, environmental protection, and working to assure that those most impacted by the crisis are the primary beneficiaries of these efforts."
"Keeping our people and the public safe and healthy is always our highest priority," said Executive Director Steve Metruck. "I am incredibly grateful to our Commissioners for their leadership, support, and vision. I also want to recognize our employees and partner employees who, through their resilience and resolve, have kept our essential aviation and maritime facilities operating over the last year and have positioned the Port for the recovery that is ahead of us."
While the COVID-19 pandemic caused significant disruption across our economy and society, the Port of Seattle, in collaboration with our business and community partners, is uniquely positioned to help our region connect to recovery.
Community feedback helped shape the Port's initial relief and recovery response. In the coming months, the Commission will continue to prioritize community engagement as the Port prepares to support a regional recovery effort.
"The Commission recognizes there is more than one pandemic impacting our region. In addition to the health emergency, we are experiencing the pandemics of economic, social, and environmental inequities," said Commissioner Fred Felleman. "Our 2021 budget reflects that the public's well-being is our bottom-line, and we're committed to working with community and government partners to create a more inclusive, resilient, and sustainable economy."
Read the Port's 2021 Budget in Brief.
An unprecedented crisis
The economic downturn caused by the COVID-19 pandemic resulted in severe declines in trade, travel, and tourism – the lifeblood of the Port.
On March 11 of last year, the Port announced the cancellation of the first two cruise sailings of the season scheduled for April. By March 24, the entire 2020 cruise season was canceled. Cruise brings nearly $900 million in business activity to our region and supports approximately 5,500 jobs. The cancellation of the entire cruise season signaled the depth of the growing economic crisis, which continues to this day.
In April 2020, Seattle-Tacoma International Airport (SEA) experienced its lowest passenger volumes since 1967. Domestic traffic was down 93 percent and international traffic was down 97 percent compared to the previous year. At the height of the crisis, 66 percent of airport dining and retail tenants at SEA temporarily closed due to the decline in air travel. Passenger volume has since recovered to approximately 60 percent of normal.
To accommodate the decline in revenue, Executive Director and the Commission immediately cut operating expenses and non-essential expenditures, froze hiring, and reprioritized some capital investments.
Relief and recovery highlights
The Port Commission and Executive Director Metruck prioritized relief and recovery efforts that maintained safe operations at Port facilities and supported our most impacted industries and communities. Between April and June, the Commission:
Established principles for an equitable economic recovery focusing on those businesses and communities most impacted.
Approved airport relief included deferring rent for tenants, deferring trip collection fees for ground transportation operators, extending leases for airport dining and retail tenants up to three years, suspending the Minimum Annual Guarantee through the end of 2020, and barring evictions of Port tenants.
Deferred rent for maritime businesses and deferred moorage fees.
Committed to continuing 20 capital improvement projects currently under construction, worth approximately $1.5 billion to the local economy. Those projects support an average of 1,300 full and part-time workers per month.
Created the Opportunity Youth Initiative, providing nearly 200 youth with paid learning opportunities designed to build skills to succeed in the workplace, create learning opportunities that connect young people to a long-term career path in a port-related industry, strengthen community, and support young people and their families during the COVID-19 pandemic.
Funded a new tourism marketing program to rebuild travel volume to improve economic impact, build tax revenue, and support tourism industry jobs
Expanded the authorized use of the Port's South King County Fund to include economic development and created an environmental grant program to support community-led projects in six cities. The Port granted nearly $2 million to South King County Fund projects in late 2020 and early 2021.
Existing Port programs aid in recovery as well. The Port's Economic Development Partnership Program successfully combined Port and city funding to support $1.4 million in economic recovery initiatives with 31 city partners across King County. The Port's high school and college internship program preserved 80 percent of its planned paid jobs by switching to a year-round model and creating virtual opportunities.
The Port also took extra steps to help its small business partners understand and access resources distributed as part of the Federal CARES Act. The Port collaborated with Small Business Development Centers on webinars to educate local businesses on how to access loans that helped them survive and recover from this crisis. We also partnered with Highline College's Small Business Development Center to assist 117 small businesses through nine training events, six workshops, and stand-alone training classes.
Health and safety
Port health and safety professionals conducted contract tracing for any employee with a positive or suspected positive COVID result. The Port's health and safety team continues to work with vendors and contractors on Port facilities to assist with complying with safety measures and contact tracing of non-Port employees.
The Port implemented health and safety measures across all of its facilities. In June, the Port unveiled the FlyHealthy@SEA program, a globally-accredited program to keep passengers, employees, and the community safe. Program highlights include:
The Mask UP SEA program that provided 110,000 free masks
Installed just under 300 hand sanitizer stations throughout the terminal
Ramped up disinfecting of all high contact surfaces throughout the facilities.
Installed nearly 650 plastic protective barriers
Dispensed 3,132 gallons of hand sanitizer
2,115 containers of sanitizer wipes
Installed almost 8,000 signs and floor decals with reminders for physical distancing
The Port also donated more than 110,000 masks to the local community and youth groups.
Connecting to recovery
Overcoming significant challenges, the Port made good on its commitment to keep open and improve the aviation and maritime gateways that are vital to our region's economic health. As one of the region's largest public builders, in the next five years, the Port will spend $3.7 billion to make the airport and seaport more capable, sustainable, and easier to use. In 2021 and 2022, the Port will open major new facilities that create on-site jobs and improve customer experience.
The Port forecasts a very healthy long-term future for the ocean economy. Air travel at SEA is expected to return to 2019 levels by 2024. The Port's cruise program established itself as one of the fastest-growing and most productive cruise terminals on the West Coast, with powerful long-term demand for cruises to Alaska. The newly modernized Terminal 5, built in partnership with the Northwest Seaport Alliance and expected to open in early 2022, will anchor maritime industrial jobs in our North Harbor for decades.
Contact
Peter McGraw | Media Officer
(206) 787-3446 | mcgraw.p@portseattle.org