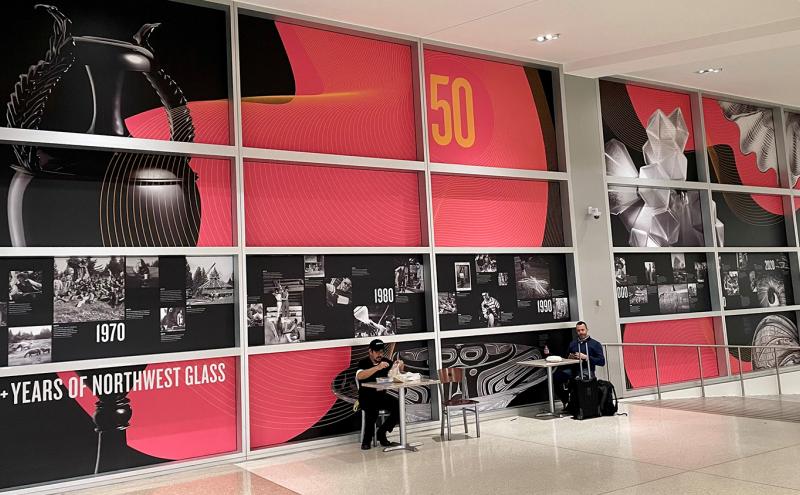 Temporary art celebrates 50th anniversary of international center for glass art education
December 17, 2021
Travelers at Seattle-Tacoma International Airport (SEA) can now enjoy a temporary art exhibit co-curated with Pilchuck Glass School to honor its 50th anniversary as an international center for glass art education since. The school was founded in 1971 by Seattle glass artist Dale Chihuly and patrons Anne Gould Hauberg and John H. Hauberg.
"As an international gateway to trade, travel and tourism, SEA has a platform to share art with the visiting public that represents this region," said Port of Seattle Commissioner and Co-Chair of the Port-Wide Arts and Culture Board Peter Steinbrueck. "It is an honor for us to welcome these artists that illustrate the incredible breadth and depth of the glass art tradition in the Pacific Northwest as we commemorate the continuing legacy of the Pilchuck Glass School."
The multipart installation includes six glass artworks and a vinyl display on the large windows near Concourse A exit that chronicles Pilchuck Glass School's milestones over the last half century and the evolution of the Studio Glass Movement in the Pacific Northwest. The center for glass education began as a one-summer glassblowing workshop and evolved into the world's most comprehensive program for artists around the globe.
"Over the past fifty years, the greater Seattle area has become one of the world's most vibrant, exciting, and innovative centers for glass art, thanks in large part to the electric mix of studio artists, galleries, museums, and educational centers that sprung up and thrived here," said Pilchuck Glass School Director of Marketing Sarah Parkinson. "As we celebrate fifty years of Pilchuck Glass School, we wanted to share this rich legacy with the greater Seattle community. There is so much to see, do, and share here for those who want to learn more about the fascinating, ever-evolving material that is glass! We hope visitors to the airport come away feeling inspired to dive a little deeper into the art and artists at the heart of our city."
Glass art exhibit at SEA
The art collection at SEA adds to the travel experience by augmenting the aesthetics of the terminal and creating a Pacific Northwest sense of place. The airport's art is evolving with new acquisitions and installations that reflect our region's diverse environment, culture, spirit, people, and history.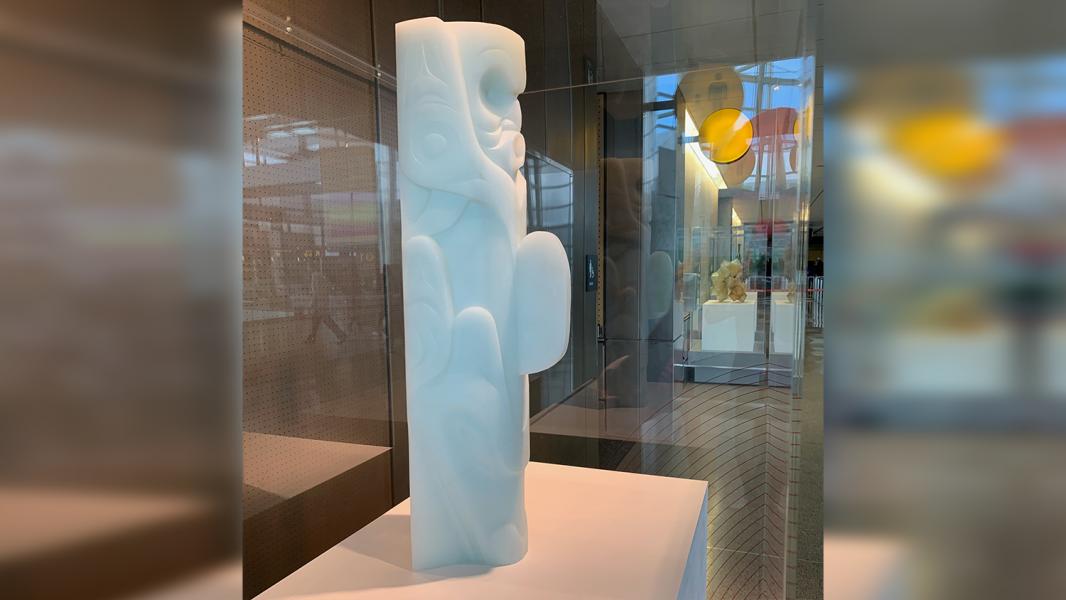 The Public Art program at SEA features rotating exhibits of museum-quality artwork and artifacts that reflect the history, culture, or trade of the Pacific Northwest. Pilchuck Glass School Deputy Director Donna Davies and the Port's Public Art Program Sr. Manager and Curator Tommy Gregory co-curated this exhibit of six Seattle-area glass artists, including Dante Marioni, Preston Singletary, Nancy Callan, Richard Royal, Ginny Ruffner, and Marita Dingus.
"Our region is synonymous with glass art and this exhibit creates an opportunity for travelers to experience the Pacific Northwest," said Gregory. "These artworks invite you to view and consider the diversity and tenure of glass art created right here."
Pilchuck Glass School fosters a worldwide community for the creative use of glass in art and design
Now in its fiftieth year, Pilchuck is an international center for glass art education located amidst a working tree farm in Stanwood, Wash. What began as an experimental outdoor glass workshop has grown into an advanced center to explore and share all manners of working with glass.
From May through September every year, Pilchuck's Summer and Fall Program offer courses and residencies for emerging and established artists in all media. Small classes taught by world-renowned artists and instructors emphasize experimentation and teamwork while fostering individual initiative and expression. Combining a deep focus on glass, access to a variety of resources, a picturesque Pacific Northwest setting, and an ever-expanding international community of artists, Pilchuck has become the most comprehensive educational center in the world for glass artists.
Contact
Perry Cooper | SEA Airport Media Officer
(206) 787-4923 | cooper.p@portseattle.org