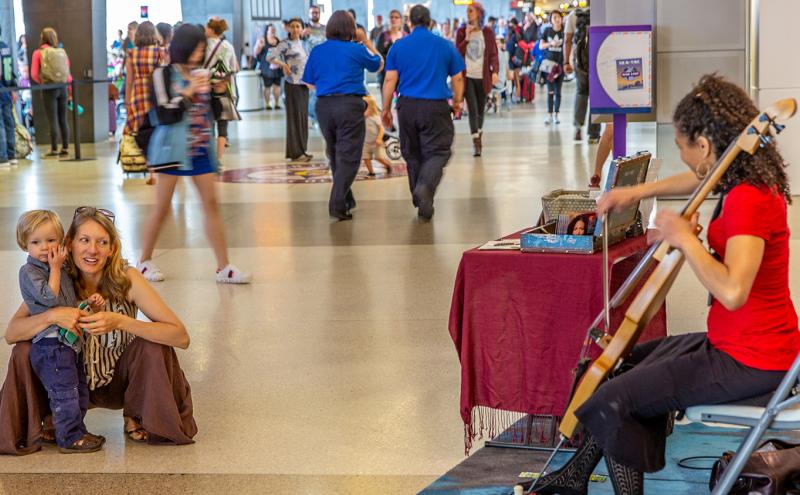 Music also returns to seven days a week for the first time since 2020
March 23, 2023
SEATTLE – Seattle-Tacoma International Airport (SEA) today marked a decade of its live music program. Since March 2013, more than 200 Pacific Northwest performers played over 28,700 hours of live music in concourses around the airport. Also, March 1, 2023, marked the return of live music seven days a week at SEA, a return to the pre-2020 schedule.
Travelers can discover new artists or hear their favorite performers at locations around the airport, including in front of Sub Pop (junction of C and D Concourses), the Central Terminal, and the N Concourse music stage.
"Live performances are back at SEA," said Commission Vice President Toshiko Hasegawa. "While they allow travelers to enjoy a new experience and relax on a routine trip, the music program also promotes local artists and supports economic growth throughout the region from within our facilities. We are tremendously excited to showcase the cultural vibrance of the Pacific Northwest's musical scene."
Open Call for Artists: Auditioning to perform at SEA Airport is easy.
Apply online
with information about your act and a live performance clip.
"We are proud to celebrate Pacific Northwest originals, and there is nothing more original than our music scene," said SEA Managing Director Lance Lyttle. "I want to thank Tami Kuiken for her leadership in cultivating the music program at SEA over this last decade and our partners at Gigs4U who have connected us with numerous musical acts throughout the years representing the sounds of the PNW. Thanks to their efforts, SEA is where stars can get their start."
Music at SEA Fast Facts (2013 – 2023)
2,520 Days with Music
9,650 Total Performances
28,700 Hours of Music
200 Total Musicians/Performers Featured
$2.8M in Performance Fees Paid to Musicians
Performers are compensated $108 per two-hour performance and are encouraged to sell their artist merchandise and CDs for travelers to purchase. In addition to the live music stages around the airport, travelers also hear Pacific Northwest artists on overhead speakers around the airport.
"Music is at the heart of our region, from the iconic sounds of Pearl Jam to current legends like Brandi Carlile," said SEA Business and Music Program Manager Tami Kuiken. "In partnership with Gigs4U, we are proud to provide artists a space to perform for not only local visitors flying out of SEA, but also our guests from around the world. It's amazing to think of all of the great stories from ten years of music and how far we've come since 2013, but we're just getting started."
"Traveling, especially air travel can be a stressful experience, but we have seen people stop in their tracks when coming around the concourse to find a musician playing a soothing tune or a favorite song," said Gigs4U Founders Ed and Ramona Beeson. "We have seen them dance. We've seen them come to their knees. We've seen them laugh. We've seen them cry. It is because music makes people feel all the things that humans can feel. This is the only gig where local musicians can make money at 10 am on a Tuesday and make new fans across the globe. It is like going on a world tour without leaving Seattle."
Performers over the years have many stories to tell about their performances, including some getting job opportunities or other introductions as a result. A few notable stories include artists being hired to perform and act in a movie and an invitation for artists to sit in on gigs and concerts around the world.
Contact
Perry Cooper | Port of Seattle Senior Media Officer
(206) 787-4923 | cooper.p@portseattle.org