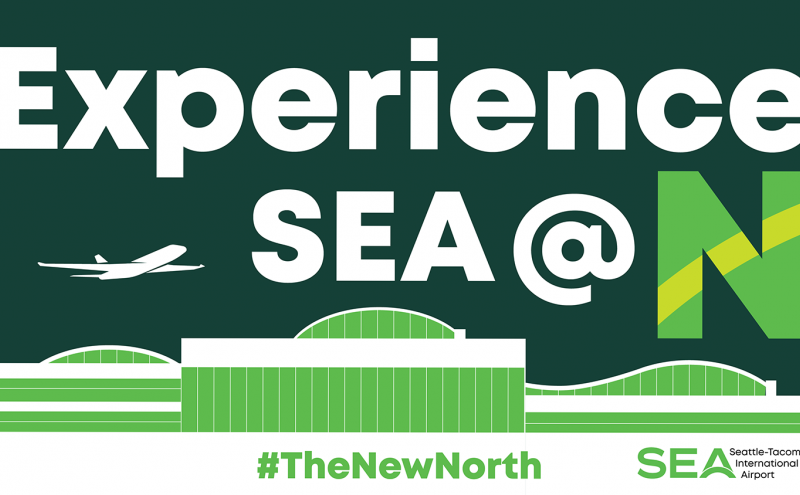 Sera Cahoone, The Black Tones, Tomo Nakayama headline free hybrid event to mark end of major construction at new North Satellite
November 1, 2021
Travelers at Seattle-Tacoma International Airport (SEA) on November 4, 2021 can enjoy Experience SEA @ N, an art and culture-filled celebration marking the opening of all passenger gates and the end of major construction of the North Satellite Modernization Project, home of the N Concourse. The airport introduces its brand-new performance stage during the festival with artists performing live music, a poetry reading and spoken word. Art tours, special promotions and sampling from Tundra Taqueria, SEA Roast Coffee House and Filson (opening in December!), and other surprises and passenger giveaways round out the airport's first-ever festival.
"This event celebrates the natural and cultural richness of the Pacific Northwest," said Port of Seattle Commission President Fred Felleman. "The building embodies our values of creating economic opportunities in an inclusive and environmentally responsible manner."
Tune into livestreams of the festivities at bit.ly/ExperienceSEAlive.
11 a.m. Celebration and Performance Stage Debut
Welcome remarks

Port of Seattle Commission President Fred Felleman
Port of Seattle Executive Director Steve Metruck
Port of Seattle SEA Managing Director Lance Lyttle
Alaska Airlines VP of Strategic Performance Brooke Vatheuer
Hensel Phelps Vice President Shannon Gustine
Seattle KC Building & Construction Trades Executive Secretary Monty Anderson

Live performances emceed by Sub Pop CEO Megan Jasper

Sera Cahoone
The Black Tones
Tomo Nakayama
Spoken word performance by J. Rycheal
Poetry reading by Washington State Poet Laureate Rena Priest

Sampling and special promotions by Tundra Taqueria, SEA Roast Coffee House, and Filson 

Tour new museum-quality art with the curator of the airport's public art collection
SEA and Alaska Airlines surprises and passenger giveaways
"Live music has been a part of the SEA scene for many years, but we have never hosted a festival of culture and arts at this scale," said SEA Managing Director Lance Lyttle. "The debut performances on this stage will be something to remember with three music sets, one spoken word artist, and the state's Poet Laureate. Listen in, lean in and experience SEA."
"As we continue to welcome back guests who may be traveling for the first time in nearly two years, providing a comfortable, modern, sustainable, and thoughtful experience is now more important than ever before. This beautiful North Satellite helps us to achieve just that," said Brooke Vatheuer, vice president of strategic performance at SEA, Alaska Airlines. "Much of our operations at SEA happen in this space, and we could not thank the Port of Seattle and our Alaska project team more for the close coordination, as we were able to mitigate much of the disruption to the operation and passenger experience."
"I am so honored to share the stage with some of my favorite artists to celebrate the newly renovated N Concourse at SEA," said Americana singer-songwriter and Experience SEA @ N headliner Sera Cahoone. "I continue to be inspired by a community that puts such an emphasis on supporting Seattle's strong culture of art and music. Thank you to the Port of Seattle and to all the frontline workers who made this beautiful renovation possible!"
6 p.m. Travel Trends Panel
The celebration encompasses a two-part program that extends into the evening with a travel trends panel discussion. Listen in for a conversation with travel and hospitality industry experts reflecting on consumer travel trends in 2021 and looking ahead to 2022, including:
Kevin Lemme, Market & Competitive Analyst Principal, Alaska Airlines
Nissy Atassi, Sr. Director Global Communications, Expedia
Tash Haynes, Travel Influencer, Blogger, Content Creator
Matt Hagerman, Executive Vice President, Columbia Hospitality
Moderator: Kathy Roeder, Director of Communications, Port of Seattle
Music at SEA
In 2012, SEA introduced live music at the airport to showcase the diversity of music culture in the Northwest and to better your experience. Since the program's launch, over 115 musicians have performed in the airport, ranging from jazz to blues to folk and acoustic pop.
Prior to COVID-19, there was live music seven days a week. Experience SEA @ N is the first-time music will fill the terminal since the beginning of the pandemic. It is also the inaugural performances on this stage in the Marketplace at N, the heart of the N Concourse.
North Satellite Modernization Project
With more room, more views, and more Pacific Northwest feels, the North Satellite Modernization Project elevates the travel experience with the comforts you're craving. In the newly renovated North Satellite, you'll find modern amenities, seismic upgrades, sustainable features, and improved building function.
This bigger, brighter, and bolder space betters your experience with more dining and retail options, a diverse art collection that reflects the culture, spirit, and history of the region, nature inspired design, and a brand-new performance stage. Workers logged more than 2.1 million labor hours to build the facility over four years, including 10 new passenger gates, a spectacular Alaska Airlines Lounge, the airport's first system to collect and reuse rainwater, and many built-in amenities to make travel effortless for all.
"Hensel Phelps and our trade partners often come together to build complex projects, but the North Satellite Modernization Project was a unique opportunity to not only work through challenging logistics and safety, but to truly change the impression and experience of so many traveling to our area," said Hensel Phelps Vice President Shannon Gustine. "This is a unique experience, and we are honored to have been a part of such an amazing team effort."
Highlights of N Concourse
Iconic building design evoking movement of a naturally meandering river
Operating 20 gates (8 new and 12 remodeled)
Ten new pieces of museum-quality art added to the airport, featuring local and nationally-acclaimed artists reflecting the Pacific Northwest's diverse environment, culture, spirit, people, and history
Tripling the amount of dining and retail offerings like Tundra Taqueria, SEA Roast Coffee House, Pike & Pine, Filson, and Wendy's (both opening this December), and more in 2022
Plugin at every single seat at the gate
Capturing rainwater off the roof to flush toilets will save 2.8 million gallons of potable water annually – equal to 4.5 Olympic swimming pools
Achieved 76% recycling of construction waste diverted from landfills – that's 20,000 tons – and nearly $21M of recycled materials were utilized on the project
Energy-efficient LED lighting, heating, and cooling methods save approximately 1.7 million kWh annually – equal to annual energy use of 170 homes.
Out of 1.8 million labor hours expended on the project, more than 25% (462,000 hours) of work were performed by minorities and over 20% (415,000) by apprentices, ensuring that everyone is included in our recovery and helping to build the pipeline for future projects
Over $100M of construction dollars were spent utilizing small business enterprises (over 20%), of which $16.5M (3.3%) went to minority- or women-owned businesses
Learn more about the phased N Concourse opening earlier this year. Watch videos to explore the project's sustainability and apprenticeship program.
Contact
Perry Cooper | SEA Airport Media Officer
(206) 787-4923 | cooper.p@portseattle.org